Sarah Sanders Reportedly Thrown Out of Virginia Restaurant, Then the Yelp Review Battle Began
After a Virginia restaurant reportedly threw out White House press secretary Sarah Huckabee Sanders and her family on Friday night, reviewers swarmed to their Facebook and Yelp page to post feedback.
On Friday night, Jaike Foley-Schultz, allegedly a waiter at The Red Hen, a restaurant in Virginia, took to Facebook to announce that Sanders was prevented from eating at their establishment.
"I just served Sarah huckabee sanders for a total of 2 minutes before my owner kicked her out along with 7 of her other family members…" he wrote.
Sanders confirmed the incident in a Saturday morning tweet saying, "Last night I was told by the owner of Red Hen in Lexington, VA to leave because I work for @POTUS and I politely left," she wrote. "Her actions say far more about her than about me. I always do my best to treat people, including those I disagree with, respectfully and will continue to do so."
Later that evening, Brennan Gilmore, the executive director of Clean Virginia, reposted the story on his Twitter page, which attracted more than 15,000 likes and 4,000 retweets. "@PressSec got kicked out of the Red Hen restaurant in Lexington, Va tonight. Apparently the owner didn't want to serve her and her party out of moral conviction," he wrote.
Shortly after, hundreds of reviews started flooding into The Red Hen's Yelp and Facebook pages from both Democrats and Republicans, ranging from one star to five stars. Most reviewers thanked the restaurant for taking a moral stand.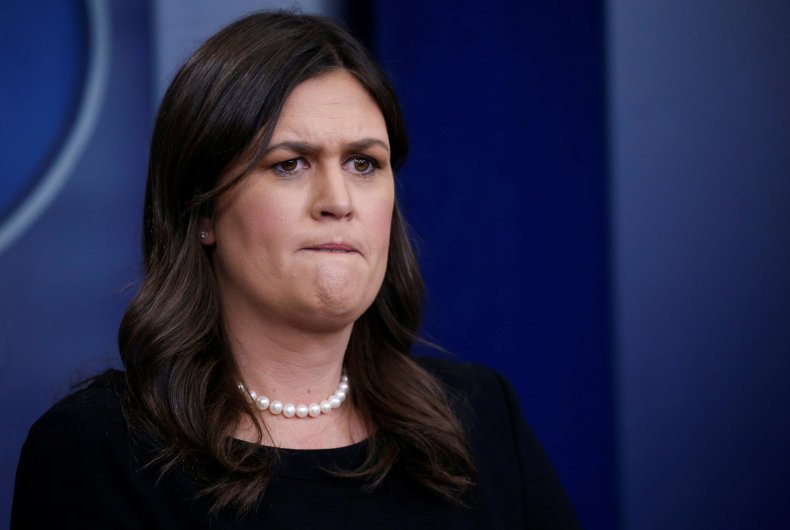 "Cant wait to visit this establishment when I pass thru in July. From what I hear they have great food standards morals and respect for human decency. This is my type of place," Mashay Clart wrote, alongside a five-star review.
Michelle Miller commented: "Thank you for doing the right thing. This administration deserves to be shamed and shunned everywhere they go."
"I cannot thank you enough for what you did. We have little power as consumers to send a political message. You took the opportunity to let Sarah Huckabee Sanders know that her lies and lack of moral courage will not be tolerated by ordinary people," Annalise Rickman added. "Thank you again for taking a stand. I hope the blowback won't be too bad for you."
However, some reviewers criticized the establishment for mistreating Sanders and her family.
"I saw the owner refuse Sarah Huckabee Sanders service, because he is a Democrat and can't be a decent human being. What an idiot," Solomon Sanchez wrote, alongside a one-star review.
Valarie Waskom added: "Rude, bigoted, hateful staff and owners. What a disappointment."
During a press briefing last week, CNN's Brian Karem asked Sanders whether she had "empathy" for the migrant children who were taken away from their parents under the Trump administration's harsh immigrant policies. "I'm trying to be serious, but I'm not going to have you yell out of turn," Sanders responded, brushing off the question before moving onto another reporter.
A restaurant with the same "Red Hen" name in Washington D.C. put out a statement Saturday saying many are confusing its restaurant with the Virginia restaurant that refused to serve Sanders.
"You may notice some activity on social this morning as the Press Secretary was kicked out of a restaurant in Lexington VA called The Red Hen and many people are confusing our establishments," the restaurant said according to the Jessica Sidman, the food editor at the Washintonian."I just wanted to send a note to you all letting you know that Ms Sanders did not dine at the Red Hen in Bloomingdale last night."
The owner of the Red Hen told The Washington Post she asked Sanders to leave after the staff raised concerns about serving the press secretary. "I'm not a huge fan of confrontation," Stephanie Wilkinson said in a report published Saturday evening. "I have a business, and I want the business to thrive. This feels like the moment in our democracy when people have to make uncomfortable actions and decisions to uphold their morals."
Wilkinson said the recent turmoil of separating children at the border and Sander's defense of the transgender military ban were key contributors to her and her staff's decision.
"I was babbling a little, but I got my point across in a polite and direct fashion," Wilkinson said, according to the Post. "I explained that the restaurant has certain standards that I feel it has to uphold, such as honesty, and compassion, and cooperation. I said, 'I'd like to ask you to leave.'"
This story was updated to include a statement from Sanders, the Red Hen restaurant in D.C. and the owner of the Red Hen in Virginia.