Sarah Huckabee Sanders Thanked Dennis Rodman on Behalf of Trump for Being 'Helpful' With North Korea
White House press secretary Sarah Huckabee Sanders called former NBA star Dennis Rodman on Monday to thank him for "being helpful" with North Korea's leader Kim Jong Un and the Singapore summit.
In a video of their conversation obtained by Vice News Tonight on HBO, Sanders can be heard on speakerphone praising Rodman, who was in Singapore for Kim and Trump's summit. "The president had seen some of your comments over the last several days. He just wanted me to reach out and thank you for some of the positive things you said and appreciate you being helpful in this process," she said.
"It seems like it turned out to be a very, very important event today. Glad I got to be a part of it, and I'm here, more than anything, as support," Rodman responded before asking Sanders for a shout-out from the president.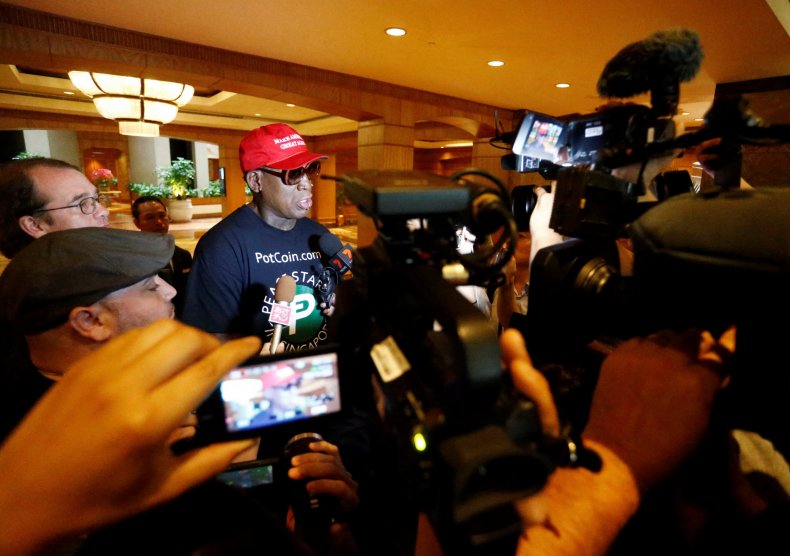 "When you see Donald next time, can Donald say hi to me and say, 'Dennis, I would love to shake your hand'?" he asked. Sanders replied: "I'll pass that on. Today may be a little crazy, but we'll try to do something when we get back to the States."
During the call, Rodman called Sanders "honey" twice and said that a good meeting between Trump and Kim was his "whole hope and dream."
Later that evening, Rodman cried during an emotional interview on CNN as he praised Trump's decision to hold diplomatic discussions with North Korea's leader.
Rodman is one of only a handful of Americans who have visited the reclusive North Korea and is seemingly invested in the country's future with the U.S. During his appearance on the news broadcast, Rodman wore a red "Make America Great Again" cap and emphasized that he has shown Kim Jong Un his loyalty.
"I said to everybody, the door will open," Rodman said. "It's amazing, it's amazing, it's amazing. When I said those things, when I went back home, I got so many death threats, and I believed in North Korea, and I couldn't go home, I couldn't even go home. I had to hide out for 30 days, but I kept my head high, and I knew things were going to change…. No more hatred."
"I don't see the politics of this whole situation," he added. "Kim Jong Un is not a dumb man."
Watch Sanders and Rodman's phone conversation below: