Pastor Who Called Sarah Silverman 'God-Hating Whore', Says She Will Be 'Judged in Hell'
Pastor Adam Fannin doubled down on his criticism of comedian Sarah Silverman, who he once called a "God-hating whore," saying if she didn't repent she would be judged in Hell.
During his first Sunday sermon since Silverman said his past comments about her would get her killed, Fannin acknowledged the situation. Now a pastor at Law of Liberty, an Independent Baptist Church in Jacksonville, Florida, Fannin didn't address any of the past comments he made but turned the conversation to Silverman's actions.
"If she doesn't repent of promoting child molestation, if she doesn't repent of joking about murdering the Messiah, God will force her to bow at the feet of the men of this church one day. She will bow down and God will judge her, He who calls her to bow, and she will be judged in Hell," Fannin said.
On Thursday, Silverman posted a clip on Twitter of Fannin when he was a preacher at the Stedfast Baptist Church. In the video, Fannin asked the congregation if they heard of the comedian Sarah Silverman. He claimed Silverman "bragged" about how she would put Jesus to death again.
"She is a witch, she is a jezebel, she is a God-hating whore of Zionism. I hope that God breaks her teeth out and she dies. She is a wicked person and she is like the perfect representation of religious Judaism," Fannin said.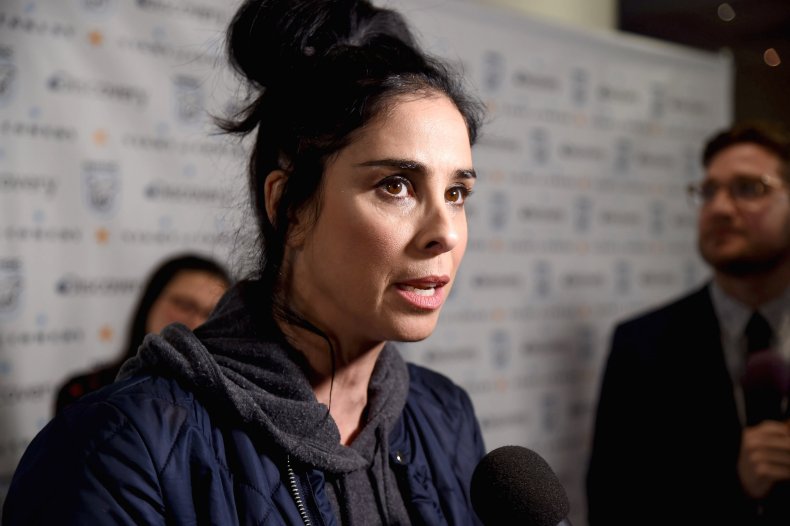 Silverman posted a note on Twitter, writing that Fannin's claim that she wanted to kill Jesus again stemmed from a comedy special she did in 2005 called, "Jesus is Magic." During the special, Silverman told attendees that she's Jewish and her boyfriend was Catholic and discussed how they would raise their kids.
She said that everyone blames the Jews for killing Christ and they pass the blame off onto the Romans, but she was one of the few people that "believes it was the blacks."
"I don't care, good, I hope the Jews did kill Christ, I'd do it again ... if I hear his Birkenstocks clacking this way," Silverman said.
That quote, Silverman wrote on Twitter, was turned into a meme and presented as if she said it at a press conference. The person who made the meme, the comedian wrote, knew it was comedy and "intentionally repurposed it as real, knowing it would influence a swatch of people who see it and share it every day."
"And that's America today. Incitements of violence based on lies and the disingenuous re-framings of truth," Silverman wrote.
On Saturday, Stedfast Baptist Church Pastor Jonathan Shelley said in a video that Fannin was fired from the church, although not because of his comments about Silverman. About six months ago, Shelley said the church found out he was a "liar," "railer," and "super selfish."
Shelley noted Fannin's personality was to rail, so it didn't surprise him that he would rail against Silverman, who Shelley reiterated was "wicked," "ungodly," and "hates the Lord." The pastor noted that Fannin called her a Zionist and a witch, which were things he said he didn't know if they were true. In May, Shelley said during a sermon that Fannin was a "liar and a deceiver" who had "no power and no authority of God."
It's unclear what exactly Fannin was referring to when he said she promoted child molestation, although, it's possible it was about a tweet she penned in 2009 asking if it was "considered molestation if the child makes the first move." Silverman repeatedly noted the comment was from years earlier, posting on Twitter in 2018 that it was a time when "hard absurd jokes by comedians were acknowledged for what they were—jokes."