Sarah Thomas to Become First Female to Officiate a Super Bowl Next Month
The NFL announced Tuesday that Sarah Thomas next month will become the first female to officiate a Super Bowl. Thomas will be a part of referee Carl Cheffers' crew at Super Bowl LV in Tampa, Florida.
Thomas became the league's first female on-field official in 2015. The NFL puts together its Super Bowl officiating team based on eligibility, of which a minimum of five years in the league is one requirement.
Troy Vincent, the NFL executive vice president of football operations, commended Thomas' "elite performance and commitment to excellence."
"Sarah Thomas has made history again as the first female Super Bowl official," Vincent said in a statement. "Her elite performance and commitment to excellence has earned her the right to officiate the Super Bowl. Congratulations to Sarah on this well-deserved honor."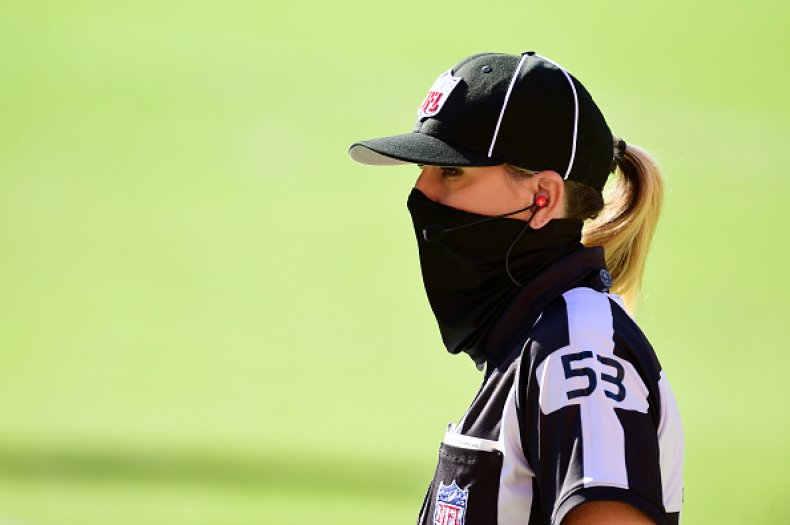 Thomas will work as a down judge on Cheffers' crew, which will also include umpire Fred Bryan, line judge Rusty Baynes, side judge Eugene Hall, back judge Dino Paganelli and field judge James Coleman. Cheffers has officiated one Super Bowl (LI). Bryan, Baynes, Hall and Paganelli have all officiated at least one Super Bowl apiece in their career.
Thomas, 47, who spent the 2020 season on the officiating crew of Shawn Hoculi, had to work her way through the ranks just to get into the NFL. Prior to the league, she was the first female to officiate a major college football game, the first to officiate a bowl game and the first to officiate in a Big Ten Stadium.
Thomas was born on the Mississippi Gulf Coast and eventually played collegiate basketball at the University of Mobile. She was 26 when she officiated her first football game, which was a high school varsity game in 1999.
She was invited to attend an officials camp in 2006 by former NFL referee Gerry Austin, who was director of Conference USA officials at the time. In 2007, she officiated a game between Memphis and Jacksonville, making her the first female to work a major college football game.
In 2009, she had a full slate of 11 games, and later that year she officiated the Little Caesars Bowl between Marshall and Ohio. In 2011, she became the first to officiate a game in a Big Ten Stadium when she worked the game between Rice and Northwestern.
In April of 2015, she became a full-time NFL official. The first game she officiated was the Kansas City Chiefs at the Houston Texans on September 13, 2015, as part of Pete Morelli's crew.
Now, her first Super Bowl could be officiating another Chiefs game, should they beat the Buffalo Bills this Sunday in the AFC Championship.
Super Bowl LV will be Sunday, February 7 in Tampa, Florida.