'Sarco' Assisted Suicide Pod Could Be Available in 2022 After Passing Review in Switzerland
A portable capsule designed for use in assisted suicide has been authorized by Switzerland's medical review board and could be available within the year, according to a local Swiss news outlet.
The suicide pod known as the "Sarco" is made with 3D-printing technology by the company Exit International. Swiss Info, a news platform produced by the Swiss Broadcasting Corporation, reported on Monday the controversial capsule recently passed legal review for use.
Around 1,300 people died by assisted suicide in Switzerland in 2020 using the method of ingesting liquid sodium pentobarbital, Swiss Info reported. A person falls asleep within two to five minutes of ingesting the drug, but Sarco offers a different option without the use of controlled substances.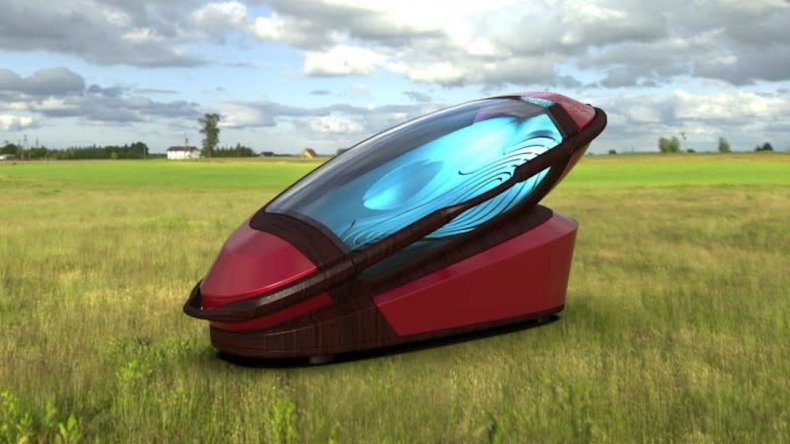 Inventor Philip Nitschke of Exit International discussed the Sarco—named after the sarcophagus funeral receptacles used in ancient Greece and Egypt—with Swiss Info.
"We want to remove any kind of psychiatric review from the process and allow the individual to control the method themselves," he said. "Our aim is to develop an artificial intelligence screening system to establish the person's mental capacity. Naturally, there is a lot of skepticism, especially on the part of psychiatrists."
Nitschke explained that people would be screened through an online test before gaining approval to use the Sarco. Once someone passes the test, they are given a code to access the machine.
As for how the pod works, Nitschke explained to Swiss Info that the Sarco is activated from the inside, where the user will be asked a number of questions before the machine can be activated. The process can also be aborted should the person inside decides to stop.
Nitschke explained another part of Sarco's appeal is that its portability gives users the ability to decide where they want to die.
"The machine can be towed anywhere for the death," he said. "It can be in an idyllic outdoor setting or in the premises of an assisted-suicide organization, for example."
"The person will get into the capsule and lie down," Nitschke added. "It's very comfortable."
Inside the pod, a button starts the process of controlling the oxygen level, which decreases from 21 percent to 1 percent. Nitschke said the process takes around 30 seconds.
"Death takes place through hypoxia and hypocapnia, oxygen and carbon dioxide deprivation, respectively. There is no panic, no choking," he told Swiss Info.
Once the person passes away, the Sarco, which is made from biodegradable wood-based material, can then be used as a coffin.
Exit International expects the Sarco machine to be operational in 2022. The company has made three prototypes but has not yet announced how much the pods will cost. Additional add-on features, such as a camera that allows the user to speak to those outside the pod, are also expected to be available.