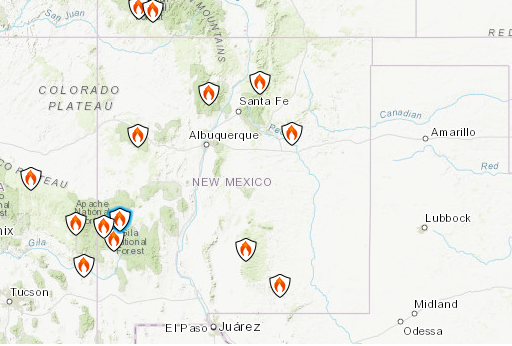 A wildfire burning in northern New Mexico this week reached 85 acres by Monday evening, fire authorities said. The Sardinas Canyon Fire, burning north of Santa Fe, was zero percent contained.
Authorities said the fire grew 10 acres from Monday into Tuesday, according to the Taos News. Favorable winds helped to keep the flames from spreading out of control.
"We got some good winds [Sunday]," said El Rito District Ranger Jim Gumm, according to Taos News. "It's very rugged terrain, so it's very challenging to get people in there."
The fire started Sunday afternoon at around 2:09 p.m. local time, about 15 miles southeast of Taos. Some 120 fire personnel, including four crews, four engines, one airplane and three helicopters, were deployed to the scene.
The cause of the Sardinas Canyon Fire remained unclear and was under investigation. Parts of the Carson National Forest were closed, including campgrounds, trails and roads. Fire authorities warned of the dangers of smoke for nearby communities, including Mora, Chacon and Holman.
Multiple other wildfires were also burning in New Mexico this week, the largest of which was the Buzzard Fire, at more than 50,000 acres. The Buzzard Fire, which began May 22, was about 85 percent contained Tuesday. Authorities said the fire was human caused and was burning about 10 miles east of Reserve and about 109 fire personnel were working to fully contain the blaze.
Other parts of the western United States were experiencing severe fires as well, including California and Colorado. California Governor Jerry Brown declared a state of emergency this week due to the 10,000 acre Pawnee Fire, in Lake County. More than 20 homes were already destroyed, and hundreds more remained threatened by the flames.