Sarlacc Pit: Enormous Unexplored Cave Discovered in Canada Could Be 6,000 Feet Long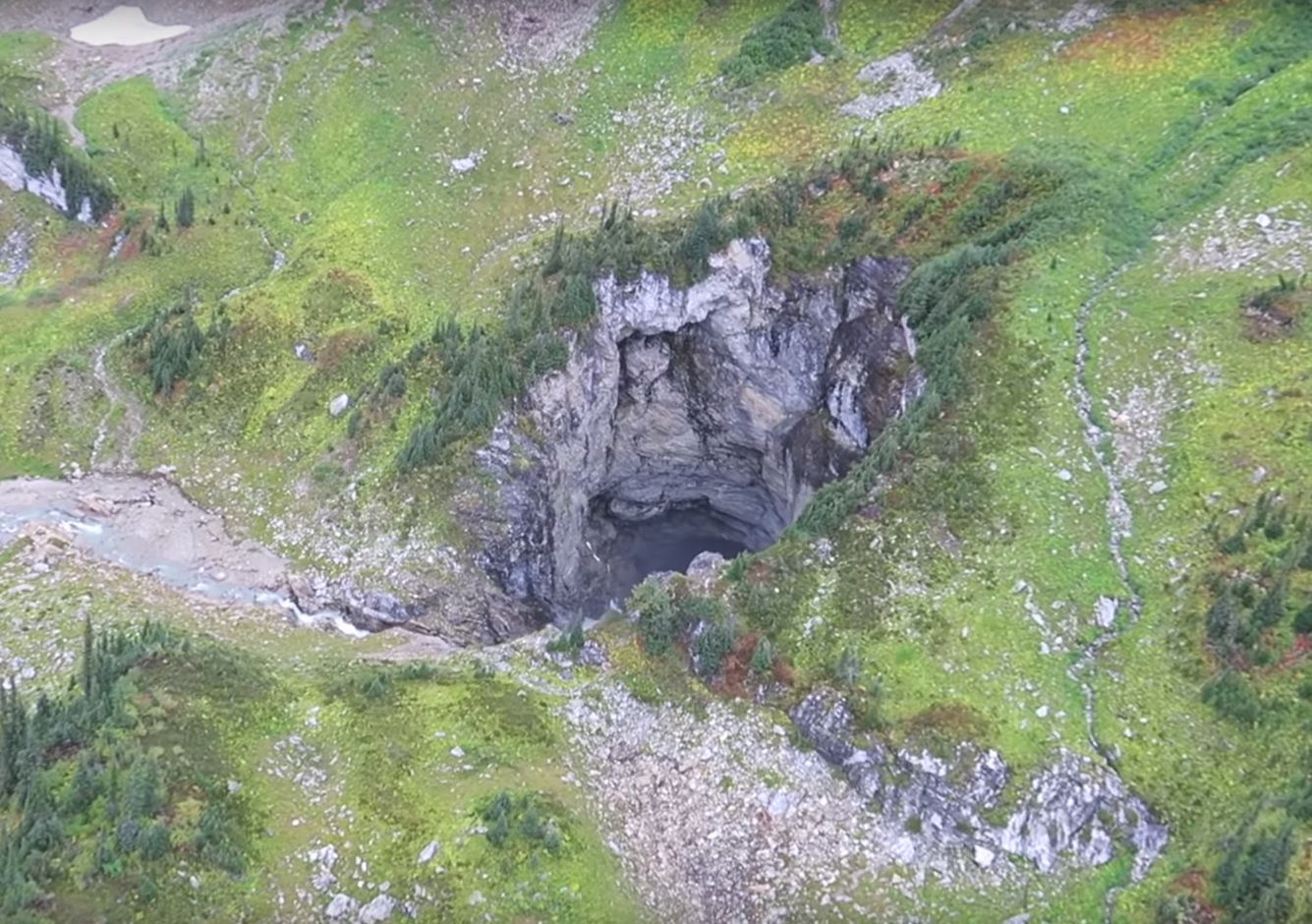 An enormous, unexplored cave of "national significance" has been discovered in a remote alpine corner of Canada.
A helicopter team from the Ministry of Forests, Lands and Natural Resource Operations stumbled upon the chamber in April, as they counted caribou in British Columbia's Wells Gray Provincial Park, Global Newsreported.
On September 9, a team of scientists explored the cave, likely becoming the first people to see its interior.
The cave's entrance measures 100 by 60 meters (328 by 197 feet) wide (around the size of a football pitch), archaeological surveyor John Pollack, who co-led the team, told Canadian Geographic.
"When you're standing on the edge looking down into it, your line of sight is nearly 600 feet. You don't get lines of sight of 600 feet in Canadian caves—it just doesn't happen," he said.
Pollack, who has studied some of the world's biggest caves, described it as "immense" by international standards and "as big as they come in Canada." The researchers were unable to measure the depth of the cave but estimated it goes down as far as 180 meters (590 feet) and is 2 kilometers (6,561 feet) in length, BBC News reported.
Beneath the mouth is a steep drop leading to water flowing into it. It is believed that the rush of a large stream filled with melted snowpack and glacier water may have formed the cave.
Writing in a document detailing the finding seen by Canadian Geographic, Pollack and geochemist and speleologist Chas Yonge said the finding marks a "dramatic new chapter in the story of Canadian cave exploration."
Catherine Hickson, who co-led the team, told Global News the discovery came down to luck, as the crew flew above the cave at a time when it wasn't masked by snow. She told BBC News the entrance was "awe-inspiring."
Bevan Ernst, a biologist who works for the Canadian government, was on board the helicopter assessing the caribou and told BBC News, "We were looking for caribou, not caves."
Ernst dubbed the chamber Sarlaac Pit, according to Canadian Geographic, because of its resemblance to the lair of the Star Wars villain.
The team told BBC News it believes the cave is the biggest known karst, a cave formed by the dissolution of soluble rocks. As a striped karst, it is made of marble embedded with marble-combined rocks.
Because of the equipment needed to scale the Sarlaac Pit, with its "precipitous, intimidating" entrance, it's unlikely that the cave has ever been explored, Pollack told Canadian Geographic.
The team hopes it will be granted access to continue probing the cave in 2020, according to Canadian Geographic.