Why WWE Fans Are Convinced Sasha Banks Release Is Happening
The wrestling world has been rocked by reports that Sasha Banks is leaving the WWE after a decade in the ring.
Sasha Banks' rumored release from the WWE comes one month after she and tag-team partner Naomi staged a walkout from the May 16 edition of Raw, leading to the pair being given indefinite suspensions without pay.
WWE fans on social media have been sharing their support for Banks, with one fan tweeting: "Sasha Banks doesn't needs WWE, WWE needs Sasha Banks."
Here's what we know—and what we don't know—about Banks' wrestling future.
Has Sasha Banks Been Released by the WWE?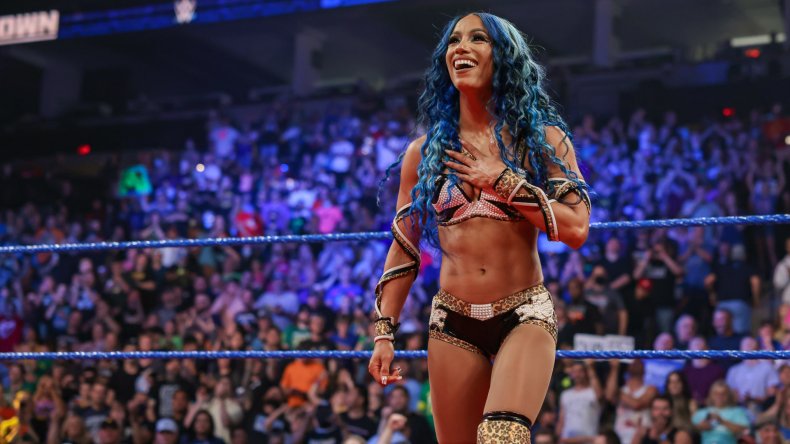 Officially, we do not know the state of Banks' contract, as neither she nor the WWE confirmed the reports.
The rumor began with Wrestling Inc. owner Raj Giri who tweeted: "I'm hearing Sasha Banks has been released. I don't know if it's he requested it or if it was on WWE's end."
This tweet instantly split the wrestling world between those who felt he was (to quote one tweeter) "​​purposefully given BS," and those who pointed out other Giri scoops that turned out to be true. In August 2021, for example, Giri was the first to report that Ric Flair had been released from his WWE contract.
Giri also staked his professional reputation on the scoop, telling one fan: "If I'm wrong, I'm out as far as breaking news, I won't seek it or do it again."
Fellow WWE reporter Sean Ross Sapp of Fightful.com retweeted Giri's post with the caption: "I spoke with Raj this afternoon and asked WWE about this. As of this evening, they said they hadn't heard that, and talent relations didn't seem to know.
"Not saying that it didn't or isn't happening, but this is what I've heard so far when I asked. Raj has good sources."
There have certainly been signs that the WWE is finished with Banks and Naomi. Both of their official Facebook pages have been removed, all merch featuring them has been taken off the WWE store, and they no longer feature in the show's opening titles. Naomi responded by taking all mention of the company from her Twitter bio—something Banks has not done, though she has not tweeted since mid-May.
The news also comes amid reports that the pair's contracts were set to expire within the next few months.
Some Twitter users, however, were cynical about the rumor. One summed up the skepticism by tweeting: "I'm sitting laughing at all these people blowing up over Sasha Banks rumor. Just what the WWE wants you to do."
After all, this news comes out just hours after the Wall Street Journal reported that the WWE board was investigating a settlement chief executive Vince McMahon made to a former female employee.
Previously, Banks had hinted at a move into Hollywood following her role in Disney+'s The Mandalorian. She told the Bleacher Report last year: "Now I'm in this whole new Hollywood world and it's going amazingly. I'm so excited for the fans, and I can't wait for my fans to see what's next."