Sasha Obama Among Freshmen Starting Classes At University of Michigan Next Week: Report
Sasha Obama is preparing for her first day as part of the University of Michigan's class of 2023, according to reporting from Detroit News.
The youngest daughter of former President Barack Obama and first lady Michelle Obama graduated high school in June and has reportedly enrolled in classes on the Ann Arbor campus that will begin next Tuesday.
Speculation of Sasha Obama's enrollment at the school created a buzz on the internet in December, when the then-17-year-old supposedly tagged the University of Michigan in a post on her private Instagram account.
"So proud to say I'm going to college with my sisters!!" Sasha allegedly wrote below an image of herself and two friends on what is said to be the university's football stadium, also known to Wolverines as "The Big House."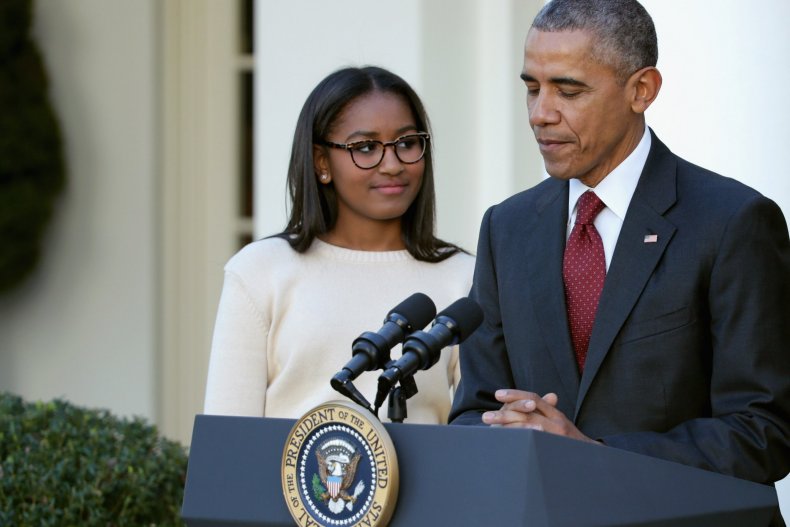 According to the University of Michigan's admissions website, 6,995 students make up the 2019 incoming freshman class. The total number of admissions granted was 14,949 — out of a pool of 65,716 applicants — making this year's acceptance rate 22.7 percent. This year's freshman also hold an average high school GPA of 3.9.
Sasha Obama has taken a slightly different path to higher education than the rest of her immediate family, opting not to attend an Ivy League school. Former President Obama spent his undergraduate years in New York City at Columbia University, while the former first lady attended Princeton University. Sasha Obama's older sister Malia Obama took a gap year in 2016, working for the Weinstein Company before entering the freshman class of Harvard in 2017.
"I think it's cool that even though her family went to Ivy League schools, she decided that UM was the caliber high enough to match that of an Ivy League school," Jessica Brinser, University of Michigan sophomore told Detroit News. ""We hope she finds her fit here just like we all have. We all love it here. We hope she does, too."
When asked to comment on Sasha Obama's attendance at the school, University of Michigan spokesperson Rick Fitzgerald neither confirmed or denied the report.
"We cannot confirm the enrollment of any student," Fitzgerald told Detroit News. "Classes do not start until next week, and we are weeks away from official enrollment information."
However, it is reported that several students saw the youngest Obama daughter on campus this week for freshman orientation, escorted by — what was most likely — a group of secret service agents.