Sasha Obama's TikTok Dance Catches Notice for an Odd Reason— Her White Friends
When someone posted a video Sasha Obama dancing with a group of friends on TikTok over the weekend, she likely didn't expect it to get noticed for a very unexpected reason: The presence of so many white people.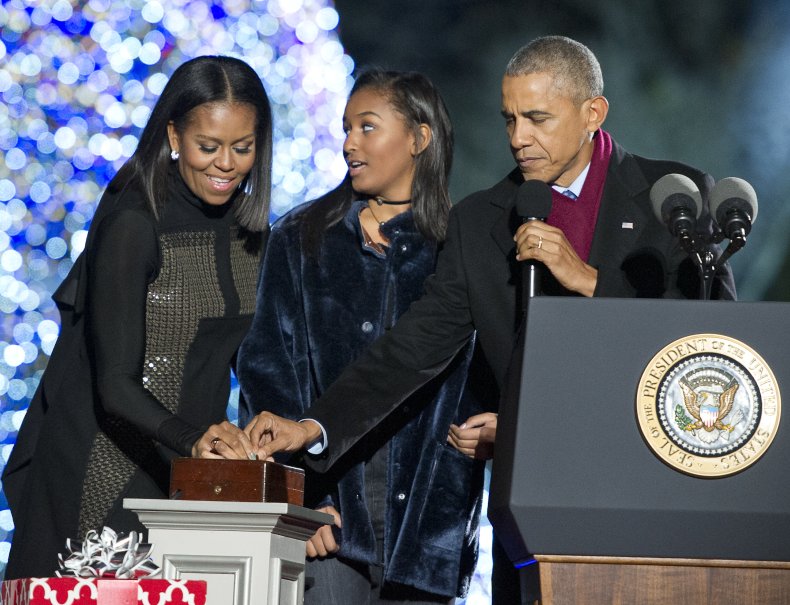 The user, identified only as @pixiestick222, quickly deleted the video, but not before someone else captured it and shared it on Twitter. It was on that platform that it took on a whole new life.
The Twitter user, Kushaan Shah, posted the clip on Twitter on Sunday, noting that "Sasha Obama about to make this girl's TikTok viral."
Shah was right about that, but it's unlikely he could have predicted exactly why it was widely shared and remarked upon. At first, many viewers latched on to Sasha's long, acrylic nails. But then, more recently, some people took notice that several of the young people dancing with the former first daughter, aside from a younger black man behind her, are white.
Author/activist Ariaa Jaeger applauded Sasha, noting she was "doing the lord's work teaching teaching white kids rhythm."
People who complained, mocked, or feigned surprise at Sasha having white friends mostly deleted their comments shortly after posting. However, a few of the ones who at least tried to address it humorously, rather than with anger, remained.
This commenter said fellow black people shouldn't be judgmental. Others also noted that most people have friends of different races.
More than one Twitter user noted they weren't surprised Sasha has white friends while alleging that may be the case for her having gone to prominently white private schools.
Sasha, 19, is a student at the University of Michigan, though as of the end of September, her mother Michelle revealed both Obama girls were resuming school virtually at home. In other words, this group isn't likely a group of random youngsters with her, even though it's unclear when and where the video was recorded.
However, some people on social media--like the writer below--attacked Sasha for supposedly flouting pandemic protocol by gathering inside with a group of people, dancing closely together, while not wearing masks. (Note: The group appears smaller than even the most stringent recommendation of 10 or less people gathering together, and it's unclear if this group is part of a "quarantine pod" or not.)
Tim O'Brien, a columnist at Bloomberg Opinion, joked that she was trending because her father didn't try to get her a preemptive pardon. (He's referencing the report that Donald Trump is allegedly trying to as much for his daughter Ivanka before he leaves the White House.)
This writer didn't care if people are criticizing Sasha's nails or her friends; they should just leave her be.
Others concentrated on the positive, like this message noting that Sasha "looks happy, "has a group of normal looking friends, and is simply beautiful. We're good over here."