SAT or ACT? College Exam Rivalry May Favor the Former Upstart
This article originally appeared on the International Business Times.
Thirty years ago, before she was a successful lawyer with her own practice in San Francisco, Eunice Chang had to take the SAT like everyone else. Armed with a practice book, she studied obscure vocabulary, solved elaborate equations and soaked up advice for how best to conquer the intimidating college entrance exam that has defined Americans' high school careers for decades.
This past March, she watched her 16-year-old son, Ryan Chan, do the same after weighing the pros and cons of picking the SAT over its increasingly more popular rival, the ACT exam. Like mother like son, he completed a freshman-year SAT prep course, went to bed at 9:30 the night before and ate bacon and eggs over easy for breakfast to fuel up for the big test.
But what Chang will do when it's her 12-year-old daughter's turn to apply for college is anybody's guess. By then, the SAT students have confronted for years could be obsolete, and pursuing higher education may not require a test score at all.
'McDonald's and Burger King'
For generations, the SAT served as not only an academic necessity but also a cultural tradition, ruthless in determining who went to which college and, eventually, nabbed what job. In recent years, however, it hasn't been scoring so well with parents, students and college administrators amid recurring reports of cheating, the ever-rising popularity of the ACT and a growing test-optional movement in higher education that could see college admission exams go the way of typewriters and quill pens. With the SAT's reputation being put to the test like never before, at stake are the futures of an estimated $4.3 billion test prep industry and the College Board, the nonprofit that oversees the exam, which must adjust its marketing strategy to win back skeptical families and educators.
"This is McDonald's and Burger King," said Bob Schaeffer, director of the nonprofit advocacy group FairTest and a frequent critic of standardized testing. "Burger King has spicy fries, which people like—McDonald's is test-marketing spicy fries. It is a duopoly where the two dominant players are trying to match each other's appealing offerings and one-up them."
Each exam has a reputation: The ACT is seen as a straightforward exam that tests knowledge of facts, while the SAT is known as a series of tricky questions solved through reasoning.
The tests are important because college is "the surest ticket to the middle class," as President Barack Obama likes to call it. Americans with degrees make, on average, 98 percent more an hour than ones without. Graduates of esteemed math- and science-focused schools and Ivy League institutions make $650,000 more over 20 years than their counterparts, according to data analysis by Time. Getting into those top schools requires a steep SAT score: For example, the average best overall score for the class of students admitted to Harvard last year was 2229 out of 2400. The national average SAT score was 1490.
As such, the testing business is lucrative. The ACT with writing costs $56.50 per person, while the SAT with essay is $54.50. Fee waivers are available for low-income students, but the companies are almost certainly making bank. And because schools typically accept scores from either exam, the personal preferences of teenagers and their parents control which lands on top. Since 2012, that's been the ACT. In the 2014-15 school year, the most recent for which data is available, it racked up 1,924,436 test-takers to the SAT's 1,698,521.
Performing well on the exams tends to cost extra. As both organizations have expanded, so too has a cottage industry of test prep experts. Data provided by IBISWorld, an industry research company based in New York City, showed the American test prep industry brought in about $4.3 billion in 2015, with most of its clients under age 21.
SAT prep courses from Kaplan run from $299 to $3,799, or you can explore cheaper options like the $25 official ACT prep book with practice tests included. Nielsen numbers show that more than 1.7 million SAT and ACT test books were sold last year alone, up from 1.4 million in 2012.
The College Board declined to answer questions about its business model or the complaints surrounding its exam. A spokeswoman noted that the nonprofit has focused on expanding its services by promoting its exams to lawmakers as a way to fulfill federal testing mandates in public schools.
"There is no future for assessments without opportunity," Stacy Caldwell, the vice president of the SAT Suite of Assessments, said in a statement. "The new SAT and other tests in the SAT Suite of Assessments have not only been redesigned; they're more closely tied to opportunities that move students toward college and career readiness."
SAT's cultural cachet
At the turn of the 20th century, college enrollment was skyrocketing. The number of 18- to 24-year-olds pursuing higher education—238,000—had more than doubled since the 1870s as their cohort of the population grew. A group of administrators soon decided they needed a way to evaluate them all fairly.
In 1900, representatives from 12 northeastern universities came together to establish a set of standards on which to test prospective students—history, Greek and zoology among them. The organization would become the College Board, and it would later tap psychology professor Carl Brigham to create an exam that would help admit the smartest students in each academic class. He did, adapting Army intelligence tests from World War I into the Scholastic Aptitude Test. It debuted in 1926.
The SAT existed on its own for about 30 years, but by 1959, Ted McCarrel and E.F. Lindquist, two educators at the University of Iowa, decided that the less selective colleges in the Midwest needed an alternative exam that measured students' achievement.
The duo created the American College Testing Program, or ACT, and by 1961 it had 300,000 test-takers to the SAT's 800,000, according to erikthered.com, a tutoring site. Students loved its black-and-white questions, while state schools sought out its placement data.
For years, the two testing organizations functioned like divorced parents: The SAT had custody of the East Coast and South, while the ACT took care of the West and Midwest. The SAT, in particular, entrenched itself in pop culture. The exam was at the center of a 1991 episode of the NBC sitcom "Saved by the Bell," during which slacker Zack Morris somehow scores higher than brainiac Jessie Spano, and was featured in a brief 1997 story arc in the beloved ABC kids' show "Boy Meets World." In 2004, before they were Avengers, Chris Evans and Scarlett Johansson starred in "The Perfect Score," a comedy about a group of friends' plan to steal the exam in order to get into their top-choice universities. The SAT test even showed up in rap lyrics sung by J. Cole and Wyclef Jean (although the latter only sang about how he failed it).
Throughout this, the ACT was quietly amassing followers like northern Virginia resident Samuel Delano, who took the SAT at the beginning of his senior year and declared it "not my favorite test."
"I didn't really like the wording of a lot of the questions," he said, explaining they were too long and confusing. The ACT was more clear-cut, and "I was more comfortable with a lot of the subject matter," he said.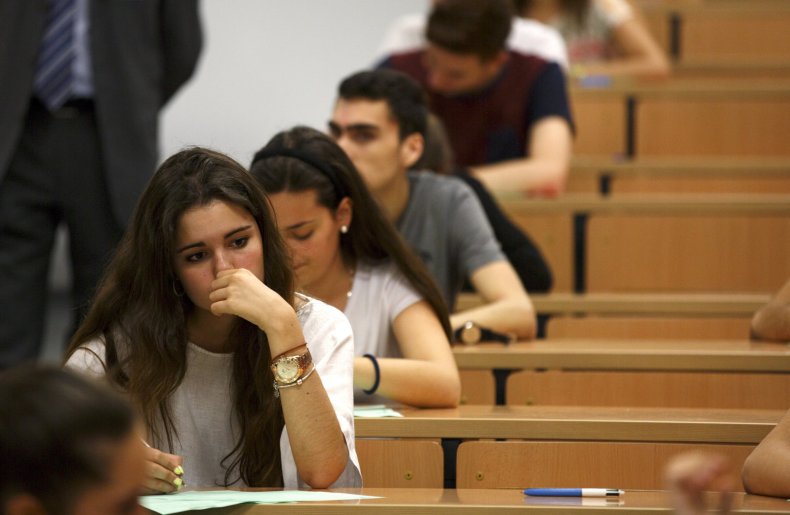 Delano said the morning of his ACT, he woke up early, pulled on sweatpants and did his best. His best turned out to be a composite score of 30 out of 36—good enough for him to apply to the University of Connecticut, University of Vermont and Hofstra University in New York, among others.
"My GPA wasn't out-of-this-world high," he said. "I would say that the test definitely helped me out."
Delano, 18, recently finished his freshman year at the College of Wooster in Ohio, where he plays lacrosse and hasn't yet declared a major. His mother, Kathleen Delano, still keeps a binder of all his acceptance letters.
ACT's rise
Ned Johnson, president of PrepMatters, a college advising company that serves Maryland, Washington, D.C., and Virginia, points to 2005 as the year the ACT began to overtake the SAT in the region. That's when the SAT revamped its exam for the first time since the '90s, changing its scoring system from 1600 points to 2400, eliminating verbal analogies and adding a writing section. Students went from having to solve complex statements like "paragon is to excellence as traitor is to disloyalty" to answering open-ended essay questions like "Do memories hinder or help people in their effort to learn from the past and succeed in the present?"
PrepMatters started as an SAT-centric outfit, but it quickly shifted toward the ACT to respond to customer demand.
"Change is hard, and change is stressful, so even if the changes to the SAT had been an improvement … a lot of kids who had never, ever thought about the ACT were still kind of 'aahh' about the SAT," Johnson said. "It drove a lot of kids right into the arms of the ACT."
Johnson said clients were wary at first, peppering him with questions about whether schools took ACT scores as seriously as the SAT. "I spent 15 years trying to convince parents that it was safe for their kids to take the ACT, because if they grew up with the SAT, they just didn't believe it," Johnson said. "I don't have to have those conversations anymore."
Research, however, has suggested that both exams might not be as useful or fair as administrators once thought. College Board and ACT data from 2015 showed continued racial gaps where white and Asian students scored higher than black and Hispanic ones. In Maine, a former dean of admissions at Bates College in Lewiston found in 2014 that the difference between the cumulative GPAs of students who submitted their test scores and those who didn't was .05.
As a result, some colleges have gone test-optional, enacting rules that don't require students to send in scores for admission. FairTest counts more than 850 institutions that have such policies, among them Wake Forest University in Winston-Salem, North Carolina, Wesleyan University in Middletown, Connecticut, and George Washington University in Washington, D.C. The College Board, however, argues that that number is inflated.
Other challenges have also tested the SAT's reputation. In May 2013, the College Board canceled an entire country's worth of tests—something it had never done before—when it discovered the questions were being shared ahead of time in test prep centers in South Korea. The next year, all students in China and South Korea who took the SAT in October had their scores delayed due to "reliable allegations" of cheating. A Reuters investigation from April found that, in the past year and a half, the College Board had "delayed issuing scores in Asia six times and canceled an exam sitting in two locations there—steps the College Board takes when it has evidence that test material has been exposed to the public."
Despite all of this, the College Board appears to be doing well financially. Its 990 tax form for 2013 showed total revenue was about $841 million, up from $796 million the year before. For comparison, ACT Inc., brought in about $329 million in revenue in 2013, up from $317 million the year before.
Ann Wright, a former College Board regional vice president, argues that entrance exams will always be useful: With more than 20 million students in American colleges and universities, institutions need some way to narrow the field by judging people from a variety of places with a variety of education systems on a single scale.
"I think the test is one of the few objective and fair methods of determining where people are in their education and what they need to work on," she said. "It just seems to me that there have to be standards."
Redesigned SATs
In March 2014, the College Board announced its plan to redesign the SAT. Gone is the wrong-answer penalty Bregenzer disliked so much, as is the mandatory essay. The College Board has reverted to a 1600-point scale, decreased the number of answer choices from five to four, cut back its use of arcane vocabulary and focused more on evidence-based questions.
College Board President David Coleman said in a news release the makeover was intended to make the SAT more relevant to what teenagers were actually studying in the classroom. But others saw it as a business move that could help the SAT recover.
"I'm not sure what exactly is happening at the corporate table of the College Board, but I'm guessing that they're becoming more aware of and determining how they can sustain themselves," said Rex Whisman, a Denver-based branding consultant who specializes in education. "The other side of that coin is that, as you continue to tweak, it maybe becomes a situation where it feels like you're desperate and trying to chase something that's no longer relevant."
Cristiana Quinn, founder of College Admission Advisors, based in Providence, Rhode Island, said she's encouraging her clients in the class of 2017 to take the ACT rather than the SAT simply because the former is a known quantity. The new SAT hasn't been out long enough to generate reliable prep materials, she said, and there are nuances to the scoring that experts are still debating.
"There used to be very specific things you could look for in a student and their strengths to kind of guide them toward an SAT or ACT," she said. "And right now, we don't know those things."
The new SAT's first formal test date was in March, and students have since reported back with positive results. In a survey released by the College Board, test-takers said they overwhelmingly preferred the new version of the exam, with more than 70 percent of them saying they thought the test aligned with what they were learning in school.
When students and parents come to Karl Schellscheidt asking which test to take, the chief executive officer of ePrep Inc., in Princeton, New Jersey, tells them the two tests are now extremely similar except for one caveat: The ACT has a science section. Teenagers think to themselves that if they take the SAT, they have "one less thing to study for," Schellscheidt said. That's one reason he thinks the SAT will bounce back soon.
The most proverbially fertile ground for the SAT's growth is at the state level. The College Board and ACT want to lock in users at a young age by brokering contracts with states seeking standardized tests to fulfill their annual assessment requirements under the federal Every Student Succeeds Act.
In 2015, the SAT nabbed a three-year, $17.1 million contract to give Michigan's high schoolers an assessment. It was cheaper than the ACT, which the state had been giving since 2007, by about $15.4 million, according to the Detroit Free Press. Illinois also bucked a 15-year trend and switched last year from giving its students the ACT to the SAT. In December, Colorado, one of the first states to give the ACT to all students, swapped sides to the SAT, as well.
Eva Baker, director of the National Center for Research on Evaluation, Standards, and Student Testing at the University of California, Los Angeles, predicts that going forward, the SAT is going to creep lower and lower in the American school system. Kids will take some form of the exam in ninth grade, then seventh, then fifth, she said.
These trends and others, like the fact that the College Board's Advanced Placement program hit 2.5 million students last year while its PSAT program, a junior version of the exam, serves more than 3.5 million students every year, suggest the College Board is not going anywhere.
"What was the old Mark Twain line? 'The rumors of my death are greatly exaggerated,'" said Phil Trout, president of the National Association for College Admission Counseling based in Arlington, Virginia.