SAT Checklist: How Long Is SAT? Which Calculators Are Accepted, Last Minute Tips
The SAT can be a stressful time in a high school student's life, but fortunately, almost every question a student has can be answered ahead of time.
Students nationwide will spend the better part of their Saturday answering SAT questions with the goal of getting a good score that will boost their ability to attend their choice of college. The exam, which has been administered for decades, has three sections intended to measure a student's aptitude for college.
To help students prepare for the exam, the College Board, the organization that oversees the exam, outlined on its website what students should expect. On exam day, doors open at 7:45 a.m. local time and close at 8:00 a.m. local time. Students who show up late will not be admitted, although, they can reschedule.
Between 8:30 a.m. and 9:00 a.m. the coordinator will read instructions and the exam will begin. Sections are completed within allotted time frames and students cannot go back to a section once it's completed.
For those students completing the essay portion of the exam, which is optional, they'll likely be finished around 1:00 p.m. local time.
Along with rules as to when students can be admitted into exam rooms, the time allotted for sections and when breaks can be taken, there are a number of other rules so College Board created a checklist to help students.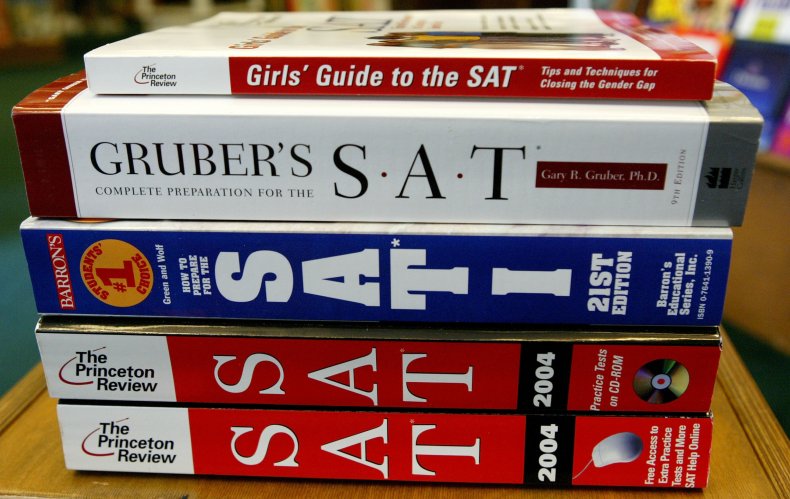 SAT Checklist
Admission ticket
Valid, unexpired government-issued or school-issued photo identification
Two number two pencils with erasers
A watch without an audible alarm
Extra batteries and backup equipment
Drink or snacks for break
An approved calculator
What Calculators Are Accepted for the SAT?
Calculators are permitted for part of the Math portion of the exam, however, there are restrictions on which calculators can be used. Most graphic calculators, all scientific calculators and four-function calculators are permitted. A full list of brands and models that pass College Board's standards can be found here.
Students are not permitted to share calculators and College Board advised students to practice with their calculator ahead of the test.
Last Minute SAT Tips
Even some of the most prepared students seek out last-minute tips that could help them with the SAT. Here are a few from Princeton Review:
Limit studying to 30 minutes or just relax because SAT-eve prep has little effect on a student's score
Pack your belongings the night before
Get a good night's sleep
Don't roll out of bed and go to the exam. Students should be fully awake before they leave
Stick with your normal coffee or tea routine
Wear a watch in case the testing room doesn't have a clock or the clock is broken
Wear layers because testing room temperatures can vary and students should be comfortable
Take advantage of breaks and don't sit in the testing room waiting for the test to start again
Guess the same letter for all questions a student doesn't have time to do or doesn't know the answer to
College Board noted that there isn't a penalty for wrong answers, so students shouldn't leave questions blank and Prep Scholar, an ACT and SAT prep course company, shared tips of their own:
Don't spend a lot of time on answers you don't know. Circle it, move on and come back to it
Use direct evidence from the given passage to back up points in the essay
Take reading passages at face value and only choose answers that are directly supported by what you read
When it comes to math, go with the most logical answer based on what you see
Don't overuse your calculator so it's costing more time than it's worth
If you're doing something complicated for a math problem, you're probably going down the wrong path
Above all else, it's important for students to stay calm and not panic or put too much pressure on themselves over the exam. While a good score can help a student's chances at being admitted to a school, many higher education institutions use a more organic approach to evaluating applications, so the SAT likely isn't a defining moment for the rest of a student's life.