Satan 2: Putin Tells U.S. 'You Will Listen to Russia Now' as he Deploys Hypersonic Nuclear ICBM
Russian President Vladimir Putin said Russia is developing a new generation of advanced nuclear weapons including a hypersonic intercontinental ballistic missile (ICBM) that can reach almost anywhere in the world and cannot be shot down by anti-missile systems.
Putin made the claim during his annual presidential address to the Federal Assembly in Moscow. He officially unveiled a new hypersonic nuclear-capable ICBM called the RS-28 Sarmat and said it would be able to strike anywhere in the U.S.—adding that testing of the weapon is now complete. NATO calls the nuke "Satan 2".
A video was played during the speech showing off the weapon's alleged capabilities, reported RT, Russian state media. Putin said other countries only listen to Russia when it creates new weapons systems, reported Sputnik, another of Russia's state organs. "You will listen to us now," he added.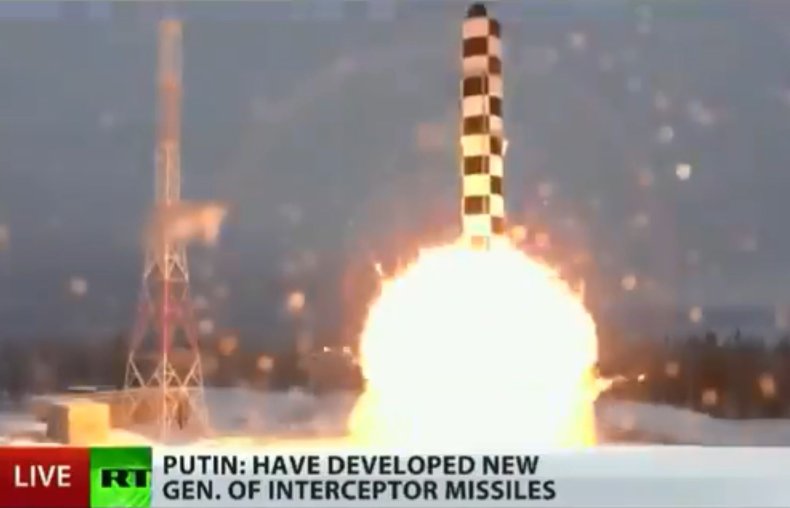 There have been media reports about the RS-28's development since 2014. But Putin's speech claims testing of the weapon is finished—and he said it is already deployed in the south of Russia, Sputnik reported.
Claims made in the Russian media about the RS-28's capability state that it carries a payload powerful enough to destroy an area the size of Texas and has a propulsion system so advanced that it can defy existing missile defense systems.
Putin's nuclear grandstanding comes at a time when he is pushing to expand Russia's sphere of influence, especially in the Middle East. After the U.S. and its allies including Britain decided not to fully enter the conflict in Syria back in 2013, after the Assad regime was accused of using chemical weapons on his own people, Russia stepped in to support the Syrian government militarily and financially as it attempted to regain control of the country.
Now it is using its foothold in Syria to cement its influence in the region and push the U.S. back. In a statement to the House Armed Services Committee, General Joseph L. Votel, commander of the U.S. Central Command (CENTCOM), warned that Russia's presence in Syria threatened America's ability to "dominate the airspace".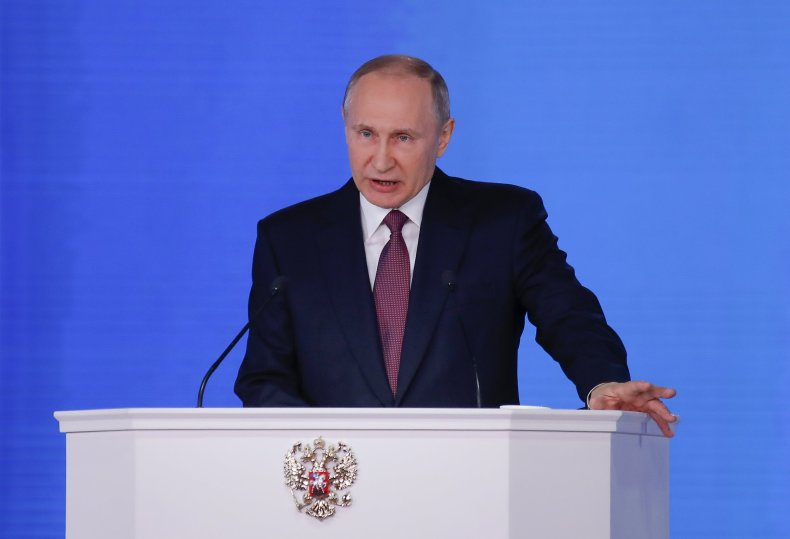 Votel accused Russia of acting as "arsonist and firefighter" in Syria by "fueling the conflict in Syria between the Syrian Regime, YPG, and Turkey, then claiming to serve as an arbiter to resolve the dispute".
He said Russia's role in Syria established Moscow "as a long-term player in the region, and the Kremlin is using the conflict in Syria to test and exercise new weapons and tactics, often with little regard for collateral damage or civilian casualties."
Votel warned: "An increase in Russian surface-to-air missile systems in the region threatens our access and ability to dominate the airspace."
Russia and the U.S. are the two most heavily armed nuclear powers in the world. The U.S. State Department said America has 652 deployed ICBMs, submarine-launched ballistic missiles (SLBMs) and heavy bombers, while Russia has 527. It said the U.S. possesses 1,350 nuclear warheads on deployed ICBMs, SLBMs and heavy bombers, while Russia has 1,444.
And the U.S. claims 800 deployed and nondeployed nuclear launchers, while Russia is estimated to have 779. Both powers are obliged by nonproliferation treaties to reduce their nuclear stockpiles.
Putin is also facing a presidential election at home in March 2018 though he and his allies are accused by his opponents of rigging it in his favor, something he denies, and he is expected to win by a landslide.