Satan 2: Russia Is About to Test Its New 'Invincible' Nuclear Missile
Russia will soon test a newhypersonic intercontinental ballistic missile that President Vladimir Putin says can avoid any U.S. or NATO defense systems.
The RS-28 Sarmat missile, designated "Satan 2" by NATO, will undergo its second "pop-up" test at the Plesetsk cosmodrome, some 500 miles from Moscow, TASS reported.
"The first launch of this missile took place at the end of December last year," Valery Gerasimov, Russia's chief of the general staff, told reporters on Tuesday.
"At the moment preparations are in full swing at the Plesetsk cosmodrome for another pop-up test." Pop-up tests are used to ensure that the missile successfully leaves its launch container.
Channel Zvezda, a TV station run by the Russian ministry of defense, uploaded a video of the test preparations to Twitter.
Gerasimov lauded the abilities of the missile, noting, "With a mass of more than 200 tonnes it has a shorter active phase of flight and better ability to penetrate missile defenses and can carry warheads of larger mass and enormous yield."
The missile was one of several new weapons announced by Putin at his March 1 annual presidential address. He claimed that the new technology was so advanced that no missile defense technology, including in the U.S., could stop it.
The president said that the weapon was developed from 2001 onwards, following President George W. Bush's decision to pull out of a 1972 U.S.-Soviet anti-ballistic missile treaty. At the time, Putin warned Bush not to cancel the deal. "You didn't listen to our country then," Putin said, "Listen to us now."
Putin went on to announce the existence of the Avangard hypersonic missile system, which can be carried by the Sarmat. The Avangard warhead can maneuver during hypersonic flight, he said, making it even harder to intercept. Deputy Defense Minister Yuri Borisov claimed that the weapon was already in mass production.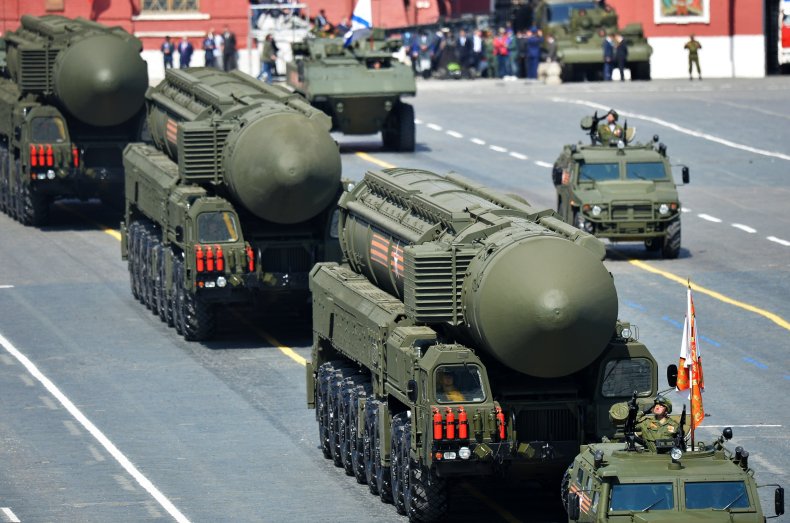 The Sarmat is scheduled to enter service in 2020, replacing the Cold War-era RS-36M Voyevoda missiles. Despite previous delays to the program, Borisov said, "There can be no doubts we will have the new missile Sarmat by the time Voyevoda's service life is over."
It has been reported that the Sarmat can carry a warhead large enough to destroy an area the size of Texas. In the CGI demonstration video accompanying Putin's speech, the missile targeted an area that looked suspiciously like the Tampa Bay area of Florida.
Behind the U.S., Russia has the second largest nuclear arsenal in the world. Putin recently warned that Russia would use the weapons in response to any nuclear attack on its territory, even if it meant "global catastrophe."