Satanic Temple Attacks Texas Schools for Beating Children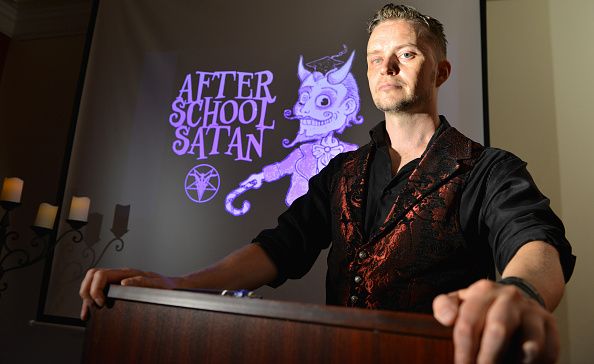 It's not every day you get a public service message on morality from a group of Satanists, but that's exactly what happened in the small town of Three Rivers in south Texas recently.
"Our Religion Doesn't Believe In Hitting Children," reads a large black billboard on the town's main road, bearing the upside down pentagram of Satan worship. A note reading "Paid For By the Satanic Temple" is displayed in the right-hand corner of the sign.
The billboard is part of a campaign launched last year by the Salem, Massachusetts–based Satanic Temple to stop corporal punishment in schools. The Temple says corporal punishment is a violation of its religious beliefs, and it wants Satanic children to know they can contact the Temple and ask for protection. The Temple's representatives would even be willing to go to court for the kids.
"One of our basic tenets is the body is governed by our own sovereignty, and we see state-sponsored violence like corporal punishment as a violation of First Amendment civil rights," Malcolm Jarry, a co-founder of the Satanic Temple, told Newsweek. "We want students to know that they can contact us, and we'll sue the state for civil rights violations. It's a violation of religious rights, and we think we have a good shot in court."
This isn't the first time the Satanic Temple has weighed in on a social issue. Most recently, it teamed up with a Missouri Planned Parenthood to advocate for women's right to choose an abortion.
So far, the campaign for kids has put up billboards in two Texas towns where teachers are known to use physical punishment against students. The first went up in Springtown, Texas, and the second in Three Rivers last week.
People in Three Rivers had a mixed response to the billboard. One local church put up its own sign reading, "Satan doesn't own all the signs in [Three Rivers] — don't let him own you."
Still, city officials say they can't take down the Satanic billboard because it doesn't belong to them.
"The billboard belongs to a private company," Didi Guajardo, a Three Rivers city official, told Newsweek.
"And we have corporal punishment in our schools, so that's what it's about," she conceded.
Currently, 19 U.S. states allow corporal punishment in public and private schools. Federal data estimates that 184,527 students were physically disciplined in schools across the country in 2010, the last year for which data were collected.
Jarry says the Satanic Temple has at least 60,000 members, and they plan to put more billboards up across the country in the near future. The Temple's campaign website includes fact sheets about the dangers of corporal punishment and solitary confinement, as well as a page to give donations.
"I and the public know what all school children learn," the website reads in large white block letters against an ominous black backdrop. "Those to whom evil is done do evil in return."