'Satanic' Murder Suspect Kills Again After Being Released From Prison, Police Say
A murder suspect with a history of mental health issues has killed again after being released from prison while awaiting trial, police say.
Edward O'Neal was 18 when he was charged with stabbing his 16-year-old friend Ryan Roberts to death and leaving his body in a wooded area in southeast Houston in 2016.
He spent four years in the Harris County Jail but was released on a lowered bond in August this year, the Houston Chronicle reports.
O'Neal, now 23, has been accused of committing another murder while out on bond over the initial case.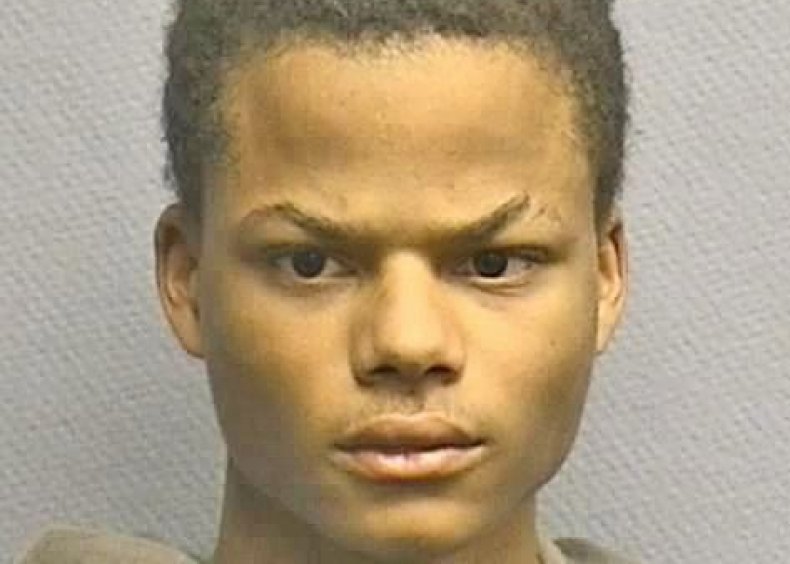 Houston police say O'Neal shot and killed his cousin's ex-boyfriend 39-year-old Derrick Mike, in a parking lot outside an apartment complex on 9601 West Montgomery Road on November 28.
O'Neal was charged Saturday and allegedly confessed to his mother, court records show.
"He has mental issues and that she is afraid of what else he may do," the woman told authorities, as revealed in probable cause documents and as reported by the Chronicle.
O'Neal's first case from 2016 had been pending trial due to his mental competency. The murder charge was transferred in 2018 to the competency restoration docket, following notes his former defense attorney had left in court documents.
Lawyer Karen Barney said O'Neal "has a diagnosis of schizoaffective disorder and has a history of mental health issues." O'Neal also reportedly told the court in a letter that he was hearing voices and feeling suicidal.
In 2018, Judge Herb Ritchie ordered that O'Neal be committed for up to 120 days. Records, seen by the Chronicle, show that the North Texas State Hospital was contacted. An assessment in 2019 found O'Neal to have either a mental illness or an intellectual disability.
His father, Edward O'Neal Sr, said at the time that his son had a history of mental illness and devil-worshipping but that he did not think he was a killer.
"Oh I know that he's worshiping the devil and stuff," O'Neal told KHOU. "He didn't tell me nothing. He didn't say nothing about doing nothing. He's mentally retarded."
O'Neal's mother also revealed at the time that her son had been worshiping the devil and had killed two family pets.
Christina Roberts, the mother of the 2016 victim Ryan Roberts, said she thought her son was murdered as part of a satanic ritual, adding that he and O'Neal were close friends.
She alerted police back in January of 2016 that her son did not come home from Jefferson Davis High School where he was studying as a freshman.
Four days later, his body was found in the woods behind his family's apartment complex.
"I told the DA he should not get out. He killed my son, he'll be killing again," she told ABC13 after learning about the second murder. She also gave a message to Derrick Mike's family, saying, "I'm sorry you had to go through this. Justice is going to be served."
O'Neal's bond was originally set at $50,000, but it was lowered to $25,000 at the request of his defense attorney. Mark Kent Ellis, the presiding judge in the county's mental health docket, approved the bond reduction.
The Harris County District Attorney's Office requested O'Neal be prohibited from possessing weapons, consuming drugs or alcohol and be made to wear a GPS ankle monitor, adhere to an 8 p.m. and undergo drug tests if he ever was bonded out. These conditions were approved.
"Our prosecutors told the judge aloud in court that we opposed bond being lowered for this defendant and we filed motions asking the judge to set conditions on the defendant's bond if he were to be released pending trial," Dane Schiller, spokesman for the Harris County District Attorney's Office, said in a statement. "We let the judge know the facts of the original murder to ensure the court was aware of our concerns for public safety."
Crime victim's advocate Andy Kahan said this is the latest case out of about 70 in the past two years of a judge lowering felony bond and a suspect committing a murder while back out on the street.
"We are in the midst of a Harris County bond pandemic and Derrick Mike became the latest collateral damage," Kahan said. "I've been around 30 years. I have never seen a lower bond for first-degree murder than I have in this particular case and that really flummoxed me."
O'Neal is now back in jail without bond.
Newsweek has contacted the judge in the 183rd District Court and the Harris County District Attorney's Office for comment.