A controversial holiday display from The Satanic Temple will be installed Monday in the rotunda of Illinois' state Capitol.
The display, an art installation celebrating the satanic holiday of Sol Invictus, is scheduled to go up near other religious art in the Springfield building at 1 p.m.
A press release from the nontheistic group said the display features a "satanic deity" known as Baphomet.
"This year's tradition marks a greater urgency in the Baphomet's message of harmony and reconciliation," Satanic Temple Director of Campaign Operations Erin Helian said in the release.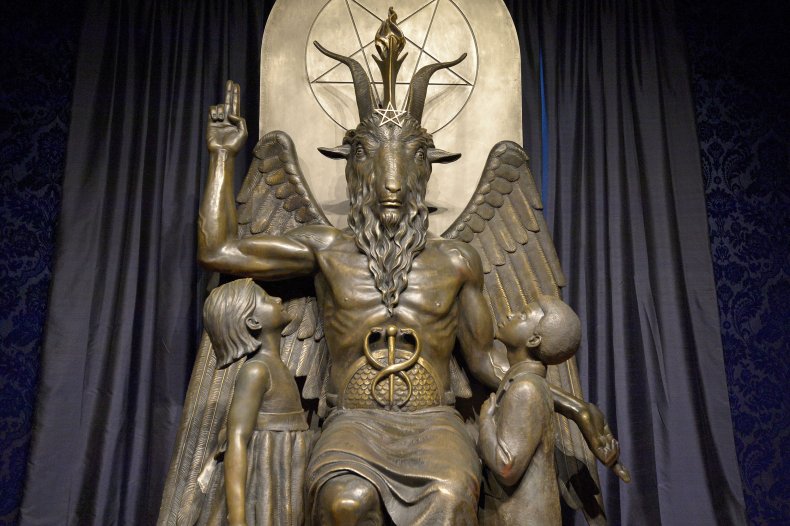 The presence of the display in the Capitol building has upset members of religious organizations in the community.
"Mocking the millions of Christians in the state of Illinois and billions around the world by depicting the baby Jesus this Christmas with the 'satanic deity' Baphomet is the very definition of evil and causing division, but that is to be expected from an organization that is in existence to troll people of faith," Andrew Hansen, a spokesperson for the Diocese of Springfield, said in a statement provided to Newsweek.
For its part, The Satanic Temple invited the head of the diocese, Bishop Thomas Paprocki, to attend the installation of the Baphomet display.
"This years' display celebrates unity. In keeping with that spirit, we have invited Bishop Paprocki to hold hands with members of The Satanic Temple while we come together and stand before all of the religious displays at the rotunda," Helian said. "I am sure people of all faiths in the Springfield community will be very disappointed if Bishop Paprocki turns down this opportunity and opts to divide people—especially during the holidays."
"Bishop Paprocki declines the invitation to associate with evil and urges all people of true religious faith to shun the devil," Hansen said in response.
Sol Invictus takes place on the 25th of December, and the artwork created for The Satanic Temple's display in Springfield was made by the artist Chris P. Andres. The installation is described as Baphomet depicted as a "swaddling babe."
The Satanic Temple claims to have more than half a million registered members. It said that it has placed holiday displays in Florida, Indiana, Michigan, and elsewhere.
The organization advocates for the separation of church and state. It wrote in its press statement that its mission in putting up statues and displays in government buildings is a response to states placing Christian symbols and text, like the Ten Commandments, on capitol grounds. A tax-exempt religious organization, The Satanic Temple is also known for its advocacy for reproductive rights.
Newsweek contacted The Satanic Temple for comment but did not hear back in time for publication.
Update 12/20/21 12:45 PM ET- This story has been updated with a statement from the Diocese of Springfield.