Satanic Temple Suing 'Sabrina' Makers Over Use of Goat Deity Baphomet Likeness to Promote 'Asinine' Fiction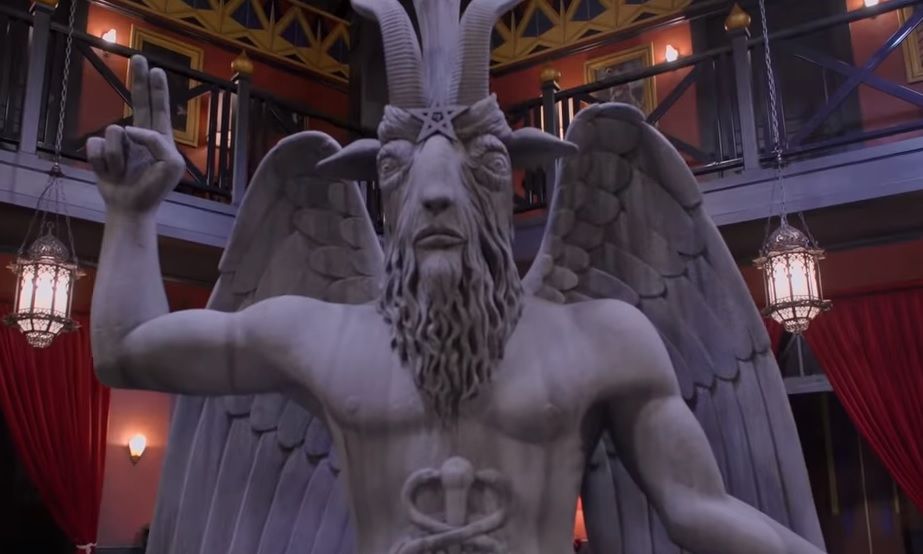 The Satanic Temple is suing Netflix and Warner Bros Entertainment, claiming their reputation has been damaged by a statue of the goat deity Baphomet that appears in The Chilling Adventures of Sabrina.
The activist group, which advocates for the Baphomet statue being placed alongside other religious displays in public spaces, claimed the makers of the show have violated their trademark after a similar-looking statue appeared in several episodes of the Netflix show.
The group is now suing for a total of $150 million after filling three claims for copyright infringement, false designation of original trademark and injury to business reputation.
According to the plaintiff, filed with the U.S. District Court, the group argues the appearance of the Baphomet with Children statue in the show implies that it "stands for evil," reports Reuters.
"TST [The Satanic Temple] does not promote evil and instead holds to the basic principle that undue suffering is bad, and that which reduces suffering is good," the complainant adds.
"Among other things, TST designed and commissioned the TST Baphomet with Children to be a central part of its efforts to promote First Amendment values of separation of church and state and equal protection," the complaint explains.
"Defendants' prominent use of this symbol as the central focal point of the school associated with evil, cannibalism and murder blurs and tarnishes the TST Baphomet with Children as a mark of TST."
The Satanic Temple made national headlines in 2014 after campaigning to have the Baphomet statue placed alongside a monument of the Ten Commandments in Oklahoma City on the grounds of religious freedom.
Speaking to CNBC, Lucien Greaves, co-founder of the Satanic Temple, said the statue's appearance on the show, which he described on Twitter as "asinine Satanic Panic fiction," will damage what the TST represents and the work it has done.
After temporally being placed outside the Arkansas State Capitol in August 2018, the statue was eventually moved to a permanent home in Detroit where it has since become "a central icon that has come to represent us [Satanists] as a people," Greaves said.
"To have that all at once entirely eclipsed by some Netflix show by a production department who did a Google Image Search... A lot of people who haven't heard of us first stand to just recognize that monument as the 'Sabrina' monument, which dilutes and denigrates the entire project," he told CNBC.
The lawsuit is also hoping to digital removal the statue from all Sabrina episodes it appears in.
When asked for comment, Netflix referred the request to Warner Bros, who said the company does not discuss pending litigation.