Satanic Temple Threatens to Sue Twitter Over Religious Discrimination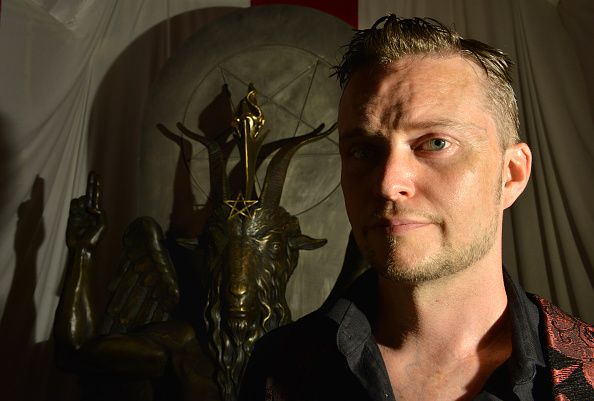 The Satanic Temple, an activist group based in Salem, Massachusetts, is threatening to sue Twitter for religious discrimination after one of its co-founders had his Twitter account permanently suspended.
Lucien Greaves, the Satanic Temple's co-founder and spokesman, said his Twitter account was permanently suspended without any notice after he asked his followers to report a tweet that called for the Satanic Temple to be burned down.
"We're talking to lawyers today," Greaves said Friday about whether he planned to take legal action.
On Wednesday, a woman with the Twitter handle @LaurieGAtta1 posted a tweet saying that the Satanic Temple is evil and should be burned to the ground.
"I doubt nothing anymore. I have em. In Salem MA. Opened a Satanic Church last year!!! The Witches are evil. And Satanists and Cults are VERY real! W a church like this Should not exist! Burn it! Blame Hillary I don't care! It's gutta go. If anyone likes this idea they r FKEd," @LaurieGatta1 posted.
The post was later shared by former child actor Corey Feldman, who complained about "Satanic Nutbags."
In response, Greaves shared the social media posts and asked his followers to report the tweet calling for arson. His tweet was liked and shared hundreds of times on Twitter.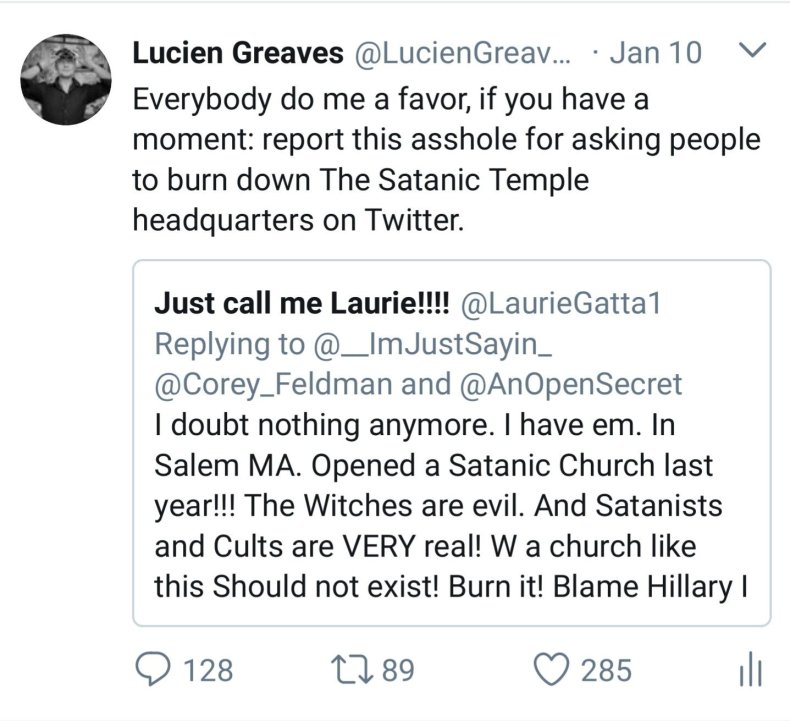 But on Thursday evening, Greaves saw that his Twitter account had been suspended.
"[Twitter] permanently suspended my account outright, [at first] they didn't give me a reason, and they put the main Satanic Temple's account on a 7-day suspension because it was associated with an account that had been permanently suspended," Greaves told Newsweek.
Greaves said that there was nothing unusual on his Twitter account that would have caused Twitter to close it. He filed an appeal with Twitter but was not given a time frame for when the case would be resolved, he said. Twitter later informed Greaves his account had been suspended due to targeted abuse, according to an email viewed by Newsweek.
Greaves claims that he did not harass anyone, but he did send a Tweet to Feldman asking why he supported the call for arson.
"I don't know if they consider this targeted harassment?" Greaves asked Newsweek about the potential reasons Twitter closed down his account.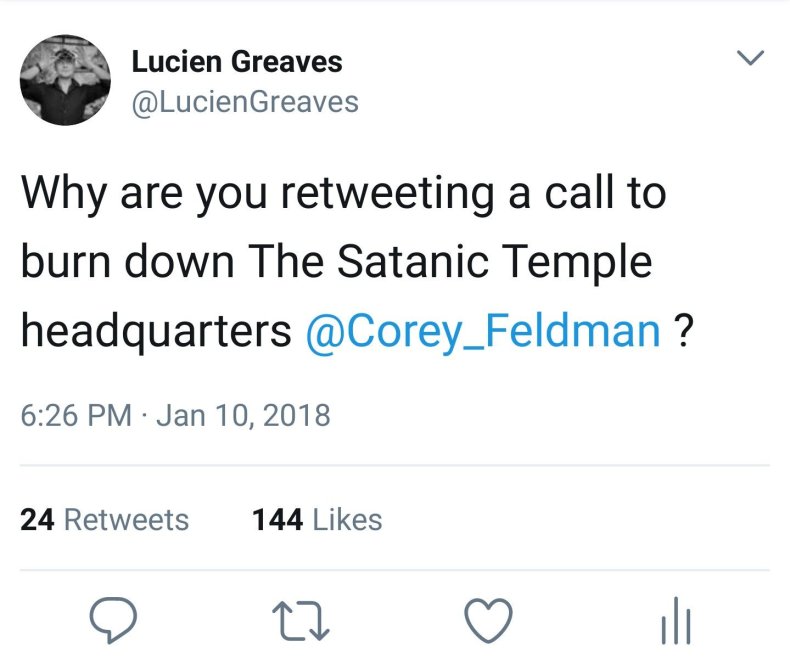 Greaves says the incident has impacted the Satanic Temple's outreach and is a case of religious discrimination.
"The religious discrimination aspect is apparent because they would have reacted differently if it were any other religious organization," he told Newsweek. "[Getting suspended] is not something I can take lightly, because we've cultivated a certain audience over a certain amount of time."
Twitter declined to comment on the case.