'SATC2' Flaunts Sarah Jessica Parker's clothing line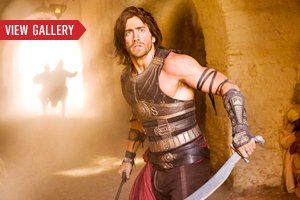 Striding down Fifth Avenue in the Carrie way demands white jersey ($325) and gold-glitter heels. For lounging around the apartment, it's kicky, royal-blue flapper tiers ($435). For breezing through Abu Dhabi, it's the one-shoulder caftan—a river of peach-melba polyester flooding down her like a slippery piano shawl ($325). And for hiking the Arabian desert, she endorses tea-length burnt-orange silk plissé ($895). Naturally.
Occasion-appropriate? No! Fabulous? Yes! (And with cocktails, sweetie.) Sex and the City 2, which opens May 27, and for which two trailers have scorched the Internet, will favor the fashion montage no less than its $400 million-making prequel. But this time, Carrie's going monogamous—and not with Big or Aiden. Those fabulous dresses from SATC2's trailer all share the same label: Halston Heritage, headed by Sarah Jessica Parker.
Nepotism? Well... Carrie and Halston hooked up earlier this year, when the faltering label approached the star, a proven force in budget fashion. Halston signed Parker as president and chief creative officer of a secondary collection, one that would feature updated, archival Halston pieces at contemporary prices. Newly released, Halston Heritage designs are mostly short dresses for the prom set, sold at youthful outlets like Nordstrom, Shopbop.com, and in Bergdorf Goodman's bridge-line boutique, 5F. The price tags are a fraction of "actual" Halston: where the runway line fetches $2,000 to $4,000 per dress, a Halston Heritage number is gettable for one 10th of that.
It's definitely a new look for the franchise: as the four stars get older, the marketing gets younger. Carrie Bradshaw's high school years just became a hot new book for teens, and teen star Miley Cyrus—11 when the HBO series went off the air—calls it her favorite show. Her reward? A SATC2 cameo.
In some ways, featuring a bargain brand is a bizarre left turn for the movie. The Sat-See girlpack, genus Carriesamanthacharlottemiranda, have "aspirational" labels like Dior, de la Renta, and McQueen embedded in their genetic code. Thanks to costume-designer Patricia Field, classic Carrie was a clotheshorse's Rauschenberg: a walking assemblage of fab frock, gazillion-dollar heels, and so-bad-it's-good accessory (remember the fanny pack?). New Carrie, by the movie's previews and advertising materials, looks like Studio 54 Barbie. And just like that other revered mannequin, Carrie's outfits are on offer "at major department stores," says USA Today. For the first time, you can collect 'em all.
But in other ways, highlighting affordable clothes is shrewd genius—for the film, for Parker, and for a brand that hasn't been successful in more than 20 years. A slew of designers, celebrities, and backers has tried to revive the label, ever unsuccessfully. Yet SATC screentime is a proven golden touch—even on labels without Halston's troubles. Manolo Blahnik's best-selling "Something Blue" pumps, from the first movie, are still on offer—a fashion eternity later. Vivienne Westwood's bridal gown, which Carrie wore in the first film, sold out within hours—even though it cost $10,000.
Mutual benefits though there may be, the relationship between Halston Heritage and SATC2 was organic and not contrived, the label's lead investor says. Jeffrey Hecktman, chairman and CEO of Hilco Trading LLC, the biggest financial backer of Halston, says a stylist for the film came and scooped up several dresses from the line without coercion or favor. Later, it was Hecktman's kids—he has three "very fashionable"daughters—who pointed out to him a paparazzi photo of Sarah Jessica Parker as Carrie, wearing a white Halston Heritage dress on set (an image that's since landed on posters and promotional ads for the film, in addition to the trailer). At Hecktman's behest, Hilco contacted Parker about serving in a creative leadership role. "She is the kind ofperson we want with our brand—it made perfect sense with her," says Hecktman. "We have an iconic brand with Halston, and we have an iconic brand in Sarah Jessica." (Parker declined to comment for this article.)
The SATC movie franchise has a history of savvy marketing, but Halston Heritage feels like its most apt partner to-date. (Though four Halston Heritage looks are featured in the SATC2 preview, Hecktman says that no one from the label influenced the trailer-cutting.) For the first film, New Line teamed with brands like Vitamin Water, Skyy Vodka, and Mercedes Benz to herald "the Super Bowl for women." This time, a bona fide fashion extension of the film feels more in-touch, more focused and less a strange bedfellow than flavored water(even if Montezuma's Revenge was a theme in the first movie). Halston Heritage might be a girlish riff and not an actual runway player, but it's still under a blue-chip designer name—one historically connected to the same glamorous, jet-set life that the sequel portrays. (Warner Brothers, asked about the partnership, didn't return requests for comment).
But if SATC2 thinks it's doing more than selling vintage-chic party wear—that it's, perhaps, spinning fashion forward under Parker's leadership—they should proceed with caution, says fashion historian Patricia Mears, the deputy director of the Museum at the Fashion Institute of Technology. "Sarah Jessica Parker does have incredible recognition and star power, and she's very, very emblematic and influential to a lot of women—the question is, what can she do?," Mears says. "Halston was much more labor-intensive to make than people realize. It was done with such revolutionary and amazing construction … How do you translate that into a mid-price point?" In other words, Carrie, don't get carried away.
Editor's Note: This story was updated April 23 with background on Parker's business relationship with Halston.