Satellite Camps Are Here to Stay and Jim Harbaugh Is Leading the Way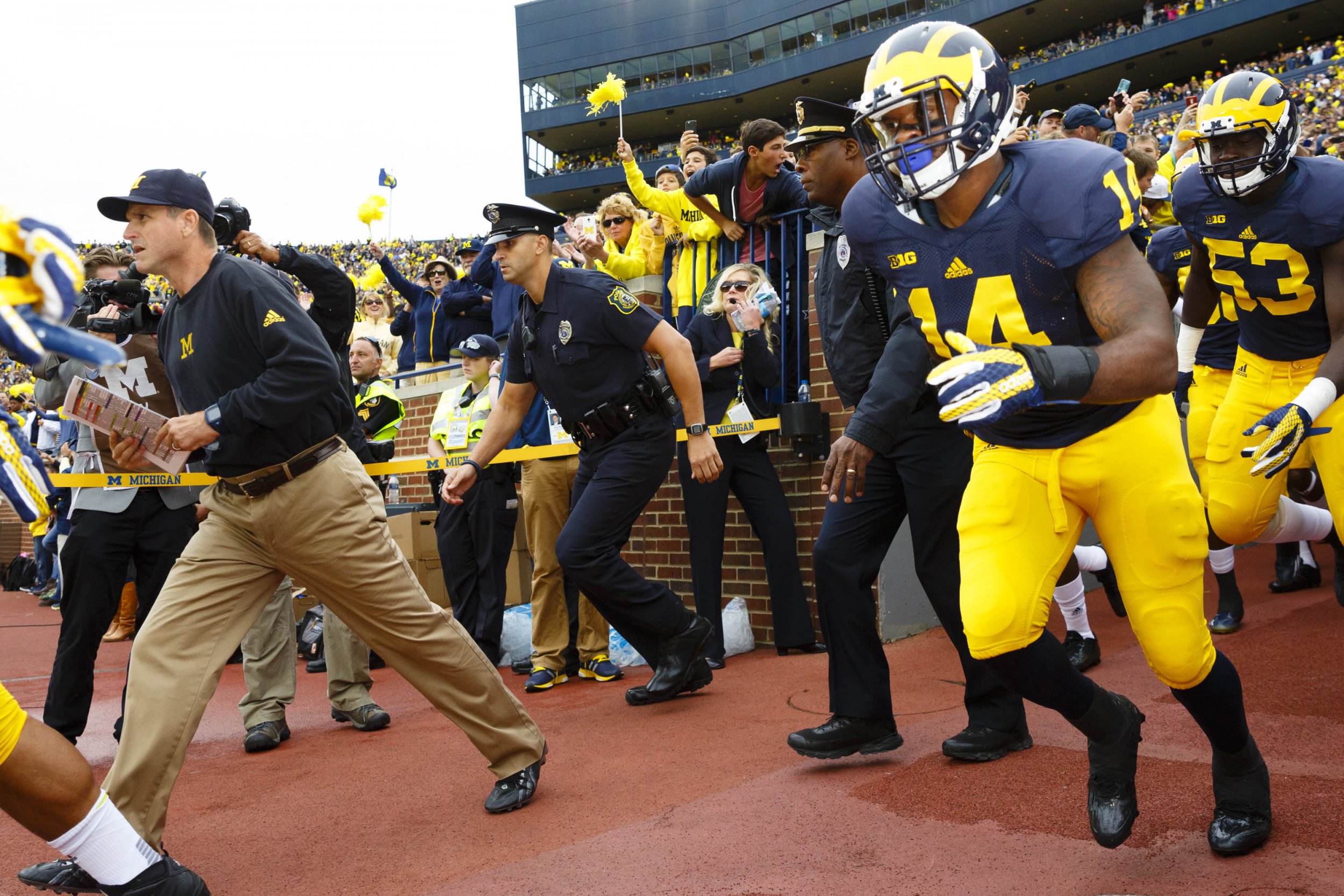 The most anticipated tours of the summer? Rihanna? Sure. Adele? Hello! Jim Harbaugh? Are you ready to rock!
Beginning next month, the University of Michigan football coach and his backing band, the Wolverine coaching staff, will embark on a cross-country, 15-date tour ("Hello, Murfreesboro!") that will attract scores of teenagers, albeit exclusively males. Harbaugh, who regularly sells out the largest non-raceway venue in the USA (Michigan Stadium, capacity 107,601) six or seven times each autumn, is no stranger to stadium shows, but this tour will have more of an acoustic feel: Cheshire, Connecticut; Addison, Texas; Antioch, California.
Harbaugh is not headlining concert festivals, but rather satellite camps. What are satellite camps? They are football seminars staged nationwide for the benefit of high school athletes that are hosted by high schools or small colleges. NCAA rules allow for any school to host a football camp in June on or within a 50-mile radius of its campus.
Hired by his alma mater on December 30, 2014 with a mandate to restore the Maize and Blue to its former glory, Harbaugh rolled up his sleeves and hitched up his trademark khaki trousers. He noticed that there was no NCAA rule prohibiting him and his staff from appearing at someone else's camp outside a 50-mile radius of Ann Arbor. If Prattville (Alabama) High School were to hold a football camp and invite Harbaugh to appear as a featured counselor, why, nothing in the NCAA's 320-page rule book forbid that.
Harbaugh quickly exploited the loophole by embarking on an eight-day, seven-state satellite camp tour last June that cost the University of Michigan $211,000 in travel expenses.
But so what? As every act from Bon Jovi to Bon Iver knows, you have to hit the road to promote the new album. Besides, Michigan was hardly the first school to take part in a satellite camp far from its campus—Nebraska, Notre Dame and Penn State had previously done one-offs—but Harbaugh was the first to turn it into a gridiron version of Almost Famous. He even branded the tour, dubbing it the "Summer Swarm."
The former coach of the San Francisco 49ers and before that, Stanford University, is a disruptor. Last summer, he parachuted into an entrenched system run by wealthy and powerful men and unearthed a way to create upheaval while working within the established rules of the system. In so doing, he agitated college football's ruling class, the Southeastern Conference, whose voluble ire at his contempt for the status quo only garnered him more attention and acolytes. If Harbaugh sounds like a certain fox-topped presidential candidate you know, that is hardly an accident.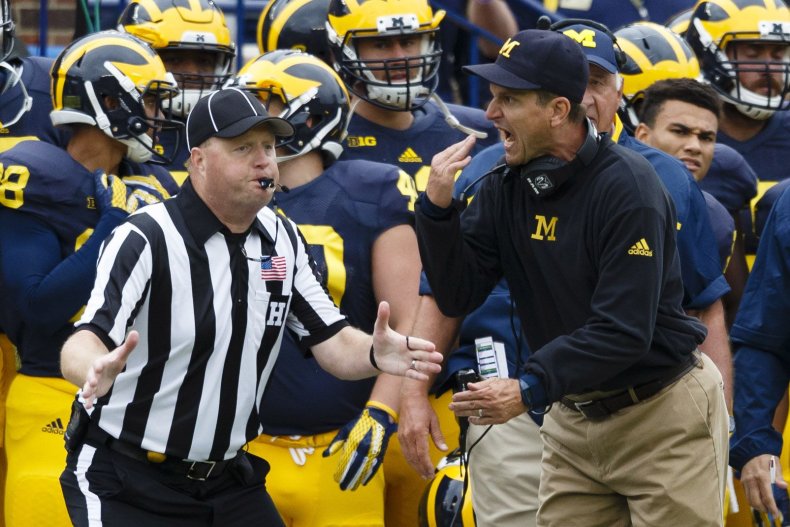 While Harbaugh operates from Donald Trump's playbook, satellite camps are the most populist thing to hit campus since "Feel the Bern" signage. Who benefits from them? The disenfranchised and the relatively disenfranchised. If a small college, say an FCS or Division II school, is able to promote that a personage such as Harbaugh will appear at its camp, more campers will appear. That is a boon to the school and to Harbaugh, both plumbing for the next great under-the-radar All-American.
Meanwhile, few teenagers have the resources to travel all over the country during the summer to attend camps at their wish-list schools. Students are able to take official visits, for which the school pays, during the fall semester of their senior years, but by then the marriage should already have been arranged. Summer camps, where players are able to showcase their skills in front of their prospective college coaches, are where Cupid's arrow strikes. YouTube highlight reels, like Match.com profiles, often offer idealized and unrealistic glimpses of their subjects ("But you said you are six-feet tall!").
More opportunities abound both for programs seeking to claim higher ground and high school gridders who may have been overlooked. Who ever would be opposed to that? The answer is the SEC and major programs from the nation's three most talent-rich football states: California, Florida and Texas. In Harbaugh, they see not just an enterprising football CEO from the Midwest, but a Daniel Plainview figure ("I drink your milkshake!") from There Will Be Blood. Satellite camps give Harbaugh greater access, drilling rights if you will, to parcels of land that historically have been the domain of schools in that region.
In early April the NCAA, which can take years to investigate an institution for alleged misdeeds, outlawed satellite camps. "I'm away from my family enough," Mississippi coach Hugh Freeze said in praising the decision, "and I just did not want to go."
Two weeks later, the NCAA overturned its edict and Harbaugh's summer tour was back on. On Thursday, Texas A&M coach Kevin Sumlin, another opponent of satellite camps, offered a blunt and candid rebuke of them. "There are great players [in Texas]," Sumlin said. "The ability to come to this state and evaluate players is a big deal. We're here, so we've got to figure out what's the best thing for Texas A&M, not the best thing for everybody else."
In fairness to Sumlin, Harbaugh's tour is also motivated by self-interest. During one stop in New Jersey, he will be the commencement speaker at Paramus Catholic High School. Among the students who will be clad in cap and gown is Rashaun Gary, the nation's No. 1-rated recruit, a defensive tackle who earlier this semester signed a national letter of intent to attend Michigan.
Harbaugh begat the summer tour idea, but in the College Football Industrial Complex no enterprising innovation goes uncopied. Expect other schools to roll out tours this June. Imagine Notre Dame coach Brian Kelly showing up at your high school and asking, "Are you ready to Rockne!"
Satellite camps, like electric guitars, are an obvious upgrade. This June and for many to come, every ambitious coach in college football will be traversing the country. Like a rolling stone.