Satellite Images Reveal Nearly 120 New Missile Silos in China
Researchers scanning satellite images of northwestern China have discovered what they believe to be nearly 120 new missile silos, which Beijing is constructing as part of its serious pursuit of a nuclear triad.
Experts at the James Martin Center for Nonproliferation Studies (CNS) in California say they have found 119 intercontinental ballistic missile (ICBM) silos in various stages of construction near the city of Yumen, in China's Gansu province.
According to Jeffrey Lewis, director of the East Asia Nonproliferation Program at CNS, the sites were found by fellow researcher Decker Eveleth, whom he tasked with identifying patterns from similar missile silos China had built in Inner Mongolia.
The pictures, which were supplied by commercial satellite company Planet, revealed an array of under-construction ICBM silos spread across 700 square miles of desert, Lewis wrote in Foreign Policy on Thursday, describing the sight as "jaw-dropping."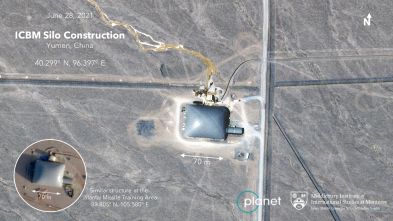 While some of the silos appeared to be covered by an inflatable environmental dome Lewis calls a "Bouncy House of Death," other discoveries included potential underground launch centers, cable trenches, as well as a military base.
He believes the silos—each spaced about 2 miles apart—are most likely for China's newest DF-41s, which have a maximum range of 9,300 miles. These ICBMs operated by the People's Liberation Army Rocket Force were officially revealed at China's National Day parade in 2019.
Analysts say the new find confirms Defense Department warnings about China's intention to double its nuclear stockpile—currently estimated at around 350 warheads—by the end of the decade.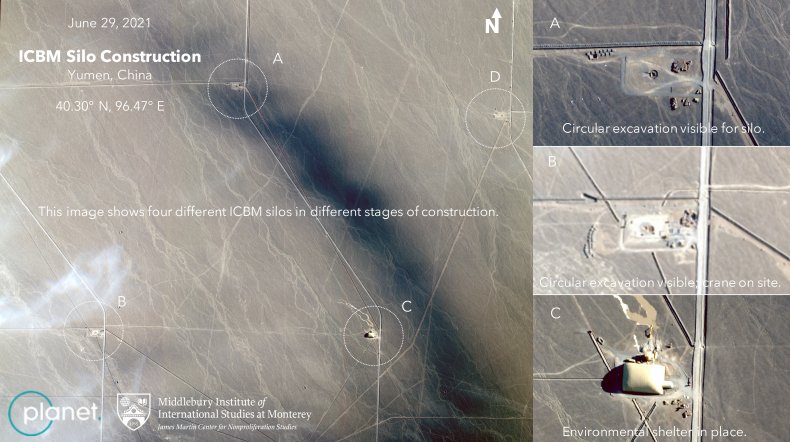 According to Lewis, the excavations began in February, but China's exact intentions are still unclear.
"The big thing to emphasize is that we don't know that every silo will be armed with a missile," he told Newsweek.
China could be playing the "shell game," said Lewis, referring to a strategy the U.S. deployed in the Cold War. It involves obscuring the true location and quantity of one's nuclear arsenal by "shuttling a smaller number of missiles among a larger number of silos," he explained.
Lewis, whose program is located at the Middlebury Institute of International Studies in Monterey, argues that characterizing China's ICBM build-up as a direct response to the U.S. nuclear stockpile may be too simplistic.
But he noted: "China does make decisions about the size and composition of its nuclear forces in light of what the U.S. does. And the biggest issue for China has been the U.S. pursuit of missile defenses."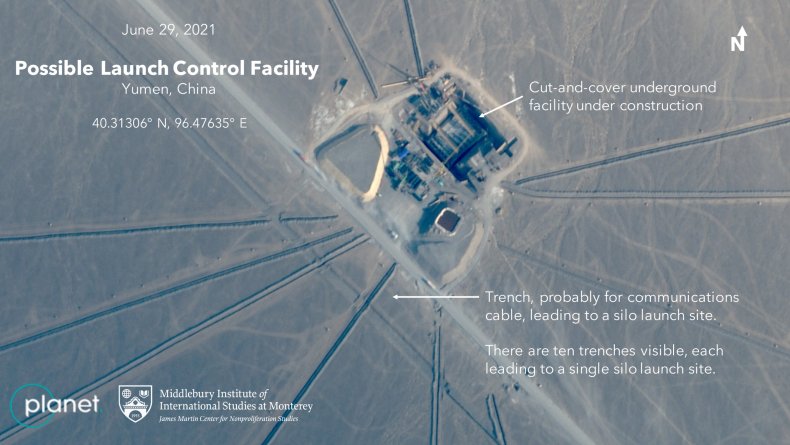 "So while it might seem that 120 silos means 120 missiles, it could very easily be 12. We just don't know," he wrote in Foreign Policy. "Yet whether the number is 12 or 120, this is an alarming development."
With the additional under-construction sites near Yumen, China looks to be building around 145 new missile silos, Lewis told The Washington Post, which broke the story as China marked the Communist Party's 100-year anniversary on July 1.
"We believe China is expanding its nuclear forces in part to maintain a deterrent that can survive a U.S. first strike in sufficient numbers to defeat U.S. missile defenses," he told the paper. "We're stumbling into an arms race that is largely driven by U.S. investments and missile defense."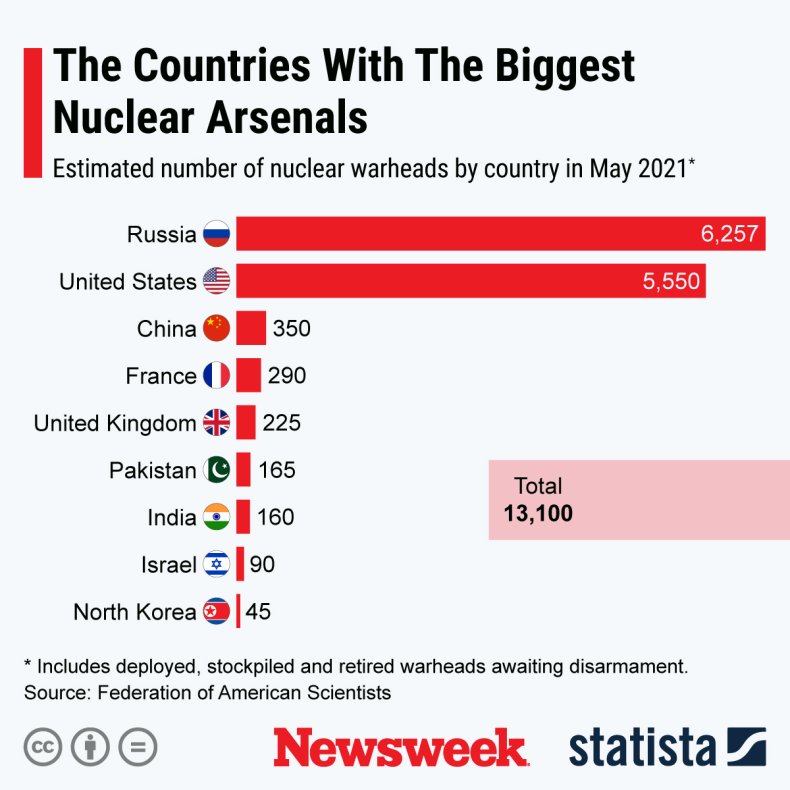 A September 2020 Pentagon report estimated China's nuclear stockpile to be in the range of the "low 200s." It noted Beijing's long-standing "no first use" policy, but said the conditions under which China would act outside of the policy was ambiguous.
Gerald Brown, a Washington analyst studying deterrence and Chinese nuclear forces, described the revelations by Eveleth and Lewis as a "shocking, large and rapid development."
"But I think the big thing is it doesn't necessarily represent some major shift from China's nuclear strategy either," he told Newsweek. "China is going to vastly expand its nuclear arsenal, and there will be a lot more expansion past these silos."
Brown said the research serves as confirmation of the U.S. Intelligence Community's prediction about China's intentions over the next decade. He also agreed with Lewis' "shell game" hypothesis, calling it a "good, cheap way to make more targets and increase survivability."
Risk continues to rise in the region, Brown said, but the silos would not represent a "deep departure" from the increasing threat observers were already seeing.
Su Tzu-yun, a senior researcher at the Institute for National Defense and Security Research in Taipei, said China has doubled its military spending from $100 billion to over $209 billion in the decade since Xi Jinping came to power.
Apart from China's warheads, its DF-41, DF-26 and JL-3 ballistic missiles, as well as its Type 094A submarine and projected H-20 strategic stealth bomber all point to the pursuit of a nuclear triad.
The build-up is capable of "changing the world's nuclear balance," said Su, who is a Defense Ministry adviser.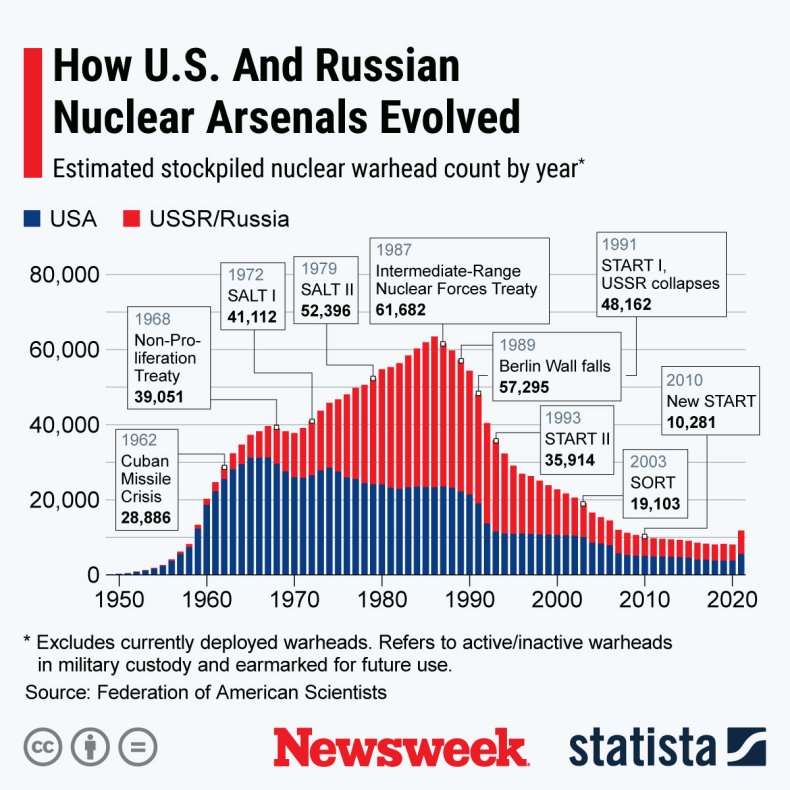 On May 18, the Joe Biden administration's United Nations disarmament envoy Robert Wood said China was resisting discussions about nuclear risk reduction with the U.S. despite the "dramatic build-up of its nuclear arsenal."
Ji Zhaoyu, the Chinese ambassador to the Conference on Disarmament, dismissed the accusations, saying Beijing was prepared for dialogue to "jointly explore effective measures to reduce nuclear risk."
During a virtual address at the conference on June 11, Foreign Minister Wang Yi said China keeps its nuclear arsenal at a "minimum level" and "does not compete with any other country in size or scale."
So far, China has pushed back against U.S. attempts to bring it into New START with Russia. Washington and Moscow extended the arms control treaty for another five years on February 3—two days before it was set to expire.