South China Sea Islands: Satellite Images Suggest China's Sprawling Military Complex Is Now Ready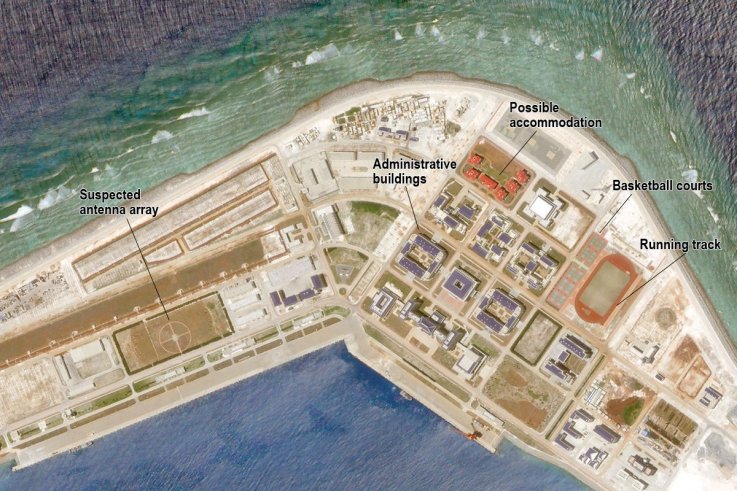 These satellite images show roads, runways and hundreds of buildings—including sports centers and large civic offerings—on tiny islands in the South China Sea. Security experts believe islands like Subi reef in the hotly disputed Spratlys archipelago could soon be home to China's first troops based in the maritime heart of Southeast Asia.
Private sector data analysis reviewed by Reuters shows Subi, some 1,200 km from China's coast, is now home to nearly 400 individual buildings–far more than other Chinese islands. Subi could be the future location of hundreds of People's Liberation Army marines, as well as a possible administrative hub as China cements its claim with a civilian presence, security analysts and diplomatic sources.
Subi is the largest of China's seven man-made outposts in the Spratlys. The so-called "Big Three" of Subi, Mischief and Fiery Cross reefs all share similar infrastructure–including emplacements for missiles, runways, extensive storage facilities and a range of installations that can track satellites, foreign military activity and communications.
Mischief and Fiery Cross each house almost 190 individual buildings and structures, according to the Earthrise analysis. The previously unpublished data details the building count on more than 60 South China Sea features, including those occupied by Vietnam, Malaysia, Taiwan and the Philippines. While the data shows well developed infrastructure on some on islands such as Vietnam's Spratly Island, the Philippines' Thitu Island and Taiwan's Itu Aba, the scale and development by Beijing dwarfs its rivals.
The data from Earthrise Media, a non-profit group supporting independent media with imagery research, was based on surveys of high-resolution images obtained by DigitalGlobe satellites. The images show neat rows of basketball courts, parade grounds and a wide variety of buildings, some flanked by radar equipment.
"When I look at these pictures I see a standard PLA base on the mainland—it is incredible, right down to the basketball courts," Singapore-based security analyst Collin Koh said after reviewing the data and images.
Koh and other analysts said the facilities on Subi, Mischief and Fiery Cross could each hold a regiment—between 1,500 to 2,400 troops.
Read more: China Is Building Towns in the South China Sea That Could House Thousands of Marines
China's precise intentions remain unclear and Chinese experts say much will depend on whether Beijing feels threatened by regional security trends, particularly U.S. activity such as its so-called "freedom of navigation patrols". China's defense ministry did not respond to Reuters questions about the build-up on Subi or what the facilities could be used for.
Click through this slideshow to see satellite images of the facilities on the disputed islands in the South China Sea.
—Reuters contributed to this report.