Satellite Images Show Russian Buildup on Three Fronts Surrounding Ukraine
New satellite images appear to show increased Russian military deployment on three fronts around Ukraine as invasion concerns continue to mount.
The images, shared Thursday by Colorado-based technology company Maxar, shows the troops and equipment positioned on the Russian fronts of Crimea, Belarus and western Russia.
Although Russia has continuously denied any plans to attack Ukraine, there are about 130,000 troops now stationed near the Ukrainian border.
Maxar reported "a large deployment of troops and military forces" that have "recently arrived at the Kursk training area to the east of the city—approximately 75 miles to the east of the border with Ukraine," according to Military Times.
More than 550 troop tents and hundreds of vehicles are seen at the Oktyabrskoye airfield, which is the second-largest city on the Crimean peninsula. Other sites in Crimea have also seen an increase in artillery deployments and training activity, as well as new development in Slavne, which Russia annexed in 2014.
Several military vehicles and helicopters were observed at an airfield near Gomel, Belarus, about 15 miles from the Ukraine border. Troops are also deployed near Rechitsa, Belarus, about 28 miles from the Ukraine border, Military Times reports.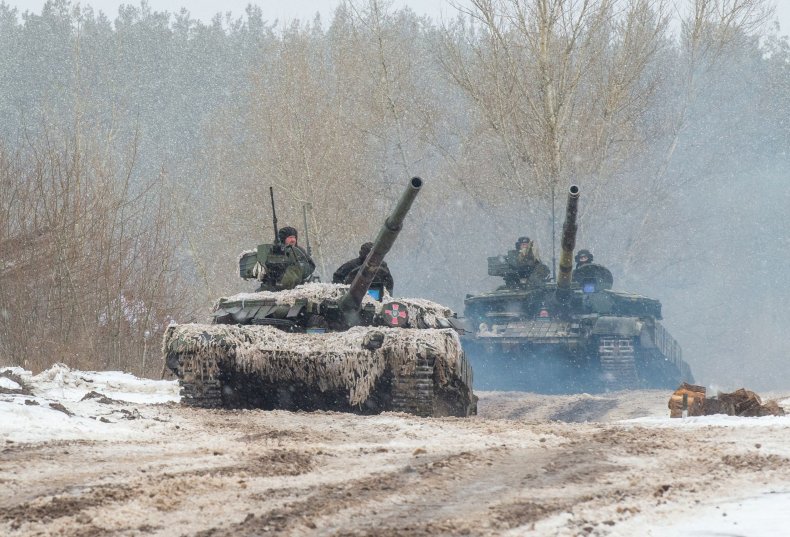 Also Thursday, the U.S. State Department released an updated travel advisory warning U.S. citizens to "depart now" because the U.S. government will not be able to evacuate citizens if Russia decides to take military action.
"There are continued reports of a Russian military buildup on the border with Ukraine, indicating potential for significant military action against Ukraine," the State Department said. "The security conditions, particularly along Ukraine's borders, in Russia-occupied Crimea, and in Russia-controlled eastern Ukraine, are unpredictable and can deteriorate with little notice."
Newsweek previously reported that the U.S. has started deploying troops to Europe and will send an additional 1,700 troops to be stationed at the Polish border to reinforce NATO allies. It is unclear if any training exercises or drills will be conducted.
"Our national contribution here in Poland shows our solidarity with all of our allies here in Europe, and, obviously, during this period of uncertainty, we know that we are stronger together," said U.S. Major General Christopher Donahue upon his arrival in Poland on Sunday.
Newsweek has reached out to Maxar for further information regarding its satellite images.