Satellite Photos Show Extent of Texas Power Outages From Space
As millions of Texas residents remain without power due to an unprecedented winter storm, recently captured satellite imagery shows a decrease in nighttime lights in the state from the previous week.
An image shown below, captured by the NOAA-NASA Suomi NPP satellite, depicts the nighttime lights in Texas at 1 a.m. local time on February 7, prior to the extreme weather that hit the state and caused the widespread blackouts.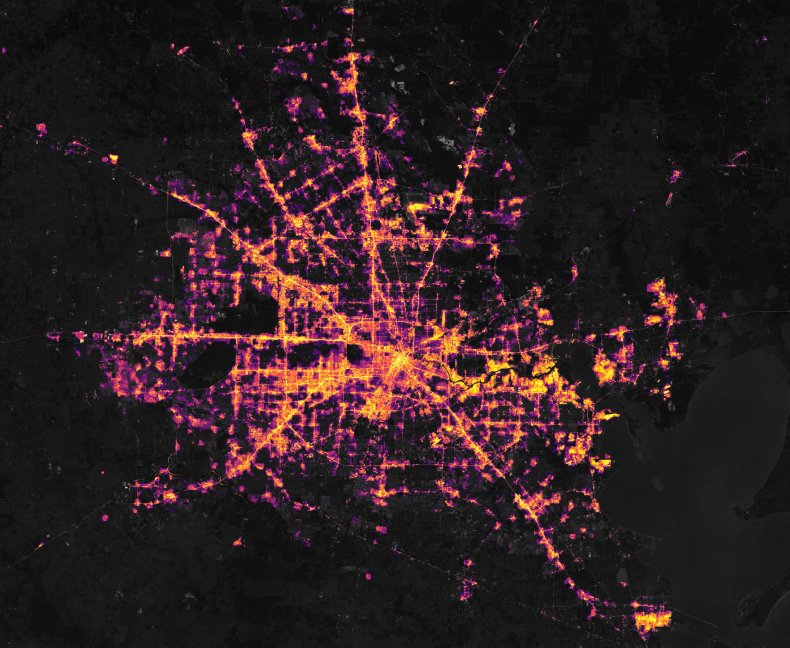 In comparison, the satellite captured another image (shown below), around the same time on February 16, showing significantly less nighttime lights than the previous week.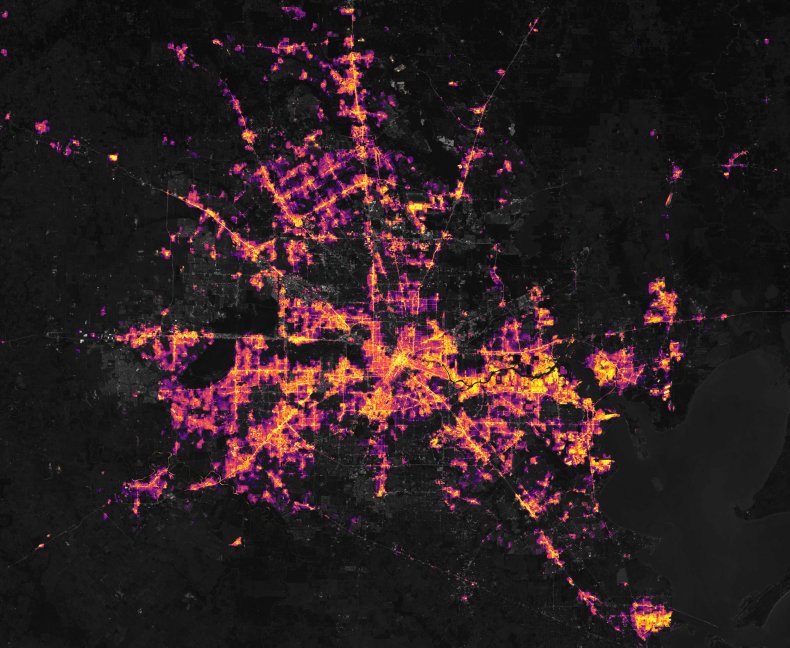 Another image, posted by the Earth Observation Group at the Colorado School of Mines, shows a Visible Infrared Imaging Radiometer Suite (VIIRS) detection of power outages in Texas on Tuesday.
"The outages can be detected as losses in satellite observed lighting, which show up as red in the image presented here from early morning on February 16. There are numerous power outage areas in Houston, while Dallas, Austin and San Antonio show smaller pockets of outage," the Earth Observation Group wrote with the image shown above.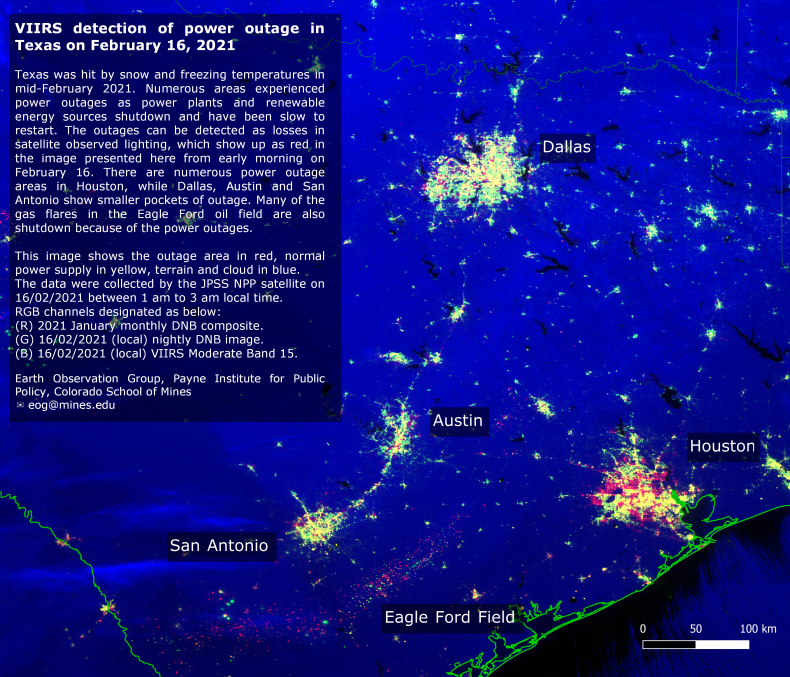 As of Wednesday at 9:49 a.m. ET, there were roughly 2,495,594 power outages across Texas, among 12,526,858 tracked customers, according to poweroutage.us.
The satellite imagery of the power outages comes shortly after the state experienced extreme cold weather, with temperatures dipping below 4 degrees Fahrenheit in some areas that caused issues with power generation sources.
On Tuesday, Texas Governor Greg Abbott suggested that the power outages in the state were caused by a reliance on green energy, such as wind turbines that stopped working due to the cold weather.
"This shows how the Green New Deal would be a deadly deal for the United States of America. Texas is blessed with multiple sources of energy such as natural gas and nuclear, as well as solar and wind," Abbott said during an appearance on Fox News' Hannity. "Our wind and our solar got shot down and they were collectively more than 10 percent of our power grid. And that thrust Texas into this situation."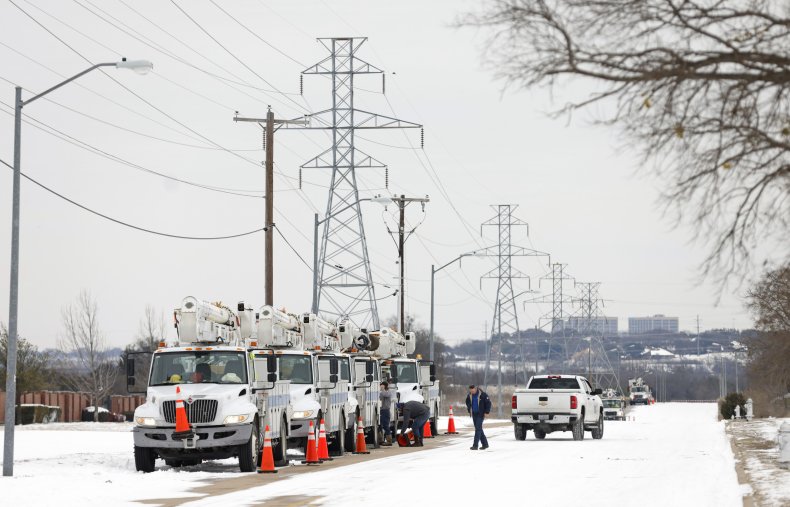 Abbott added: "It just shows that fossil fuel is necessary for the state of Texas as well as other states to make sure we'll be able to heat our homes in the winter time and cool our homes in the summer time."
Despite the comments from Abbott, the Electric Reliability Council of Texas (ERCOT), which controls most power grids in Texas, pointed to the state's reliance on natural gas as a reason for the power outages.
While speaking with the Texas Tribune on Tuesday, Dan Woodfin, a senior director at ERCOT said: "It appears that a lot of the generation that has gone offline today has been primarily due to issues on the natural gas system."
According to the Tribune, an estimated 80 percent or 67 gigawatts of the grid's capacity in Texas could be generated by natural gas, coal and nuclear power, while only 7 percent of EROCT's forecasted winter capacity was expected to be generated by wind energy.
Woodfin told the Tribune that on Tuesday, 16 gigawatts of renewable energy and 30 gigawatts of gas, coal and nuclear energy were offline.
A press release issued by ERCOT on Monday noted that the grid operator was able to restore power to around 500,000 households. However, ERCOT President and CEO Bill Magness noted: "It's also important to remember that severe weather, mainly frigid temperatures, is expected to continue, so we're not out of the woods."
Newsweek reached out to ERCOT for comment, but did not receive a response in time for publication.