Satirical Job Post Seeks Lauren Boebert Spokesperson Who Will 'Undermine Democracy'
Following the exit of her chief media spokesperson, Rep. Lauren Boebert (R-Col.) has received what is certain to be unwelcomed help in finding a replacement.
The Democratic Congressional Campaign Committee (DCCC), House Democrats' campaign arm, posted a satirical ad on Craigslist Tuesday that sarcastically ridicules the first-term lawmaker's far-right ideology by associating her with the pro-Trump rioters that stormed the Capitol on January 6.
"Congresswoman Lauren Boebert's office is looking for a communications director to join her highly active communications team to amplify her work to—among other things—undermine democracy, support violent mobs, and promote QAnon conspiracy theories," the listing reads.
A DCCC spokesperson confirmed to Newsweek that they created the post.
Axios first reported over the weekend that Boebert's communications director of less than two weeks, Ben Goldey, resigned in the wake of the Capitol insurrection and Boebert's role in voting to overturn the election results.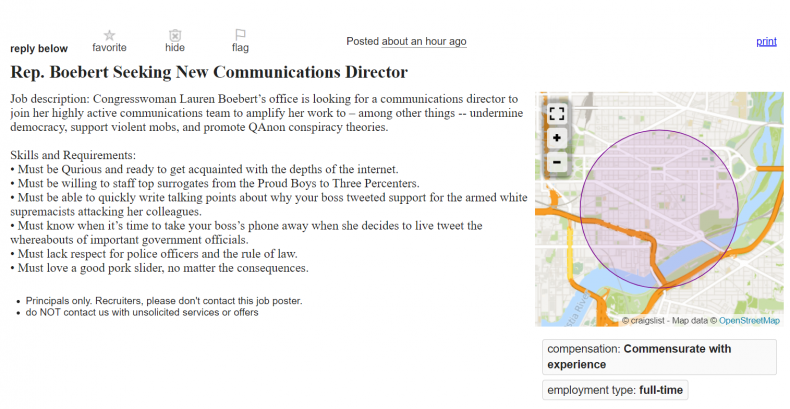 Under "skills and requirements," the ad listed that applicants must "be Qurious and ready to get acquainted with the depths of the internet"; "be willing to staff top surrogates from the Proud Boys to Three Percenters"; "be able to quickly write talking points about why your boss tweeted support for the armed white supremacists attacking her colleagues"; "know when it's time to take your boss's phone away when she decides to live tweet the whereabouts of important government officials"; "lack respect for police officers and the rule of law"; and "love a good pork slider, no matter the consequences."
Devoid of a monetary salary, the post stated under the compensation section: "Commensurate with experience."
Boebert's office did not respond to Newsweek's request for comment.
A staunch Second Amendment advocate who has bragged about bringing a gun to work and flouted new House floor security procedures, Boebert is considered among the most outspoken and far-right members of Congress. Democrats have accused her of fueling the violent siege on the Capitol—an assertion she strongly denies—by promoting President Donald Trump's baseless conspiracies of election fraud.
Boebert is among two QAnon-linked Republicans who were elected in November, the other being Rep. Marjorie Taylor Greene (R-Ga.). Both have distanced themselves from the fringe and dangerous conspiracy.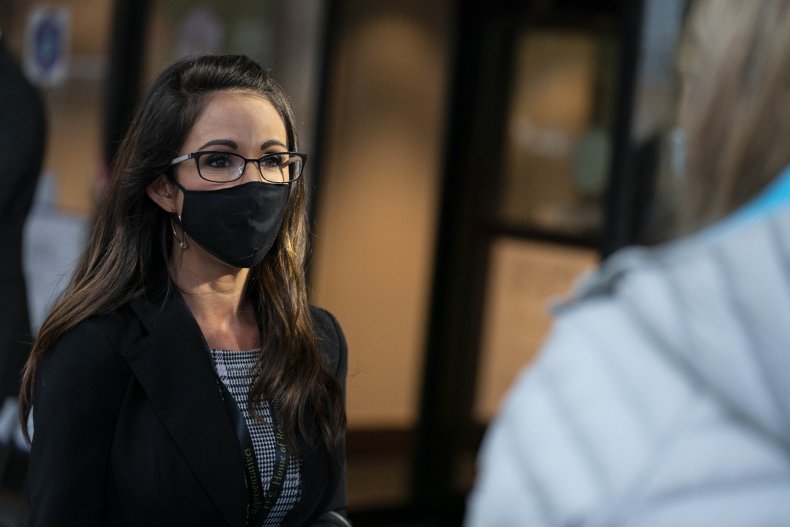 Boebert has also vehemently refuted claims by Democrats that she provided tours to would-be Capitol rioters in the days leading up to the January 6 attack. Such assertions, Boebert has said, have led to death threats.
The Craigslist ad was reminiscent of the sort of antics that DCCC and its GOP counterpart, the National Republican Congressional Committee, partake in as attempts to highlight any intraparty divisions.
Republicans are currently undergoing a reckoning within the party, as more GOP lawmakers on Capitol Hill have sought to sever ties and support for the outgoing commander-in-chief who last week was impeached by the House for the "incitement of insurrection." Ten House Republicans, including Rep. Liz Cheney (R-Wyo.), voted to impeach.
Whether the Senate will vote to convict is yet to be determined. Senate Majority Leader Mitch McConnell (R-Ky.) is undecided, another sign of the Trump-fatigue that some Republicans have as the president prepares to depart from Washington, D.C.
"The mob was fed lies," McConnell said Tuesday in a floor speech. "They were provoked by the president and other powerful people."