Our Long Romance With 'Saturday Night Live'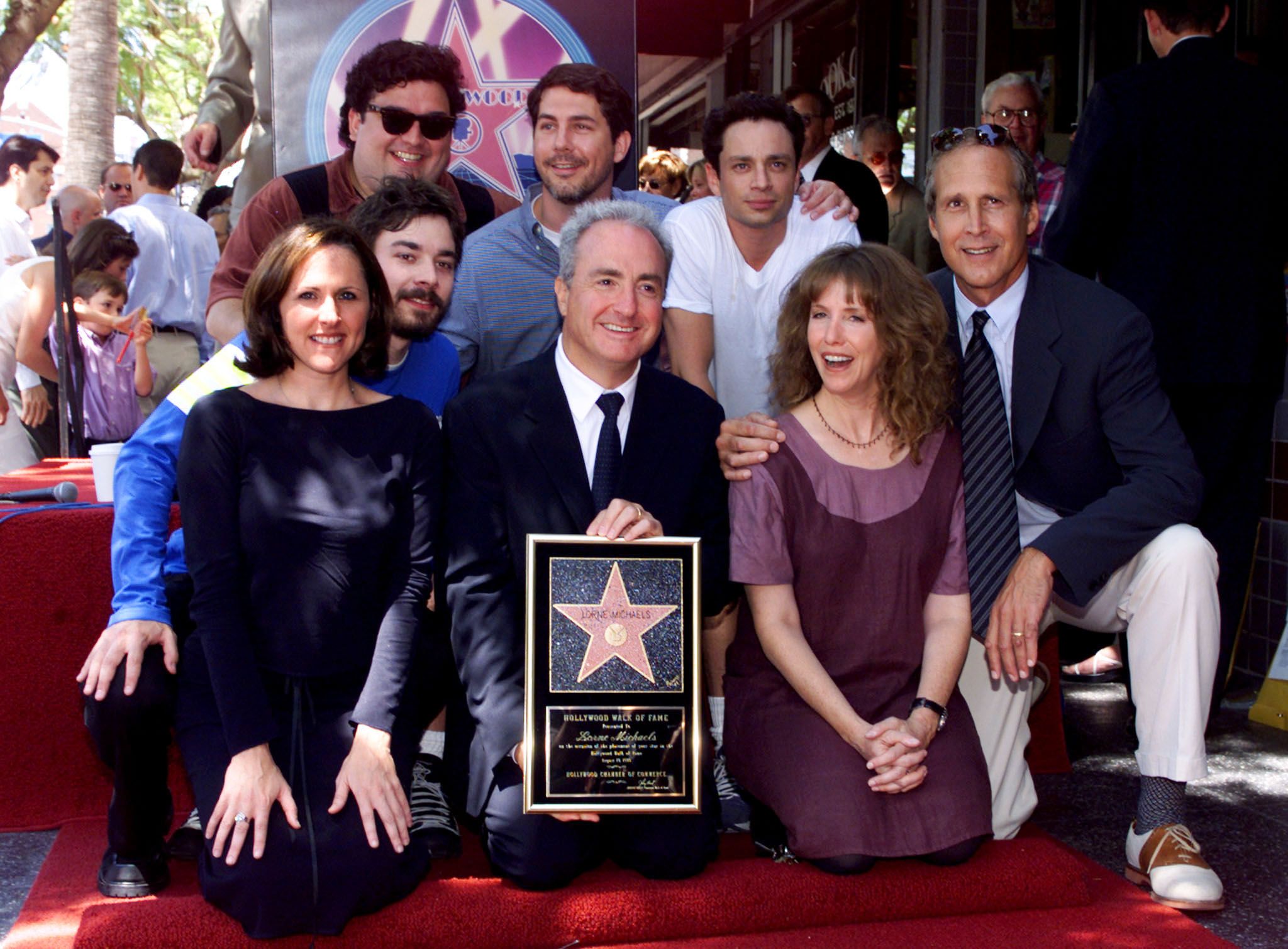 If Executive Producer Dick Ebersol and showrunner Lorne Michaels had not given birth to Saturday Night Live, then the times themselves would have. When the show, first known as NBC's Saturday Night, had its premiere on October 11, 1975 (yes, Sunday night's "40th Anniversary Special" arrives nine months early), America was a petri dish for subversion.
The long and disillusioning nightmare of the war in Vietnam had ended less than six months earlier with the fall of Saigon. An "energy crisis," which in reality was no more than an oil embargo staged by OPEC, created lines of an hour or more at gasoline pumps, and this was before Americans had cellphones and texting to kill the time. And of course, the scars from Watergate, the -gate that begat all others--a scandal that made it incumbent upon the incumbent, President Richard Milhous Nixon, to resign a year earlier--were still fresh.
Faith and belief in institutions such as government were at a nadir--ironically, a man named Nader was leading a movement to question governmental authority--and into the abyss stepped "The Not Ready For Prime Time Players." Or, as the show's announcer, Don Pardo, mistakenly dubbed them in the premiere, "The Not For Ready Prime Time Players:" John Belushi, Gilda Radner, Dan Aykroyd, Jane Curtin, Garrett Morris, Laraine Newman and "I'm Chevy Chase (and you're not!)."
It was a year in which, curiously, three of the most popular sitcoms were set in boroughs of New York City: All In The Family (Queens), Welcome Back, Kotter (Brooklyn) and The Jeffersons (Manhattan). Only the first of the three, created by Norman Lear, dared to stir the pot in terms of social issues. But, as trenchant as the rhetorical tempests between Archie Bunker and his son-in-law, Michael Stivic (alias "Meathead"), could be, All In The Family was your parents' show. They said so as much in the theme song: "Those Were the Days."
(By the way, both Ralph Nader and Norman Lear hosted SNL in its second season).
NBC's Saturday Night was fresh and young, if not exactly original. Monty Python's Flying Circus, a British sketch comedy show of no small amount of genius that was available to Yanks on PBS--BBC America was decades away from launching--had just ended a five-year run. Don Kirshner's Rock Concert, a syndicated 90-minute late-night show that featured live musical acts, had begun two years earlier. The Rolling Stones, the biggest band in the world at the time, had played the first show.
So how come we are still talking about--and still watching, even while lamenting that the show used to be so much better, a refrain that has been sounded since the original cast departed in 1980--Saturday Night Live 40 years later? Because through all the peaks and ebbs, everywhere from Eddie Murphy to Robin Duke, during these 90 minutes, or at least the first 45 until "Weekend Update" airs, SNL has examined the prevailing zeitgeist like no other show.
The premiere episode, hosted by George Carlin (the Louis C.K. of his day), featured a sketch on gay marriage and another on shark attacks (the summer blockbuster film Jaws was still fresh in every beachgoer's mind). Too, it was prescient: Carlin opened with a classic bit in which he proposed that football may have replaced baseball as America's pastime, while a fake commercial foresaw the use of "picture phones in the future."
The best joke in that inaugural, uneven episode tested the audience's recall and wit. During "Weekend Update," host Chevy Chase threw to reporter Laraine Newman, who was reporting live from the fictional Blaine Hotel, a midtown Manhattan inn that had just witnessed its 38th murder (Newman stands next to the half-covered corpse, which appears to have three feet, though the sight gag is never noted). A few minutes later in the broadcast, a promotional ad informs viewers that "guests of Saturday Night stay at the Blaine Hotel."
The kids in America had finally found a show they could call their own. Johnny Carson and Merv Griffin still ruled late night from Monday through Friday, but neither man owned a stitch of clothing purchased from an army surplus store or had ever flirted with facial hair. It's funny that the one true WASP in that original SNL cast was Chase--he was born for his role in Caddyshack--and that he left for the greener pastures of filmdom after just one year, to be replaced by a scraggly-looking creature named Bill Murray.
With Chase's departure, SNL's cast was filled with people who were not particularly telegenic. In an age when Charlie's Angels and The Six Million Dollar Man were television phenomena, this was somewhat revolutionary. And it's fitting that the lone Angel invited to host was Kate Jackson ("Sabrina"), and that a running joke through the telecast alluded to the fact that she was "the smart one."
I remember well when SNL went from a show that your older brother and sister watched to being a pop culture staple. The date was April 22, 1978 and Steve Martin was the host. It was Martin's fifth stint as host already, but his popularity was cresting due to the release of his comedy album A Wild and Crazy Guy. Martin performed the song "King Tut," and if YouTube had existed then (there are folks who believe that the site owes its present-day relevance to an SNL song performed 27 years later, "Lazy Sunday"), it might have exploded.
"King Tut" was not controversial, but it was the first moment that all of America was talking about the following Monday at school or work. In those early years, on-air jokes about the show's impending cancellation or unworthiness were common. That all ended with "King Tut."
Forty years later, other late-night or simply sketch-comedy series have come and gone. Fridays. The State. In Living Color. And, north of the border--and the most worthy challenger--SCTV. None have lasted the way SNL and its indomitable showrunner, Michaels, has, and without ever changing its address. Yes, SNL used to be funnier. People have been saying that, and often times accurately, since the autumn of 1980.
But SNL is, or at least will be later this year, 40 years old. The subversive little show that once set out to rattle the cages of institutions is now, itself, an institution.