'Saturday Night Live' Season 43 with Bill Hader: Everything You Need to Know Before Show Airs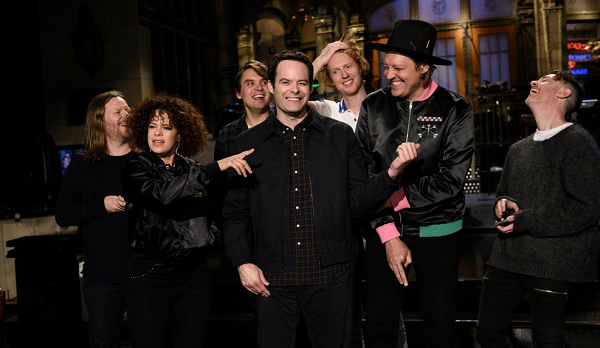 It's been nearly five years since Bill Hader kissed Saturday Night Live goodbye, moving on from the NBC sketch show. He's since appeared in dozens of TV shows and movies, including 2015's Trainwreck with comedian Amy Schumer. But on Saturday, the Oklahoma native will return to his comedy roots.
Hader was a cast member on the show for eight seasons, between 2005-2013. His impressions of pop culture legends like Al Pacino, Clint Eastwood, Harvey Fierstien, Rick Perry, Charlie Sheen and others landed him his second Emmy nomination in 2012, an accomplishment no one from the SNL had achieved since Eddie Murphy's nomination in 1984. (Hader won his first nomination, in 2009, for Outstanding Animated Program; it was for an episode of Comedy Central's South Park.)
Perhaps he'll dust off some of his old impressions when he returns to host SNL on Saturday.
Who's performing: Indie rock band Arcade Fire will be the musical guests for the fifth time, most likely performing songs from their most recent album, 2017's Everything Now, but to hoping the Canadian group tosses in a few throwback tracks.
When: SNL will kick off with a cold open at 11:30 p.m. ET sharp.
Where: The comedy show will air on NBC.
Can it be live streamed: Those without access to television can still catch all of Hader's impressions and wisecracks by streaming SNL on the NBC website or through the network's app. Cord-cutters without cable can also stream the show via Hulu. And for those who only want to see the top sketches of the night, a number of clips and highlights will be available for viewing on SNL's YouTube channel shortly after the show airs. Viewers can also keep up with all the SNL conversations by following the hashtag #SNL on social media.