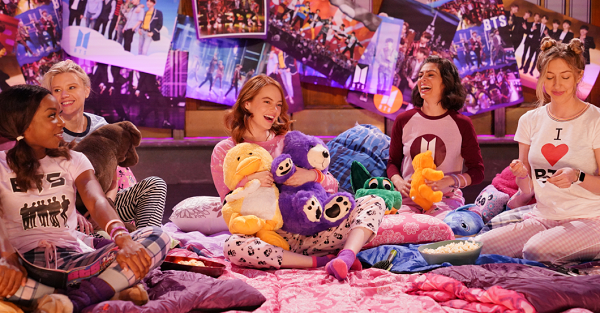 After teasing their appearance weeks ago, the time has finally come for BTS to make their Saturday Night Live debut. The K-Pop band was slated to take to the SNL stage for the first time Saturday.
The teaser showed the shared excitement of host Emma Stone, although she wasn't happy when she was totally ignored by Cecily Strong in the SNL. Strong was busy obsessing over the colorfully-dressed boy band to be concerned with Stone, who is hosting the show for the fourth time on Saturday.
Stone was understanding of Strong's fandom of BTS, though. During her appearance on The Tonight Show with Jimmy Fallon on Thursday, Stone revealed she also had a total meltdown while watching BTS practice at SNL rehearsal. "I just saw their soundcheck today and I involuntarily screamed," Stone said.
"I'm actually not kidding. It came out of my body. It was like, 'Aaahhh!!!' It was like a chemical reaction that happens. They're incredible," Stone said.
Read on for more on Stone's SNL hosting gig below.
Who's performing: Fresh off the release of their album, Map of the Soul: Persona, Korean boy band BTS will perform on SNL. They will likely belt out tracks from the new album, like "Boy With Luv," an updated, mature take on their 2014 hit "Boy in Luv." While no intimate details of the group's SNL performance have been released as of yet, fans shouldn't be surprised if some of the members pop up in an SNL sketch or two throughout the show.
When: Stone and BTS will appear on SNL during its usual Saturday night timeslot at 11:30 p.m. ET.
Where: SNL airs on NBC.
Can it be live streamed: Indeed, fans can live stream BTS and Stone's SNL appearance on the NBC website—with a cable provider login—and on the NBC app. Folks with Hulu can also watch the episode through their subscriptions. Those only interested in the best sketches and skits of the night can check SNL's YouTube for highlights shortly after the episode airs. Fans can also chime in on all the SNL banter on social media by following the hashtag #SNL.