Is 'SNL' on Tonight? Watch Chance the Rapper Host 'Saturday Night Live'
Chance the Rapper is making his way back to Saturday Night Live. The Chicago native is set to host the upcoming episode of the NBC comedy show's 45th season on Saturday.
Chance's big return marks his third appearance on SNL's Studio 8H set in New York City's iconic Rockefeller Center. He first visited the show back as a musical guest in December 2015. He returned as host in November 2017 and had SNL audience members doubled over with laughter after watching his comedic performances alongside the SNL cast.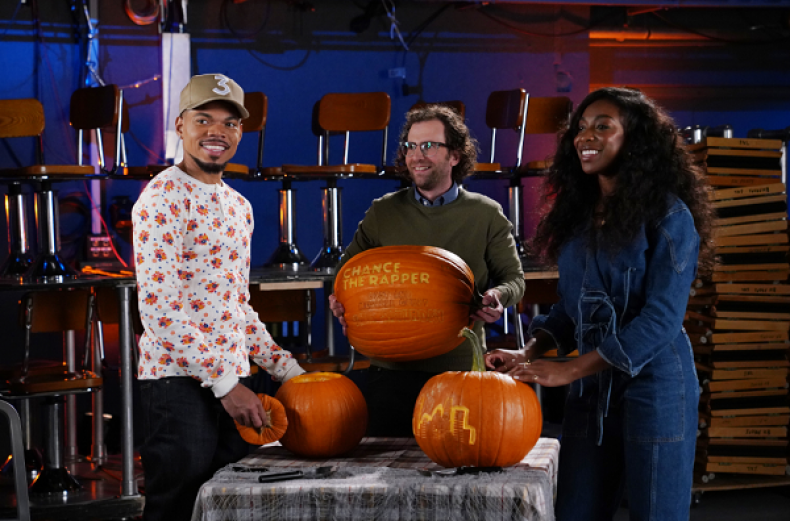 During his time as host, Chance appeared in a number of sketches and skits, including the ever-popular musical parody "Come Back, Barack." Chance and SNL cast members Kenan Thompson and Chris Redd embody a '90s R&B group and perform a slow jam ballad begging former President Barack Obama's to return to his old post at the White House.
"Every night/I turn the TV on and cry/I say why/I feel like we're all gonna die/So come back Barack/Even though it's not allowed/We want you back somehow/I need you in my life," the men sing as video clips and images of Obama cross the screen.
The skit was such a hit with viewers, SNL won the award for Outstanding Original Music and Lyrics at the 2018 Emmys.
Another notable standout from Chance's last time as the SNL host was the hilarious "Sports Announcer" skit. Chance portrayed Madison Square Garden correspondent Lazlo Holmes, who usually covers the New York Knicks games, is forced to cover a hockey game. The problem? He doesn't know anything about hockey. What follows is Chance's near five-minute clueless riff on the game, during which he not only flubs up the fundamentals of hockey but the players' names too.
Almost two years after the rapper appeared in the sketch, he reprised the role of Lazlo for the National Hockey League's opening night in October.
With such success during his first SNL hosting gig, there's little doubt Chance will knock his upcoming performance out of the park. Read on for more info on SNL's newest episode below.
Who's performing?
Chance is on double duty for his third visit to SNL. He'll also serve as the musical guest of the night, likely performing hits off his latest album, The Big Day, which was released in July.
When does SNL air?
Chance will host and perform on SNL on Saturday. The show is set to air at its usual timeslot on NBC at 11:30 p.m. EST.
Can SNL be live-streamed?
No need to worry if you don't have access to a TV. Viewers can still tune into SNL via NBC's website or app with any smart device. However, a cable provider login is still needed to access the stream. Those with Hulu's Live TV service can watch the show on that platform, while people with standard subscriptions will have to wait until after the show airs to catch it On-Demand.