'Saturday Night Live' Mocks Trump Rally, With Appearances by 'Bill Clinton' and 'Lindsey Graham'
After a week-long hiatus, the NBC sketch comedy show Saturday Night Live got back into the swing of things last night by starting off with a cold open sketch that returned to mocking President Donald Trump, this time by lampooning what might happen if a host of figures showed up at one of the president's rallies in Albuquerque, New Mexico.
Alec Baldwin returned to portray Trump, who immediately evinced his lack of knowledge about the country he presides over. "So great to be here in the great city of Albacore, tuna capital of the United States," he said. "I came back for a surprise rally because I heard they're building a wall on the border of Colorado, to keep the New Mexicans out."
The joke referenced a gaffe the president appeared to make while giving a speech in Pittsburgh on October 23, when he said that his administration was "building a wall on the border of New Mexico and [...] building a wall in Colorado." As Colorado does not border the country of Mexico, but rather borders the state of New Mexico to the south, the president inadvertently implied that the U.S. government would build a border wall between two American states. (On October 24, the president tweeted to say that his comment on building a wall along the Colorado border had been a joke.)
SNL cast member Cecily Strong joined "Trump" on stage, playing a supporter wearing a shirt that read, "Keem America Greab Agrain." When Baldwin-as-Trump told her that her shirt contains some misspellings of his now-famous campaign slogan, the fan replied, "Nope. This was taken verbatim from one of your tweets, therefore it's correct." As she gave the president a proud salute, she said, "The words need to change because you said so, sir!"
Next, Mikey Day walked onstage playing a member of the group, "Bikers For Trump." Referring to the impeachment inquiry started over the president's alleged inappropriate request of the Ukrainian president to investigate Joe Biden, the biker announced that all the president did "shake down a foreign government to get dirt on his political enemy." He asked, "I mean, is that wrong?"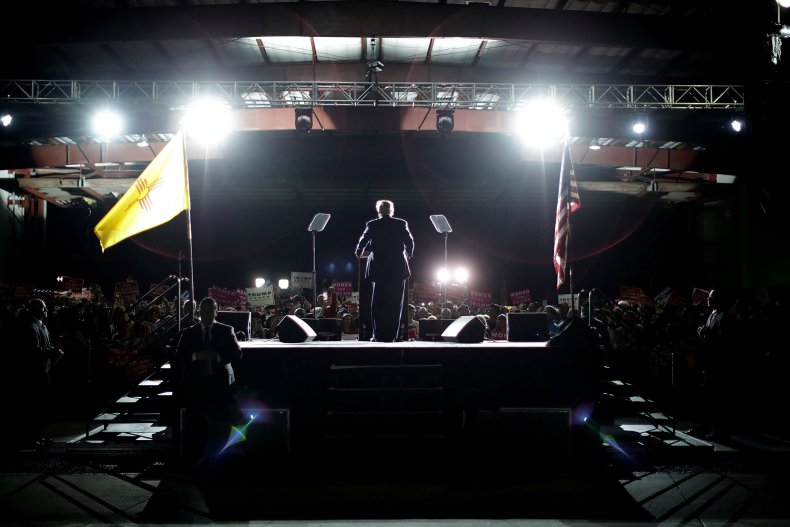 Aidy Bryant then entered the scene as another Trump fan, who extolled the president as the "one true white lord" before drawing a bizarre connection between the title of Michelle Obama's memoir, Becoming, and witchcraft.
A militant for the Islamic State followed, played by Pete Davidson. The militant thanked Trump personally for pulling American troops out of Syria, thus allowing ISIS soldiers to escape because their Kurdish captors could no longer keep an effective watch on them.
Kate McKinnon then came on as GOP Senator Lindsey Graham, who pledged his loyalty to the president before delivering a soliloquy from a Tennessee Williams play like a "true Southerner."
Next up was Alex Moffat playing Facebook CEO and founder Mark Zuckerberg, plainly portrayed as if her were a machine masquerading as a human being. Referring to Zuckerberg's defense of Facebook not fact-checking campaign ads put on the platform, Moffat's Zuckerberg clarified, "Facebook is not pro-Russia...it's just not anti-Russia."
Former SNL cast member Darrel Hammond then came on stage as former President Bill Clinton.
"Bill, why are you at a Trump rally?" Baldwin's Trump asked.
"Is that what this is?" Clinton said, before saying that if he could have done rallies every week when he was in office, "I would never come home."
Lastly, Fred Armisen, another former SNL regular, arrived on the scene playing Recep Tayyip Erdoğan, the president of Turkey. He gave Trump a high-five before reassuring that his government is "treating the Kurds really well," after U.S. troops pulled out of northern Syria.
Erdoğan and Trump remarked on what a good friendship the two of them share, with Erdoğan saying that it was like "when Franco and Mussolini would take vacations together." This referred to the 20th-century fascist dictators of Spain and Italy, respectively.