Is 'SNL' on Tonight? Find Out Who Will Host and Perform on 'Saturday Night Live' Next
Like many Americans across the country, the Saturday Night Live cast and crew has the Thanksgiving weekend off. That means there won't be a new episode of the NBC sketch comedy show on Saturday.
The show won't return with new Season 44 hosts and performers until next month, with Jennifer Lopez scheduled to take the reins first on December 7. It will mark her third time in Studio 8H—the Rockefeller Center location where SNL is produced in New York—after having hosted in 2001 and 2010. Lopez will be accompanied by musical guest DaBaby, who will hit the SNL stage for the first time ever.
Scarlett Johansson will follow in Lopez's footsteps and take over as host for the December 14 episode . She will be joined by Niall Horan, whose appearance marks his first as a solo artist. Horan has performed on SNL in the past with his former British boy band, One Direction.
SNL alum Eddie Murphy will close out the first half of the season as host along with musical guest Lizzo on December 21.
Although viewers will have to wait a week before they get to see new sketches and skits on SNL, they can still tune into the show on Saturday. SNL will run during it's usual NBC time slot at 11:30 p.m. ET, however, the network will air an earlier Season 45 episode hosted by David Harbour.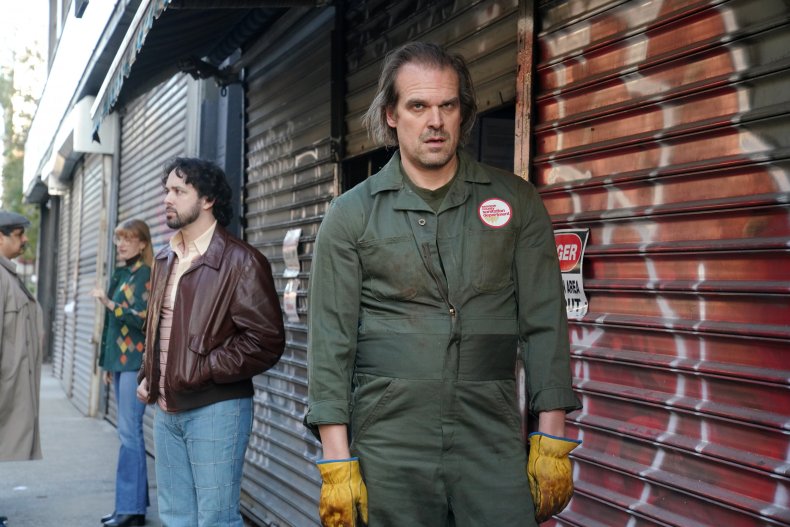 The actor made his hosting debut on SNL in an episode that aired on October 12. He was joined by singer Camilla Cabello, who also was a first-timer to the SNL stage.
Although Harbour is most known for playing more dramatic roles—he stars as Jim Hopper in Netflix's highly acclaimed science fiction thriller series Stranger Things—the 44-year-old still managed to bring the funny with his SNL appearance. In fact, one of his leading parodies is already being dubbed one of the best sketches of the season.
Harbour appears as Oscar the Grouch in the three-minute-long "Grouch," a humorously dark and spot-on parody of the Joker movie trailer based on the beloved grumpy Sesame Street character. Working as a garbage man alongside SNL regulatory player Chris Redd, Harbour as the gritty antihero Oscar essentially loses his mind—much like Joaquin Phoenix's Joker—from witnessing the crime and corruption on Sesame Street.
"If everyone calls you trash, and everyone treats you like trash, why don't you just become trash?" Harbour says in the sketch.
Since a rerun of SNL is airing on Saturday, viewers won't be able to live stream it on NBC's website, but Harbour's episode and every other one from Season 45 so far are available for viewing on-demand via the NBC app. Folks with Hulu can catch old episodes of the show there too.