Is 'SNL' on Tonight? Watch Sandra Oh Host 'Saturday Night Live'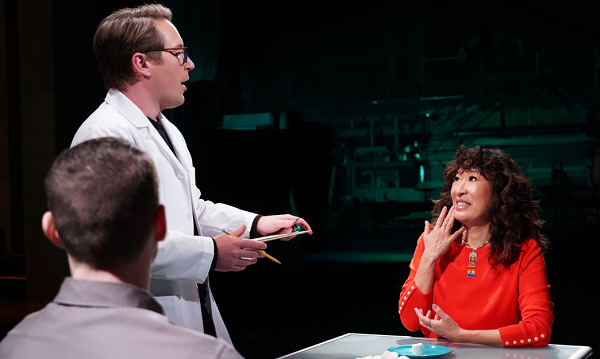 Sandra Oh may be known for her compelling roles on drama series like Grey's Anatomy and Killing Eve, but the actor will show off her comedic chops when she hosts Saturday Night Live. Oh will make her first appearance ever on the show on Saturday.
With all Oh's talents, it's no wonder the Golden Globe winner isn't afraid to expand her range by providing laughs with the SNL cast. In the latest SNL promos teased that she wasn't nervous at all for her upcoming performance on the show, claiming that she has "nerves of steel." By the end of it, she was cracking jokes that even went over SNL regular player Kenan Thompson's head.
While it's unclear what Oh has up her sleeve for her first SNL hosting gig, she's obviously prepared for it.
Read on to find out everything else happening on SNL this Saturday below.
Who's performing: Australia's Tame Impala is set to perform on SNL for the first time. Four years following the highly successful release of Currents, Tame Impala released the new single "Patience," off the band's forthcoming album. More than likely, his upcoming appearance on SNL will include a live rendition of the song and possibly some new music too.
When: Oh and Tame Impala will appear on SNL on Saturday during the sketch comedy show's usual 11:30 p.m. ET time slot.
Where: SNL airs on NBC each week.
Can it be live streamed: If you don't want to miss Oh's SNL hosting debut but you don't have access to a television, you're in luck. A live stream of SNL is offered on the NBC website and app, although a cable provider login is needed to access. Viewers with Hulu subscriptions can also tune into the show there. Those only interested in the best skits and sketches of the night can catch them on SNL's YouTube shortly after the show, while everyone can keep up with all the SNL banter of the night by following the hashtag #SNL on social media.