Is 'SNL' on Tonight? Find Out Who Will Host 'Saturday Night Live' Next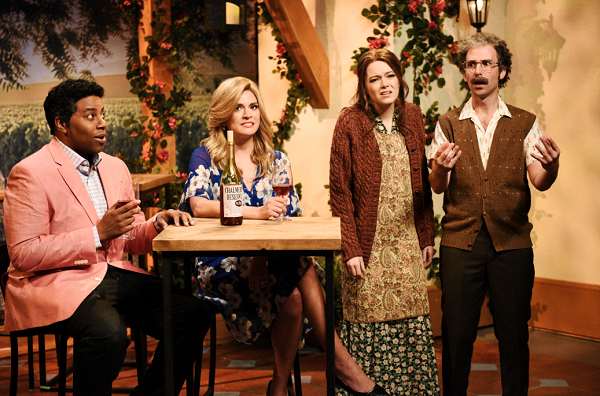 Season 44 of Saturday Night Live is winding down, but luckily there are still a few episodes to go before the NBC show says goodbye for the summer. There is a catch, though. The few remaining episodes won't air until next month.
There won't be a brand new installment of SNL on Saturday. Instead, NBC will air a previously recorded episode of the sketch comedy show. Luckily, it's a rerun to love.
John Mulaney's hosted-episode is slated to air this weekend, giving viewers a chance to catch the former SNL writer and "Weekend Update" correspondent helm the show if they missed his performance back in March.
That specific episode, which featured a guest performance by country music star Thomas Rhett, marked Mulaney's second time hosting SNL since he departed from the show back in 2014. Mulaney returned to SNL for the first time as a host back in April 2018.
As for Rhett, that was his first time appearing on SNL.
The cast of SNL will return with the final three episodes of the season on May 4 with SNL alum Adam Sandler, who will host the show for the very first time. "We are happy to welcome Adam back to SNL in what is sure to be a sure night," executive producer and creator Lorne Michaels said in a statement released in early April.
Sandler was a member of the cast for more than five years but was fired from the show in 1995 just before one of Sandler's most beloved movies, Billy Madison, debuted in theaters.
Although he has made a few cameo appearances over the years, Sandler has never hosted the show and never wanted to. SNL vet Norm McDonald asked why during a podcast interview in 2014.
"I don't know how good it would be. I'm slow now," Sandler said. "There are guys who love doing it, who are great at doing it. I just don't know how good I'd be doing it. I did what I could do on that show."
Shawn Mendes is expected to hit the SNL stage as well on May 4.
Emma Thompson and Jonas Brothers will appear on SNL on the following week, after which Paul Rudd and DJ Khaled will guest for the finale episode.
Saturday Night Live, reruns and brand new installments, air on NBC on Saturday nights at 11:30 p.m. ET.