'Saturday Night Live' Season 43 with James Franco: Everything You Need to Know Before Show Airs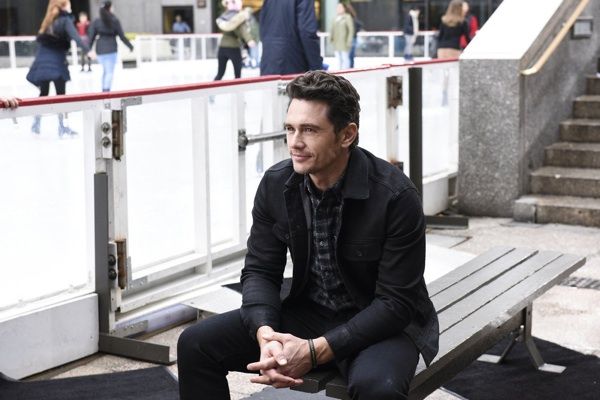 James Franco--the actor, writer and director--is a man of many talents. Ice skating, however, is not one of them. In fact, James Franco is really, really bad at ice skating. The 39-year-old can barely stand up straight on ice.
How do we know? Because The Disaster Artist actor was embarrassingly schooled by a kid ice skater at Rockefeller Center's famed ice skating rink in the latest promo video for Saturday Night Live.
Franco, who is set to host the sketch comedy show on Saturday, appears incredibly confident in the video as he straps up the laces to his cool blue ice skates. He coolly struts to the ice, walking in his skates as if he is a natural, presenting himself like a pro ready to give all the other skaters a real show. He steps on to the ice, and then--Bam! He barely makes one complete step on the ice without nearly falling to his doom until a cute little kid comes and pushes him down.
If anything, the promo video is the precursor to the many hilarious falls Franco will likely take when he graces the SNL stage for the first time since 2009. Check out all the details in the upcoming episode below.
Who's performing: First time Grammy nominee SZA is set to hit the stage and perform a few tracks from her chart-topping debut album, CTRL. The performance marks the New Jersey native's first appearance on SNL.
Where: Franco's big comeback on SNL will air on the NBC network.
When: The episode starts at SNL's usual time, at 11:30 p.m. ET.
Can it be live streamed: If you're unable to catch Franco's return to SNL on live television, you'll be able to watch from any smart device by streaming the show on NBC's website. Viewers with access to Hulu can also catch the show there. And, as always, folks who want to tune into highlights and clips of the episode can find them on SNL's YouTube page after the show airs. Fans can also keep up with all the SNL chatter on social media by following the Twitter hashtag #SNL.