Is 'SNL' on Tonight? Watch Jennifer Lopez Host 'Saturday Night Live'
Jennifer Lopez is set to light up the Saturday Night Live studio. The actor will kick off the remaining episodes of the fall season and host the sketch comedy show on Saturday.
It won't be Lopez's first time taking over Rockefeller Center's Studio 8H in New York City. While she's been impersonated by SNL cast members dozens of times over the years, she's also appeared on the show as a host and a musical guest—even holding down both spots twice. Her upcoming hosting gig marks her fourth time on the show, although it'll mark her first time only solely serving as host.
It's been nearly a decade since Lopez appeared on the show, in February 2010. That appearance was special, as she became the first Hispanic celebrity to host and perform on SNL on more than one occasion. On that show, Lopez got laughs in a number of memorable sketches, including her "Hollywood Dish" interview alongside Kristen Wiig and Bill Hader and the hilarious Telemundo Winter Olympics bit in which Lopez and Fred Armisen portrayed news hosts who are utterly baffled by the idea of winter sports. Lopez also performed hit songs "Until It Beats No More" and "Starting Over" when she hosted in 2010.
Read on for more info on the upcoming episode of SNL below.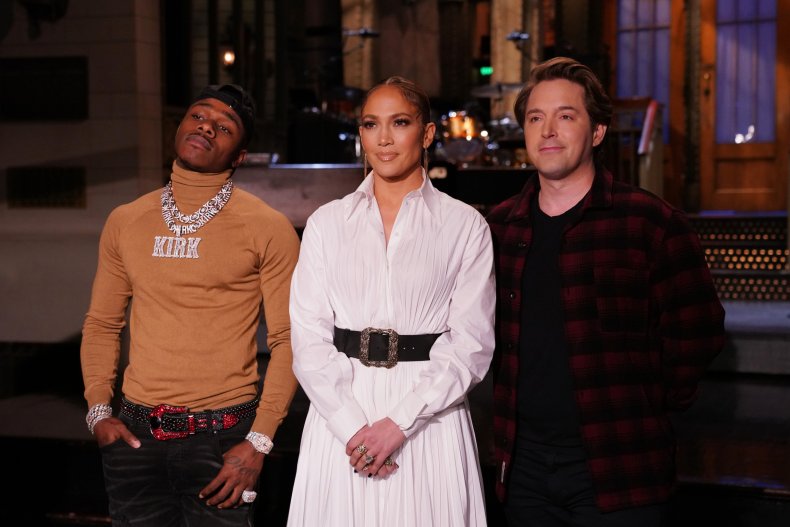 Who is performing?
Following the commercial success of his intro single "Suge," which peaked at No. 7 on the Billboard Hot 100 charts earlier this year, North Carolina rapper DaBaby is set to perform on SNL for the first time. More than likely the 27-year-old will perform songs from his second studio album Kirk, which released in September. Here's to hoping he brings "VIBEZ" and "BOP on Broadway (Hip Hop Musical)" to the stage.
When does SNL air?
Viewers can catch Lopez and DaBaby on SNL during it's usual Saturday night time slot on NBC at 11:30 p.m. ET.
Can it be live-streamed?
Yes! If you don't have access to a TV, the comedy show is can be viewed via live stream on NBC's website and app with a cable provider login. Additionally, those with Hulu Live TV service can watch Hulu in real time there. Hulu customers with standard subscriptions, however, will only be able to view the show after it airs on-demand. As always, the highlights and clips of the night will be available on SNL's YouTube shortly after the show airs. Fans can keep up with all the SNL chatter by following the hashtag #SNL on social media.