Is 'SNL' on Tonight? Watch John Mulaney Host 'Saturday Night Live'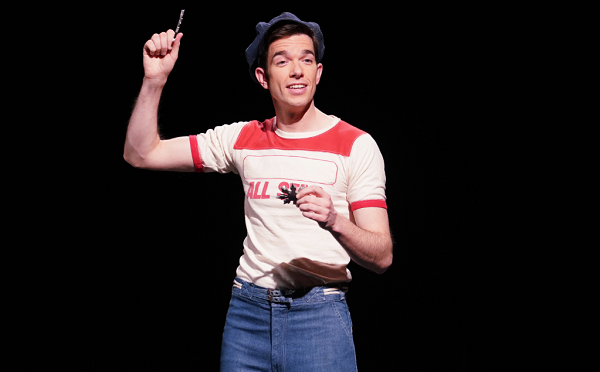 It's pretty common knowledge John Mulaney is a former writer for Saturday Night Live. Despite appearing on the show in a very limited capacity—aside from his random stints on "Weekend Update"—the comedian had a rather lengthy tenure on the show, writing sketches and skits for the cast for four years.
What SNL viewers may not be aware of, however, is the fact that Mulaney desperately wanted to be a cast member. In fact, he wanted to be one of SNL's regular players so bad, he auditioned—according to Mulaney—a whopping 44 times.
In the latest SNL promo, Mulaney, who serves as show host for the second time on Saturday, claims he's been trying out for SNL since 1975. Pay no mind the fact that 36-year-old Mulaney wasn't even born during SNL's debut year starring the likes of Chevy Chase, Dan Aykroyd, John Blushi and Gilda Radnor.
Let Mulaney tell it, show creator and director Lorne Michaels once told him, "We don't need whatever it is you are." Hence why he's never been given anything more than just a writing position on the show.
However, Mulaney is hoping Michaels will have a change of heart after he hosts the show for the second time on the next Season 44 episode of SNL.
Read on for more about Mulaney's upcoming appearance on SNL and check out the promo video below.
Who's performing: Country star Thomas Rhett is set to light up the stage during Saturday's SNL episode. The musician's performance comes on the heels of his latest single release, "Look What God Gave Her," off his forthcoming fourth studio album, Center Point Road.
When: Mulaney and Rhett will appear on SNL during the show's regular time slot at 11:30 p.m. ET on Saturday.
Where: SNL will air on its home network, NBC.
Can it be live streamed: If you don't want to miss out on Mulaney's return—and hopefully final, successful audition—but you don't have access to a TV, you can still catch the comedian's performance. SNL will be available for streaming on NBC's website and app. Hulu subscribers can watch there too. All the best sketches of the night will be accessible on SNL's YouTube channel shortly after the show. As always, fans can keep up with all the commentary surrounding the episode by following the hashtag, #SNL.