Is 'SNL' on Tonight? Watch Kristen Stewart Host 'Saturday Night Live'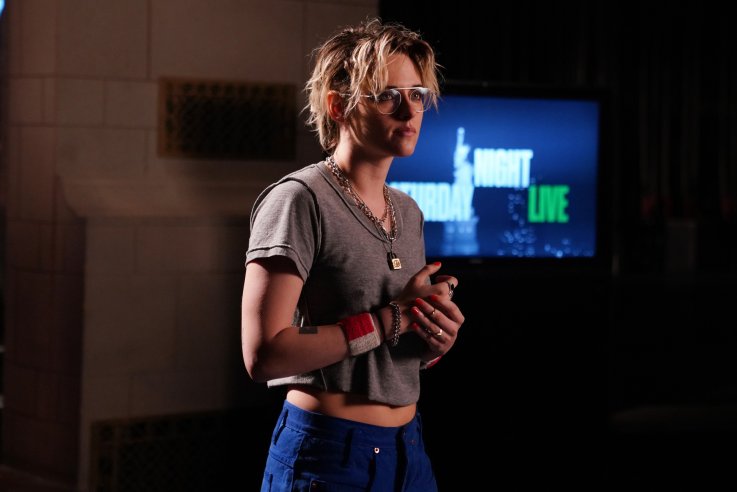 Kristen Stewart is taking another swing at hosting Saturday Night Live on November 2, and this time around, she doesn't plan on dropping any f-bombs.
Stewart famously let the f-word slip during her opening monologue when she hosted SNL for the first time in February 2017. It's a moment the 29-year-old still hasn't lived down but is confident she won't repeat.
Stewart opened up on the incident during her visit to The Tonight Show on Thursday. "I was feeling really present and in the moment, and so I didn't blank. I actually was like, really giving her," Kristen told host Jimmy Fallon.
"It was like the one time I stepped off the teleprompter," she continued. "I had numerous people come up to me like four different times before the show because I'd been kinda stumbling through rehearsal because I was really self-conscious and embarrassed. And I was like, 'I can't do this until it's the moment and, you know, it's game on.'"
Despite the blunder, Stewart went on to deliver stellar performances in a number of hilarious skits with the SNL cast. Perhaps her standout moment came in Vanessa Bayer's long-running "Totinos" sketch. Bayer has starred in the sketch since 2015, but Stewart's appearance as Sabine unveiled a new sensual side of the unnamed homemaker Bayer portrays. The women bond over a platter of Totino's pizza rolls in a particularly intimate way while Bayer's acting husband hosts a football game watch party in the next room.
Here's to hoping the ladies revisit their character when Stewart makes her grand return. Read on for more details on the upcoming episode of SNL below.
Who Is Performing?
Coldplay is set to take the stage on SNL. This will mark the band's first appearance on SNL in five years. They will likely perform their latest singles, "Orphans" and "Arabesque," which are included on their forthcoming album, set to release on November 22. Coldplay is no stranger to SNL. The band—whose members are Chris Martin, Jonny Buckland, Guy Berryman and Will Champion—has appeared on SNL five times, with its first being in April 2001.
When does SNL air?
SNL airs on NBC on Saturday at 11:30 p.m. ET
Can it be live-streamed?
Yes! If you don't have access to television, you can still catch the show via live stream on NBC's website and app on any smart device. However, a cable provider login is needed to connect to the stream. Viewers with Hulu Live TV subscriptions can watch the episode there, although those with standard subscriptions will only be able to see the show after it airs on-demand. The best sketches and skits of the night will be available on SNL's YouTube shortly after the show airs. And those who just want to get in on all the SNL banter can keep up with all the social media chatter by following the hashtag, #SNL.
Is 'SNL' on Tonight? Watch Kristen Stewart Host 'Saturday Night Live' | Culture