Is 'SNL' on Tonight? Watch Matt Damon Host 'Saturday Night Live'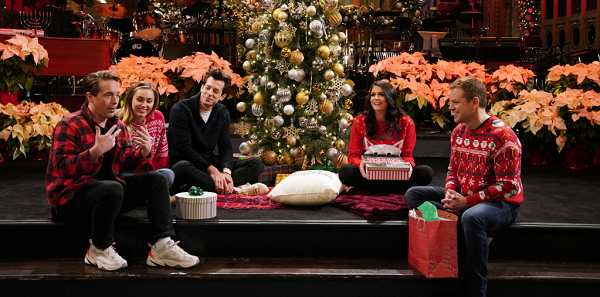 It's barely been three months since Matt Damon made his hosting debut on Saturday Night Live, and already, the actor is making his big comeback as host again on Saturday.
Damon surprised fans with his impeccable and hilarious hosting skills back in September during the Season 44 opener. He kicked the show off with an impressive mockery of "beer bro" Justice Brett Kavanaugh, President Donald Trump's now-confirmed Supreme Court pick who was at the time facing a Senate Judiciary Committee hearing over his alleged attack on Christine Blasey Ford. The California professor accused him of attempting to sexually assault her when they were teens.
Damon tickled viewers with his cold-open monologue, in which he portrayed Kavanaugh. "I am here tonight because of a sham… a political con job organized by the Clintons, George Soros, Kathy Griffin and Mr. Ronan Sinatra. Now I am usually an optimist… I'm a keg is half full kind of guy," he said, hinting at Kavanaugh's frat boy past. "But what I've seen from the monsters on this committee makes me want to puke—and not from beer."
It's unclear what Damon has up his sleeve for his upcoming hosting gig on SNL, but it's likely going to get fans in the Christmas spirit. Damon appears to be super excited for the holidays—particularly while exchanging secret Santa gifts—in a new SNL promo. Check it out below and read on for more info on SNL.
Who's performing: Miley Cyrus will also make her grand return to SNL for the fifth time. The singer, who's appeared on the show as a musical performer and a host, will be accompanied by Mark Ronson. The duo recently released their latest collaboration, "War Is Over," and are expected to give a performance of the John Lennon and Yoko Ono Christmas classic. "It's just so [magical] every time we sing it…goosebumps all over the place," Cyrus said of the song during an interview with Howard Stern on Wednesday.
When: Matt Damon will kick off SNL at its usual timeslot of 11:30 p.m. ET on Saturday.
Where: SNL will air on NBC.
Can it be live streamed: Fans can tune into SNL via live stream on the NBC website or app, but a cable provider login is needed to access the stream. Hulu subscribers can also catch the episode there. As always, the best clips of the night will be available on SNL's YouTube shortly after the show airs. Viewers can keep up with all the SNL banter by following the hashtag #SNL on social media.