'Saturday Night Live' Season 43 With Miley Cyrus: Everything You Need to Know Before Show Airs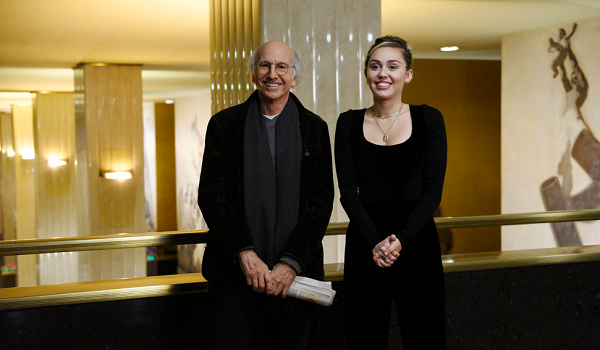 Miley Cyrus is no stranger to Saturday Night Live. She appeared as a host and performer plenty of times throughout her career. In fact, her upcoming performance on SNL on Saturday marks her fifth time guesting on the NBC sketch comedy series, which is actually a lot more than the number of invites some celebrities have received to come participate in the live show.
It's no surprise that Larry David, 70, doesn't seem to be too thrilled to have 24-year-old Cyrus as the musical guest on SNL, based off the new promo clip for the long-running show. He's the actual host of Saturday's episode, which marks the second time he's hosted SNL. It seems obvious David doesn't want to be potentially upstaged by the "Malibu" singer.
Despite already having an on-camera history together—he made a cameo on a season two episode of Cyrus's Disney show, Hannah Montana—David isn't the least bit excited to see Cyrus when she approaches him in the SNL promo.
And if his facial expression when Cyrus tells him she's performing on the episode is any indication of his disdain, his decision to take a solo elevator ride up to the NBC studio, even though Cyrus is going to the exact same place, makes it even more clear.
But it's just a joke. The clip is a play straight out of David's HBO series, Curb Your Enthusiasm, where he portrays himself: a sensible but often incredibly standoffish and blunt person.
Here's to hoping viewers will get to see more awkward encounters between David and Cyrus when they appear on SNL.
Who's hosting: The last time David hosted SNL during season 42, he gave a stellar impersonation of former presidential candidate Bernie Sanders. It's unclear if he'll revive his role as the Vermont Senator on Saturday's show, but one can certainly hope to see David dust off his "Bern Your Enthusiasm" hat and have a run-in with SNL's resident President Donald Trump impersonator Alec Baldwin.
Who's performing: Cyrus will likely perform a few sets featuring tracks off her sixth studio album, Younger Now, which debuted in late September.
Where: The episode will air on the NBC network.
When: The show starts at 11:30 p.m. ET.
Can it be live streamed: SNL can be live streamed on the NBC website and app. Viewers with Hulu can also catch the show on the streaming service. Shortly after the episode airs, viewers can catch highlights and clips on SNL's YouTube channel. Fans can also follow along with the conversation by staying tuned into the hashtag #SNL on Saturday night.