Saturday Night Live Mocks 'Sex Pest' Matt Gaetz Over Trafficking Allegations
Saturday Night Live opened last night's episode with Oops, You Did It Again, a fictitious talk show hosted by Chloe Fineman as Britney Spears.
Fineman's Spears explains that the show—last used to mock Sen. Ted Cruz after his ill-advised trip to Cancun, Mexico—is "where we shine a light on the social pariahs of the week."
Guests included rapper Lil Nas X, played by Chris Redd, who Fineman's Spears noted has been "attacked by the rare combo of the Catholic Church and Nike" and Kate McKinnon as Pepe Le Pew.
Then came Pete Davidson, making his debut as scandal-hit Florida Rep. Matt Gaetz.
"Our final guest is, as we'd say in the early 2000s, a hot mess and as we'd say today, a full-on sex pest," Fineman's Spears said as she introduced Davidson's character.
"My name is Matt Gaetz, like Bill Gates but with a Z at the end," Davidson's Gaetz said. "Like a cool version for teens."
"Speaking of teens..." Fineman's Spears replied before launching into the congressman's controversies.
The New York Times reported that the Justice Department is investigating whether Gaetz had a sexual relationship with a 17-year-old and paid for her to travel with him. He is also alleged to have shown nude photos and videos of women he claimed to have had sex with to fellow lawmakers on the House floor, according to CNN.
No charges have been brought against Mr. Gaetz, who denies any wrongdoing.
On SNL, Davidson's Gaetz said the allegation reported by CNN was "not a crime... Just horrifying!"
Fineman's Spears replied: "I don't know, Matt. I think I can spot a teen predator when I see one. After all I was on 'Mickey Mouse Club.'"
Davidson's Gaetz then insists that "people are just targeting me because I defended Donald Trump!"
"What has Trump done in your defense?" Fineman's Spears asked him. "Giggity-squat!" Gaetz replied. The "Giggity" a nod to perverted Family Guy character Glenn Quagmire.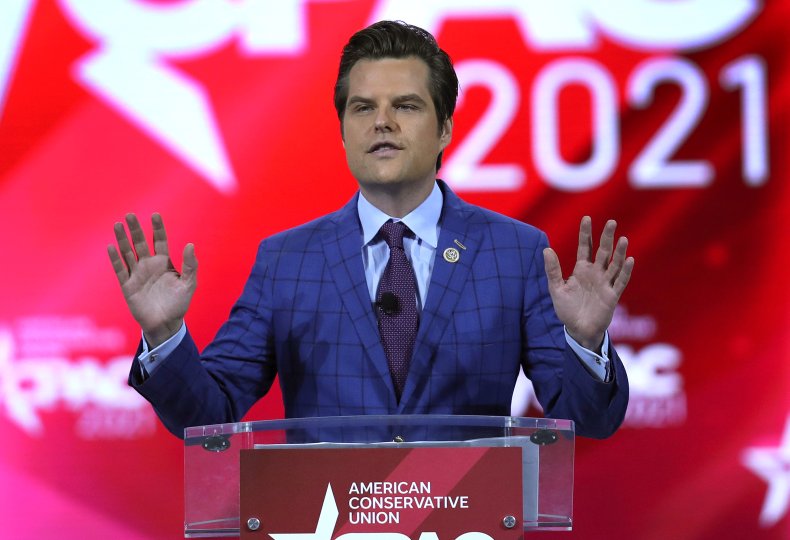 Davidson's Gaetz then attempted to argue that he was not that different from Pepe Le Pew. "I'm just a ladies' man," he said.
"Dude, no. I'm a cartoon skunk," McKinnon replied. "You're a United States congressman. Be better, OK?"
Gaetz was also targeted on last night's Weekend Update segment.
"Representative Matt Gaetz, who looks like a caricature artist's drawing of me, is reportedly under investigation for an alleged sexual relationship with an underage girl," host Colin Jost began. "Because Gaetz believes that only voters should have to show ID."
He continued: "It's also being reported that Gaetz may have paid for sex with women he met online. That story has since been confirmed by his whole vibe.
"Gaetz then defended himself, releasing this very normal statement. See if any of it sounds suspicious to you: 'Matt Gaetz has never paid for sex. Matt Gaetz has never, ever been on any such websites whatsoever. Matt Gaetz cherishes the relationships in his past and looks forward to marrying the love of his life.'
"Here's my response statement: 'Colin Jost does not believe you. Colin Jost thinks you have been to alllll the websites. Colin Jost thinks you should hold off on sending out those wedding invites.'"
Jost later mocked supporters of the QAnon conspiracy theory, saying their response to the allegations about Gaetz was the "craziest part of this story."
He said: "A sitting congressman is being accused of child trafficking and the QAnon people are suddenly like, 'nah, I need more evidence.' That was your whole thing!
"What are you waiting for? The Storm is finally here and QAnon is like, 'you can't believe everything you read on the Internet.'"