Is 'SNL' On Tonight? Next Episode Will Feature Donald Glover as Guest Host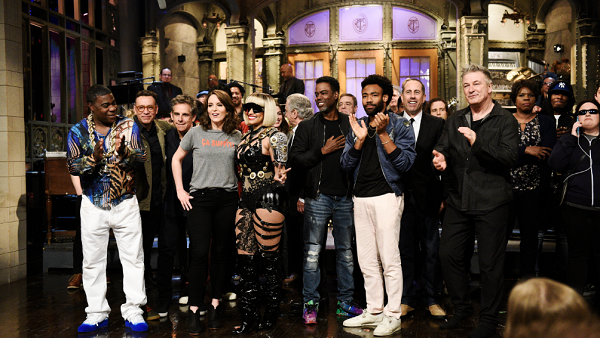 Season 43 of Saturday Night Live is officially over. The finale episode already aired on May 19, and former SNL star and writer Tina Fey served as the host.
Although there are no new episodes in the works until the 2018-2019 primetime season, SNL fans can still tune into the series on Saturday—albeit an episode that they may have already watched.
According to NBC's TV guide, SNL will be on during its regular 11:30 p.m. EST timeslot, but the network will air an episode from early May that featured guest host Donald Glover. His musical alter ego, Childish Gambino, performed on the episode, which originally aired on May 5.
The 34 year old's appearance marked his first on the show as a guest and a performer, but it wasn't the Grammy and Emmy winner's first time working in a sketch comedy capacity. Before he became the superstar actor and creator of FX's Atlanta, Glover worked in the writer's room for 30 Rock, the Fey-created series which was loosely based on the behind-the-scenes life at SNL's famous headquarters, the 30 Rock building in New York City's Rockefeller Center.
For those that missed the episode when it initially aired, they'll not only get a chance to witness Glover's hilarious opening monologue and Migos impressions but viewers will also get to see the very moment when the rapper and actor debuted his highly acclaimed video for his new single, "This is America."
SNL viewers were the first to see the latest music video under Glover's Gambino moniker. It has since gone on to reach more than 221 million views (at the time of this article) on YouTube.
The single, which may possibly be the first song off of Glover's final album, has since gone on to claim the No. 1 slot on Billboard's Hot 100 chart and was certified platinum by the Recording Industry Association of America on Thursday—barely three weeks after its release. Glover confirmed in January that he will retire from music after the release of his fourth and final album.