Is 'SNL' On Tonight? Watch Phoebe Waller-Bridge Host 'Saturday Night Live'
The British are coming to Saturday Night Live. Well, just one Brit.
Phoebe Waller-Bridge is set to host SNL for the very first time on Saturday. The hosting gig is just the latest accolade for the Fleabag star and creator following her big win at the 2019 Primetime Emmys in September. The actor cleaned up with awards at the ceremony this year, taking home the gold for Outstanding Lead Actress in a Comedy Series, Outstanding Writing for a Comedy Series and Outstanding Comedy series.
Although the awards show occurred weeks ago, Waller-Bridge is apparently still riding high on all the Emmys excitement. Her trio of awards may just make an appearance during her SNL debut too. The 34-year-old just couldn't put them down in the latest SNL promo video.
In the clip, Waller-Bridge hangs out at the SNL studio with cast members Chris Redd, Chloe Fineman and Beck Bennett. The SNL regulars are forced to tend to Waller-Bridge's every beck and call simply because the actor refuses to put her Emmy's down. At one point, Waller-Bridge even demands for Fineman to hand-serve her water. The SNL co-stars wait on her hand-and-foot, albeit reluctantly.
If the show trailer is any indication, fans shouldn't expect a lack of Emmys jokes on the upcoming episode of SNL. Read on below for more info on the show.
Who's performing?
Back by popular demand, Taylor Swift will bless SNL with her presence for not the second or third but fourth time. Swift, who first served as a host and musical guest back in 2009, will likely perform tracks off her latest album, Lover, which was released in August. Swift's appearance alongside Waller-Bridge will mark one special moment for the pop star since she is a big fan of Fleabag. She could barely contain her excitement when she discovered she'd be performing during Waller-Bridge's hosting episode, writing on Twitter that she was "in shambles" after the SNL Season 45 lineup was announced in August. Here's to hoping there's a chance Swift and Waller-Bridge will appear in at least one sketch together.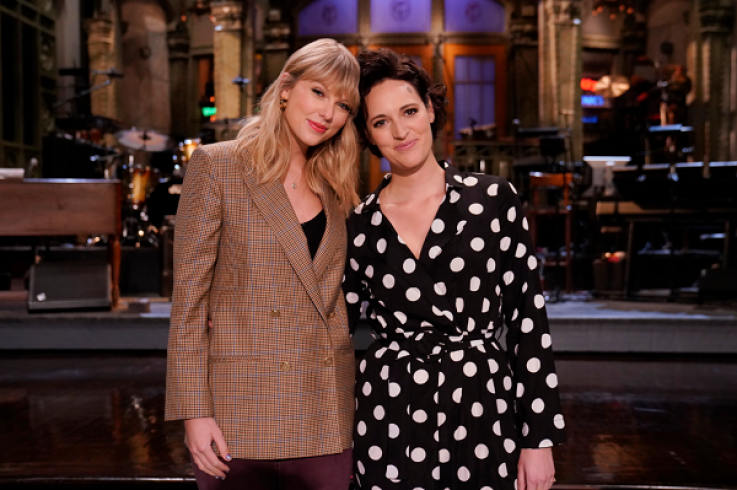 When Does SNL Air?
Waller-Bridge and Swift will appear on SNL on Saturday. The show kicks off on NBC at 11:30 p.m. ET.
Can SNL be live-streamed?
Indeed, viewers can still watch SNL even if they don't have a television. They can tune into the show via live stream on NBC's website and app, however, a cable provider login is needed to access the stream. Those with Hulu's Live TV service can also watch SNL there, while customers with standard Hulu subscriptions will have to wait until after the show airs to view On-Demand.
Is 'SNL' On Tonight? Watch Phoebe Waller-Bridge Host 'Saturday Night Live' | Culture