Alec Baldwin's Donald Trump Takes On Puerto Rico's Mayor In The SNL Season Premiere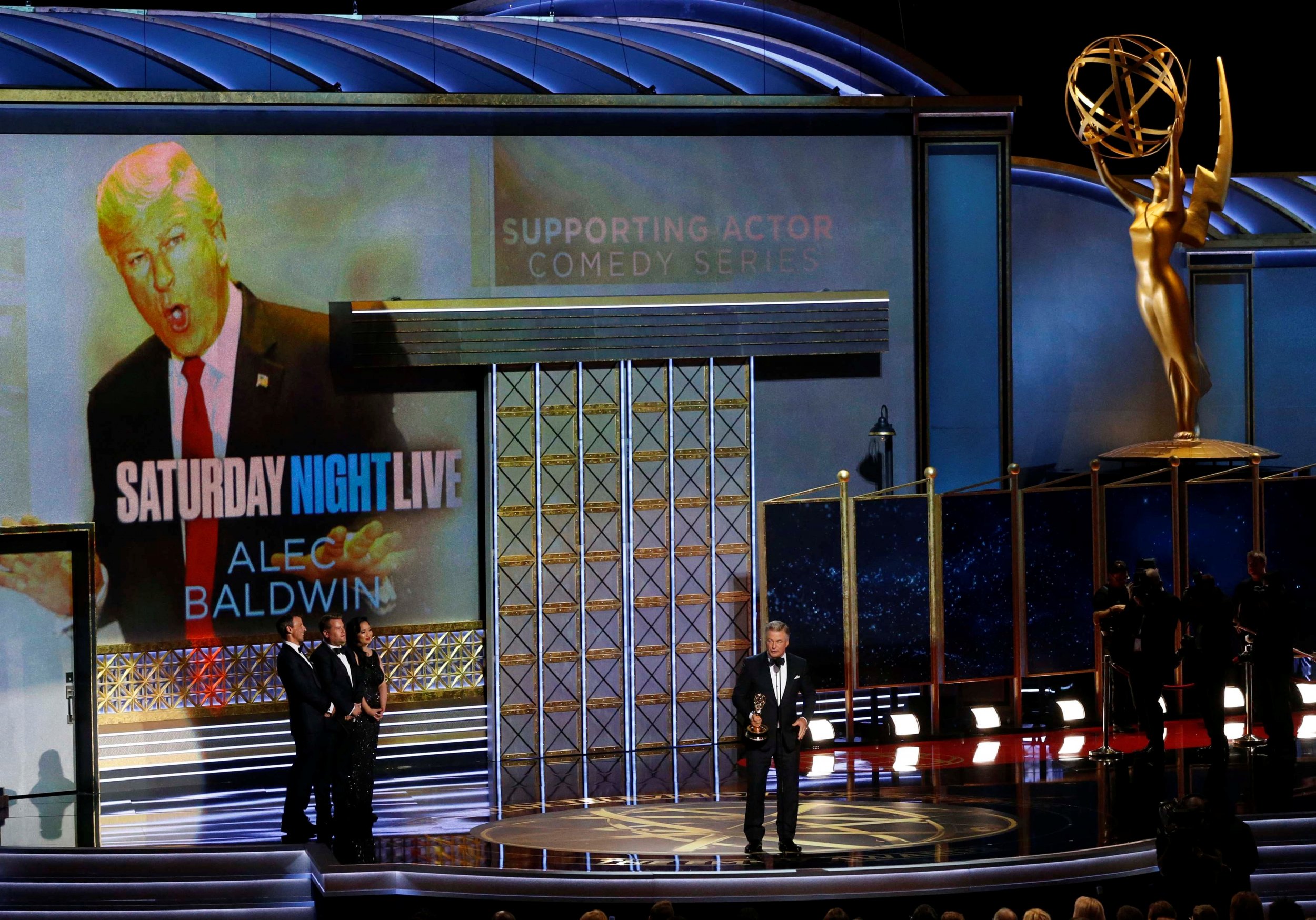 Alec Baldwin is back as President Donald Trump in the Saturday Night Live season premiere, and he lost no time in tackling the president's response to the devastation caused to Puerto Rico by a hurricane.
In a cold open skit to start the show, Baldwin returned with his now-legendary Trump impression, while Aidy Bryant as Sarah Huckabee Sanders entered the Oval Office to tell Trump the mayor of San Juan was on the phone to talk about Hurricane Maria.
Baldwin told Mayor Carmen Yulín Cruz, played by Melissa Villaseñor, that he knew things were "as the locals say, despacito," but that it would take several days to get aid to her people: "FEMA takes a few days unless you join FEMA prime," he said.
The skit came on the same day that the real Trump had tweeted to accuse the real Cruz of "poor leadership ability" in the wake of the natural disaster that devastated the Puerto Rican capital.
"They want everything to be done for them when it should be a community effort," he tweeted, while claiming that "the Democrats" had told Cruz that "you must be nasty to Trump."
The skit also takes on Huckabee Sanders's response to the ongoing NFL "bend the knee" protests. "I'm a little embarrassed that I said it's a black and white issue," Bryant's character said, "I should have said it's a black versus white issue."
Elsewhere in the skit, Kate McKinnon returned to her role as a creepy, boyish Jeff Sessions. She revealed that the character lives in a White House grandfather clock. "I made friends with some mice; they tell me secrets" she said.
Baldwin's Trump rebukes McKinnon's Sessions for not firing James Comey when asked. "I was a bad boy Mr Trump, very bad, very bad" Sessions responds.
But Baldwin's Trump can't stay mad for long: "it's so hard when you're so damn cute," he said, "come over here to Daddy," pulling Sessions onto his lap.
The episode was hosted by Ryan Gosling and featured Jay Z as a musical guest.
The long-running sketch show plans to try to build on the success of its last season, its most-watched in over 20 years partly thanks to Baldwin's appearances as Trump, and Melissa McCarthy's popular Sean Spicer impersonation.