'Saturday Night Live' Season 43 with Sam Rockwell: Everything You Need to Know Before Show Airs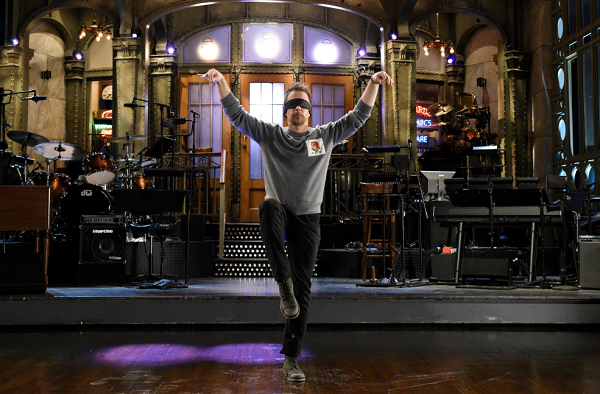 Sam Rockwell picked up a Golden Globe last Sunday, for Best Supporting Actor, for his role in director Martin McDonagh's film Three Billboards Outside Ebbing, Missouri. (The movie also picked up the Best Motion Picture, Drama award.) It's the sort of oddball (if controversial) part the actor excels at, so he should feel right at home hosting NBC's Saturday Night Live for the first time Saturday, when the show returns from its winter hiatus.
Rockwell, 49, has a particular affinity for absurd scenarios (see Seven Psychopaths, Confessions of a Dangerous Mind and The Hitchhiker's Guide to the Galaxy), which tends to be the bread and butter of SNL's players. And eccentric actors like Christopher Walken (Rockwell's Psychopaths co-star) and John Malkovich tend to deliver memorable hosting gigs. (Malkovich's Len Tukwilla, Driftwood Sculptor, from 1989, remains a hard skit to beat.)
We're hoping the 49-year-old will bring the sort of extreme weirdness that defined Walken and Malkovich's time on the show. And while there's no sign of driftwood in SNL's newest promo, Rockwell does engage in some "Golden Globe-level" karate apple slicing.
Here's everything you need to know about this week's Rockwell-hosted SNL.
Who's performing: Pop star Halsey will also make her SNL debut. The New Americana singer is pumped, posting in December that the opportunity is one of her "biggest dreams."
Where: The live audience will see Rockwell and Halsey in the studio at NBC's Rockefeller Center location in New York City, but viewers at home can catch their performances on NBC.
When: The show is set to air at its regular time, 11:20 p.m. ET.
Can it be live streamed? Yes: Log onto NBC's website with their cable provider information. Those without cable can catch the show on Hulu. Shortly after the show airs, you can find clips and highlights available on SNL's YouTube channel. Fans can also follow #SNL on social media.