Is 'SNL' on Tonight? Watch Scarlett Johansson Host 'Saturday Night Live'
Scarlett Johansson is making her big comeback on Saturday Night Live, as the show's host this Saturday.
Her appearance back in SNL's famous Studio 8H—inside Manhattan's Rockefeller Center—marks her fifth time hosting the NBC sketch comedy show. She first took the host reins back in January 2006 and brought the funny again in 2007, 2010, 2015 and November 2017, her most recent appearance. That's not to mention the number of times she dropped by for a cameo or was impersonated by one of SNL's cast members.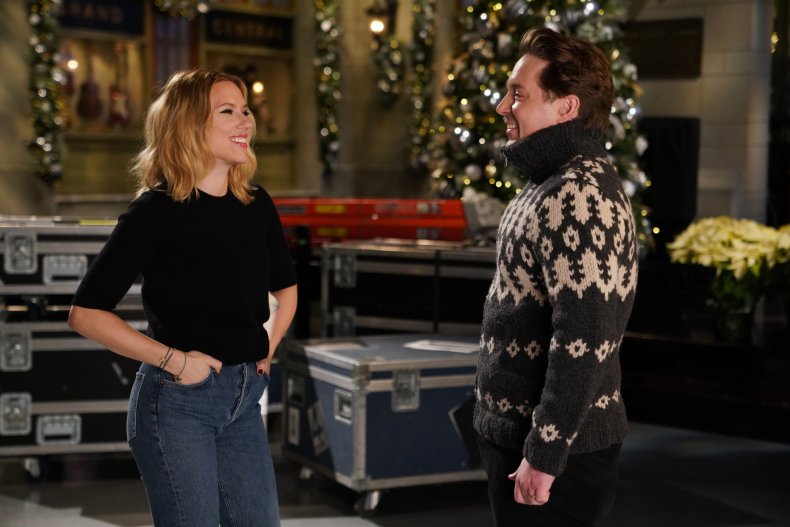 The 35-year-old New York native's return to SNL follows her Golden Globe nomination for best actress, drama, for her role in Netflix's Marriage Story. It's the fifth Golden Globe nomination of Johansson's career. The film leads the pack of 2020 nominees, receiving six nods in total, while Netflix overall scored 34 nominations, including those for the film The Irishman and TV series The Crown.
From the looks of the trailer for the upcoming SNL episode, Johansson seems to be bringing some holiday spirit to the show. She's spotted in the clip decorating the SNL studio and playing an intense mind game with cast member Beck Bennett that forces him to break free of his scratchy, itchy, wool Christmas sweater. Check it out below and read on for more information on Johansson's hosted-episode.
Who is performing?
Gearing up for the release of his second solo album, British singer Niall Horan is set to hit the SNL stage. More than likely, he'll perform his first two singles from his new album, "Nice to Meet Ya" and "Love." Although his appearance marks his first time on SNL solo, he's no stranger to theshow'sstage. He's previously performed on the long-running comedy show with his former boy band, One Direction.
When does SNL air?
Fans can catch Johansson and Horan on SNL during its usual Saturday slot, 11:30 p.m. EST on NBC.
Can you live-stream SNL?
Indeed. Folks without access to television can still watch the show via live stream on any smart device through NBC's website and app. A cable provider login is needed to access the stream, though. Hulu subscribers with Live TV add-ons can also tune into the show in real time, while those with standard Hulu plans can catch SNL later, on demand.
As always, the best clips and highlights of the night will be uploaded to SNL's YouTube channel, shortly after the show airs. And fans can keep up with all the SNL chatter on social media by following the hashtag #SNL.