'Saturday Night Live' Season 43 Premieres With Host Ryan Gosling—Everything You Need to Know Before Show Airs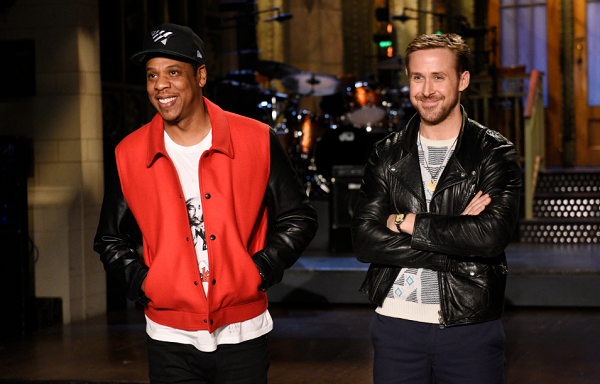 It's Saturday night, you're on the couch with friends and family watching TV and suddenly a rather orange-shaded Alec Baldwin appears on the screen dressed in a baggy, navy blue suit jacket that he has unknowingly paired with black slacks. His lips are all puckered up, he's wearing a very bad blond toupee, and he's referring to North Korea leader Kim Jong Un as "Rocket Man."
Watching the scene may bring about a twinge of déjà vu, and you may find yourself wondering, "Where have I seen this before?"
You have, except it was the actual president of the United States Donald Trump you remember seeing. But you may very well see Baldwin on Saturday night lampooning a number of Trumpisms during Saturday Night Live's Season 43 premiere.
Check out everything you need to know about the first episode of the iconic sketch comedy show's new season below:
Who's hosting? The very first episode of the new SNL season will be hosted by the incredibly talented (and beautiful) Ryan Gosling.
Who's performing? Jay Z, still burning hot off the release of his latest album 4:44, will be hitting the stage in season 43's first episode.
Will Alec Baldwin be there? The Trump whisperer will be in the building.
What about the rest of the cast? Bobby Moynihan, Vanessa Bayer and Sasheer Zamata will not be returning for the 43rd season of SNL. But the rest of the cast will welcome newbies Chris Redd, Luke Null and Heidi Gardener.
Where? Live from NBC studios in New York City, straight to the comforts of your couch, wherever that may be.
When? The show will start at 11:30 p.m. ET sharp.
Can it be live streamed? It's 2017, what can't be livestreamed? You can tune into the show in real time on NBC's website and app, and if you're a Hulu customer, you can also watch it live on the streaming service. There will also be tons of highlights and clips uploaded on the show's YouTube channel following the show.