Best 4.5 Sketches From 'Saturday Night Live' Season 45 to Hold You Over Until the Show Returns
It's been a few weeks since Saturday Night Live offered viewers fresh content, and, by now, you may be wishing for a new sketch or even a Weekend Update to get you through a Saturday night quarantine.
Although production of new episodes has been indefinitely suspended in light of the coronavirus outbreak in the U.S., SNL is still airing during its usual NBC time slot on Saturdays at 11:30 p.m. ET. It's just likely you've seen the episode already as only reruns are scheduled to air for now.
This week, viewers will get an SNL double whammy, with both an episode from May 2019 hosted by Adam Sandler beginning at 10 p.m. ET, followed by a December 2019 show that Scarlett Johansson served as show host.
It could be some time before SNL resumes with a new show. John Krasinski was originally scheduled to host for the first time this week, but with everything on hiatus, no one knows when that will happen.
In the meantime,we can at least get laughs from some of the sketches and skits that have already been featured on the show. So far, Season 45 has had plenty of hit moments with ridiculous yet award-worthy musicals, snarky monologues and cold opens that have brought the return of a few SNL alums.
You could spend a day scrolling through SNL's YouTube channel and catch up on all the sketches that have aired on the show during Season 45 so far, but if that's too tedious of a social distancing task you can just check out our picks for the best four-and-a-half moments of Season 45 below.
4. "North Pole News Report"
Here's a reason why this sketch makes the cut: it features SNL alum Eddie Murphy, whose December appearance marked his first time hosting the show since he departed in 1984. As if it wasn't funny enough seeing Murphy dressed as one of Santa's little helpers, the chaos the little black elf in sweat pants stirs up when reporter Donny Chestnut (Mikey Day) asks for his eyewitness account of a fire at Santa's workshop will definitely get you laughing. Murphy is flawless as an irate and an overly dramatic eyewitness who is like a conspiracy theorist floating claims of a polar bear causing the fire and other ludicrous statements. Donny Chestnut doesn't believe a word of it, but it's pretty entertaining to see Murphy's elf—Kiddle Diddles—hog all the camera time.
3. "2020 Democratic Debate"
Yes, it is more than 12 minutes long, but watching the buffoonery that ensues when SNL elites like Maya Rudolph, Rachel Dratch and Fred Armisen return as former Democratic candidates Kamala Harris, Amy Klobuchar and Michael Bloomberg, respectively, is worth every second. It's as if SNL creator Lorne Michaels called up everyone who has ever had a moment of spotlight on the comedy show to star in the debate parody, which originally aired when Will Ferrell hosted the show just before Thanksgiving. Ferrell as a blink-impaired Tom Steyer is just as good of a watch as Larry David is playing Bernie Sanders. Other notables in the sketch include Woody Harrelson as Joe Biden, Bowen Yang as Andrew Yang, Colin Jost as Pete Buttigieg, Chris Redd as Corey Booker, Kate McKinnon as Elizabeth Warren and Cecily Strong as Tulsi Gabbard.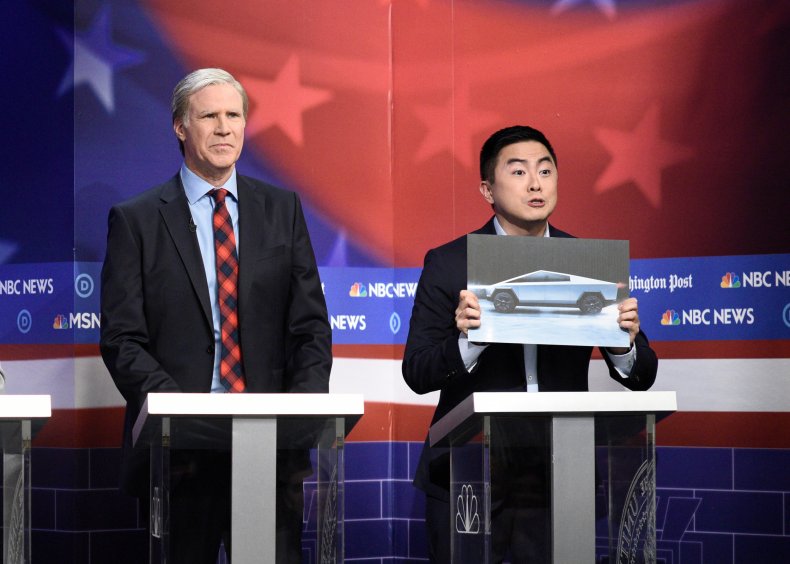 2. "Sara Lee"
What happens when you put an unqualified person in charge of the social media account of one of the world's most wholesome baking brands Sara Lee? Calamity. Having Harry Styles, who hosted SNL in November, using Sara Lee's account to post comments like "Wreck Me Daddy" on Nick Jonas' Instagram is pure gold. The fact that Styles doesn't seem to think there's anything wrong with all that makes it all the fun to watch.
1. "Grouch"
When David Harbour hosted SNL in December, nobody knew that he'd pull off what may be the best sketch of the season as Oscar the Grouch. In a parody of the Joker movie trailer, Harbour hauntingly embodies the grumpy anti-hero of Sesame Street, which has now become a "haven of crime and corruption." Kenan Thompson as Mr. Snuffleupagus—or rather Snuffy the Pimp—aggressively telling Prairie Dog (Melissa Villaseñor) that "Snuffy's ho's earn!" while Ernie (Mikey Day) gets shanked in an alleyway after refusing to hand Rubber Ducky over to a thief is exactly the screwed-up alternate universe version of Sesame Street we'd want to see on the big screen.
And honorable mention goes to...
Although it wasn't a sketch,former Democratic candidate Elizabeth Warren's mini SNL appearance in early March is worth a shout-out. The senator caught up with SNL's Elizabeth Warren—i.e., Kate McKinnon—and the pair did a little dancing in a Tik Tok "Flip the Switch" challenge. Now that's something to add to the list of things you'd never thought you'd see.