Is 'SNL' on Tonight? Season 46 Premiere Host, Musical Guest
Although the coronavirus is still raging in America, a few things are happening that can make life feel somewhat normal. There's still quite a ways to go before people in the U.S. can go about their pre-COVID day-to-day routines, but kids are back in school—albeit largely virtual—indoor dining has launched in New York City as long as restaurants operate at a 25 percent capacity, and Saturday Night Live is back.
The 46th season of the NBC sketch comedy show premieres on Saturday, and get this: It's filming live at its Studio 8H home inside New York's Rockefeller Center.
It will even have a studio audience. Of course, showrunners are taking all precautions. Audience members will be required to take a mandatory COVID-19 test upon arrival. They'll have to have their temperatures checked too; any ticket holder with a temperature of 100.4 or higher won't get access inside. Visitors also have to wear approved facial coverings during their entire time inside the building and studio where SNL is filmed, and social distancing measures will be implemented in regards to seating arrangements.
But the show will go on, and there's plenty to be excited about for the season opener. We've rounded up all the most important info about SNL's big premiere below from who's hosting to how you can watch along from home.
Who is hosting SNL?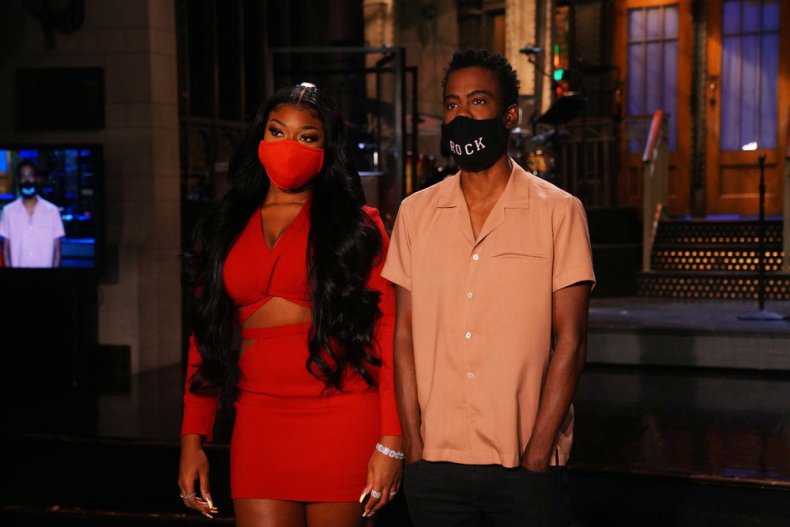 The season will kick off with none other than SNL alum Chris Rock serving as host. He's made dozens of appearances since he hung up his best SNL characters like Buster Jenkins, Nat X and Kevin Stubbs, but his upcoming act will mark only his third time hosting SNL since he departed from the show in 1993.
Who is performing?
For the first time, rap sensation Megan Thee Stallion is set to grace the SNL stage. Her performance comes following her latest single, "Don't Stop," featuring Young Thug, which released on Friday.
Will there be an SNL debate?
Chances are there will be—although SNL isn't one for spilling details ahead of showtime. But SNL's Twitter handle did tease a sneak peek of Jim Carrey and Maya Rudolph all dressed up as presidential candidate Joe Biden and his running mate Senator Kamala Harris respectively. Plus the first presidential debate of the 2020 election season between Biden and his opponent President Donald Trump did air on Tuesday—SNL has a history of mocking the debates during the same week of the event, so it's likely the premiere will poke fun at some things that occurred during Biden and Trump's first go at it.
What time does SNL air?
SNL will return to its usual time slot at 11:30 p.m. ET on NBC.
Can SNL be live-streamed?
Heck yea. If you don't have access to television, you can live-stream the show from any smart device with a cable provider login. Those with services like Hulu +Live, YouTube Live, Peacock and Sling TV will be able to catch the show in real-time on those platforms too.
And for those who just want to catch the best sketches and clips of the night, check SNL's YouTube after the show airs. All the best moments of the season opener will be there. Viewers can also keep up with all the SNL chatter by following the hashtag, #SNL, on social media.