Is 'SNL' on Tonight? Season 46, Episode 3 Host, Musical Guest
Are you enjoying the presence of a live studio audience during your weekly dose of Saturday Night Live? The show's creator Lorne Michaels certainly is.
The cast was forced to film the final few episodes of SNL's 45th season from the comforts of their respective homes when COVID-19 hit the U.S., and Michaels couldn't be more thrilled to return the iconic show to its studio base inside Rockefeller Center in New York City. In fact, getting the gang back together again in Studio 8h with a couple of socially distanced folks laughing along in the audience was apparently all Michaels could focus on during SNL's summer hiatus.
"I think [returning to the studio] was all I talked about all summer," Michaels said in a preview of his upcoming interview with Sunday TODAY host Willie Geist. "And leading up to it, it was, 'I need an audience.' Because, we're taking big swings, and they're hard jokes. When you don't hear any sound, it throws the timing off. The thing that the audience does is, it is the plug that makes the circuit work."
Michaels is set to appear on the morning show and give a behind-the-scenes look at how the SNL team is handling filming from the studio in the midst of COVID-19.
But before Michaels gets into the meat and bones of Season 46, which premiered back in September, viewers will get to crack up at home with the latest episode of the show on Saturday night. Here's everything you need to know about this week's installment of SNL, below.
Who is hosting SNL?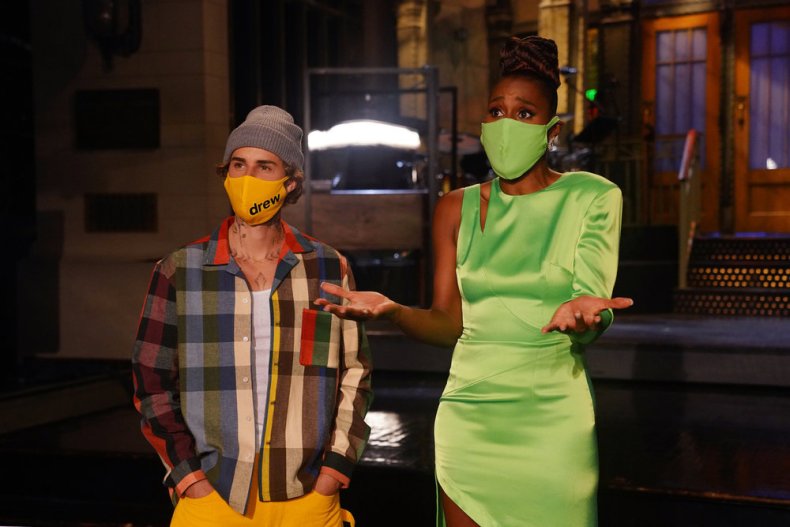 Fans of the Emmy-nominated series Insecure should be happy to know that Issa Rae is taking over as SNL host this week. The upcoming appearance marks the 35-year-old actor's first time on the show.
Who is performing?
Justin Bieber is making his return back to the SNL stage. While his forthcoming performance will mark his fourth overall appearance on the sketch-comedy show, it will actually be the second time that Bieber's hitting the Studio 8h stage so far this year. The singer performed hits "Yummy" and "Intentions" a day after the debut of his 2020 album, Changes, back in February.
Will there be an SNL debate?
OK, so there may not be an actual debate on the third episode of Season 46, but that doesn't necessarily mean viewers won't be treated to a sketch featuring Jim Carrey, who's starring as Democratic presidential candidate Joe Biden this season.
The second 2020 debate between Biden and his opponent, President Donald Trump, was canceled; the candidates instead opted for individual town halls on Thursday. If Carrey's latest SNL promo is any indication, he may be plotting a riff on the former vice president's latest campaign efforts. If so, fans should probably expect to see Alec Baldwin making a mockery of Trump's Thursday night appearance, too.
What time does SNL air?
Make sure you've got the remote locked and loaded on Saturday night at 11:30 p.m. ET. That's when the show is set to start on NBC.
Can SNL be live-streamed?
You sure can stream SNL from any smart device, as long as you've got access to a cable provider login. Hulu +Live, YouTube Live, Peacock and Sling TV subscribers can view the show from those platforms, too.
All of the best sketches of the night will be uploaded on SNL's YouTube page shortly after the show airs. So, that's a viewing option if you want to skip the commercials. And, of course, you can always participate in all the SNL chatter by following the hashtag, #SNL, on social media.